Acoustic Insulation Market will observe a dramatic shift over the coming eight years, driven by the increasing requirement of sound proofing across sectors such as manufacturing, transportation, and construction. Sound insulation utilizes the mass-spring-mass principle or sound capsules to reduce unnecessary sound, and functions differently for different operational procedures. Increasing demand for better sound quality, sound insulation, and reduction of noise emission will drive market growth. According to Global Market Insights, Inc., "Acoustic Insulation Industry size is expected to be valued at USD 21.57 billion by 2025."

Acoustic insulation products will find extensive applications in corporate buildings, auditoriums, gymnasiums, sound insulation centers, music studios, control rooms, and shipping industries. Asia Pacific accounts for a major portion of the global market share owing to urbanization and the emergence of the various industries in countries such as India, China, Thailand, Indonesia, and Malaysia.


Russia Acoustic Insulation Market size, by application, 2013-2025 (USD Million)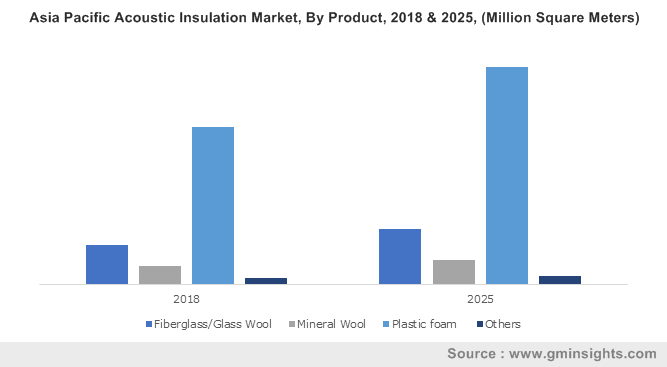 Global acoustic insulation industry is fairly divided among vital participants, namely Armacell, Rockwool International, Paroc, Fletcher & Company, Knauf Insulation, and Kingspan. Other important players are Lloyd, AIM, Roxul, BASF, K-Flex, Twiga, Cellecta, AFICO, and SIDERISE, K-Flex, and AFICO.

As is the case with major corporations, acquisitions and opening new manufacturing units is an important strategy these companies adopt, to expand their regional base. One of the prime examples was the establishment of a new plant in Turkey, by Knauf Insulation.

Construction, transportation, and industrialization are the major applications of the global acoustic insulation market. Increasing population growth in the BRIC countries coupled with high-tech infrastructure and industrial development will help catapult the construction application to great heights. Having witnessed a revenue of more than USD 4 billion in 2015, this segment is driven by urbanization and the necessity for reduced sound pressures.

Transportation applications are anticipated to register a CAGR of more than 6.3% over 2016-2025. Development in the sound proofing domain of automotive industries is expected to drive market growth.

In terms of product, the acoustic insulation industry is classified into glass wool, rock wool, polystyrene, and cellulose and aerogel.

Powered by its excellent properties of high tensile strength, thermal insulation, phenomenal resilience, and acoustic effectiveness, glass wool market size registered a revenue of more than USD 3 billion in 2015.

Using polystyrene proves to be cost-effective and convenient, owing to which the target market is slated to cross a revenue of more than USD 9 billion by 2025. Expanded polystyrene and extruded polystyrene are sub-types of this product. While EPS absorbs moisture, prompting the use of a vapor barrier, XPS possesses brilliant moisture resistance properties.

Driven by portability, exceptional sound absorption, and advanced technology, cellulose and aerogel insulation products are likely to register a CAGR of more than 7% over 2016-2025.

Asia Pacific skimmed the cream off the market in 2015, having registered a revenue of more than USD 2 billion. At the helm of the APAC acoustic insulation market stands China, driven by its private funding methodologies for the industrial sector.

Led by the U.S., North America acoustic insulation industry is anticipated to cross a revenue of USD 5 billion by 2025. In 2015, the Harvard School of Public Health recorded that more than 47 million homes in the U.S. are under-insulated, which depicts strong competence for this industry. Non-residential construction spending also registered a growth of around 8.8% in 2015.

The Middle East acoustic insulation market in construction applications recorded a revenue of more than USD 225 million in 2015. Adoption of advanced technology in the construction sector has helped Dubai garner the title of a premier patron in the Middle East, owing to mandatory regulations regarding sound proofing, fire safety, air quality, and resource efficiency.

Russia acoustic insulation industry size is expected to cross USD 1.8 billion by 2025, driven by government regulatory reforms regarding workplace safety.

The CIS countries, the European Union, and the Eurasian Union contribute to 33.6% of the total acoustic insulation market share in Europe. The regional landscape is dominated by residential re-insulation which is widely adopted to reduce harmful noise emissions.

Strict norms stated by REACH regarding toxic chemical usage and their ill-effects may restrict industry growth. However, high rate of urbanization, industrialization, and population have given rise to advanced development in the construction and transportation industry, which in turn will require safe, sound insulated, and comfortable residential spaces, fueling global acoustic insulation product demand.
Written By : Saipriya Iyer