Acrylonitrile Butadiene Styrene (ABS) Market is gaining popularity over the globe and is influenced by its increasing applications across various industries. Acrylonitrile butadiene styrene is the most preferred plastic in the automotive & construction industry, owing to its superior physical and chemical properties. Moreover, positive outlook for light-weight and high performance plastics for design flexibility and high efficiency will be the strong reason driving the ABS industry in the coming years. According to Global Market Insights, Inc., "Acrylonitrile Butadiene Styrene (ABS) Market size is anticipated to record a CAGR of 6% over the period of 2016 to 2024."

Technological inventions in the polymer industry have led to replacement of metal bodies with plastics in the automotive industry. ABS is the suitable plastic used in the automotive industry, owing to its favorable features such as reducing carbon footprints. This will result in increasing adoption of ABS plastics blends, which will further boost the acrylonitrile butadiene styrene industry. Furthermore, stringent guidelines and norms to control carbon emissions will drive the Automotive plastics market in the coming years.

U.S. Acrylonitrile Butadiene Styrene Market size, by application, 2013-2024 (USD Million)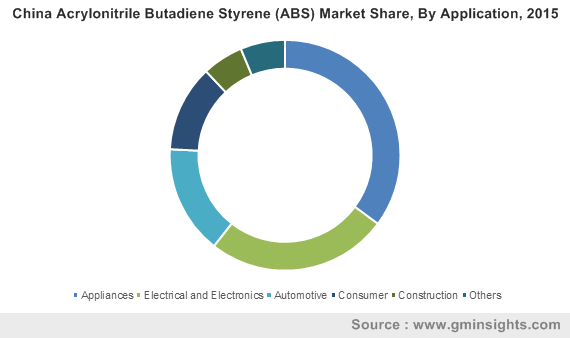 Appliances sector is anticipated to lead the application landscape
Acrylonitrile butadiene styrene industry will significantly expand, owing to its applications in the appliances, automotive, electrical & electronics, consumer goods, and construction sector. Appliances accounted for 30% of the ABS market in 2015 and continues to remain the leading application segment. ABS is suitable for appliances segment as its features higher strength, comparatively less material cost, flexibility of design, and minimum waste. Changing consumer lifestyles along with rising economics in BRIC nations will propel acrylonitrile butadiene styrene industry.

Automotive ABS market will register a CAGR of 4% from 2016-2024. Properties of ABS such as resiliency, durability, weight reduction, toughness, corrosion resistance, and flexible features will make its adoption more suitable for the appearance and aesthetics of vehicles.

China is forecast to remain the largest market in the acrylonitrile butadiene styrene industry
Europe acrylonitrile butadiene styrene market will witness significant growth owing to increasing disposable income. Europe is anticipated to witness a CAGR of 3.5% over the period of 2016-2024. The existence of many automotive manufacturing companies will also be the attributing factor in the industrial growth of the region.

Asia Pacific ABS market, with China being the largest industry worth USD 9 billion in 2015, and will continue to lead the regional landscape over the coming timeframe. Increasing construction spending and advanced new projects in china will offer a positive push to the regional growth. Moreover, growing automobile manufacturing base in the APAC region, owing to supportive government regulations in the form of tax & FDI facilities will fuel the ABS industry growth in the region. China, Taiwan, India, Thailand, and Indonesia are the major countries witnessing the expansion of automobile production capacity.

North America ABS industry worth USD 700 million in 2015 is primarily driven by electrical & electronics industry growth. Rising demand for electric goods/ electronics and appliances will thrive the U.S. market in the coming seven years.

Latin America acrylonitrile butadiene styrene market is also poised to witness significant growth in the coming years. This growth is subject to healthy growth of automotive industry in countries such as Argentina, Brazil, and Mexico.

Key ABS market players include LG Chemical, Formosa Plastic Company, Kumho Petrochemical Company, Chei Mei Corporation and Styrolution. The coming years will witness several merges & acquisitions and strategic partnerships among the market participants to sustain their position.

Written By : Ojaswita Kutepatil