Agricultural films market size is expected to reach USD 12.5 billion by 2022. Growing efforts to optimize crop yield by adopting new agricultural techniques coupled with limited availability of arable land is projected to drive agricultural films industry growth over the coming years. Rise in population base coupled with growing demand for high quality food is expected to favor agricultural films market trends as it helps in increasing as well as improving crop quality.

According to UN reports, world population, which was 7.3 billion in 2015, is expected to reach 8.5 billion by 2030. Total arable land availability has declined considerably over the last few years. Hence, farmers are adopting mulching techniques due to limited arable land, which will fuel agricultural films industry size significantly over the next few years. Agricultural films market share in mulching sector worth USD 2.6 billion in 2015, is expected to grow at a rate of 6.2% over 2015-2022. Crop protection, soil temperature conservation, soil water retention, and weed growth inhibition features is predicted to boost its demand in mulching applications.


Europe agricultural films market share, by raw material, 2014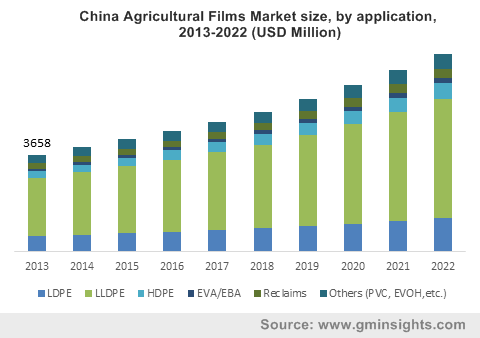 Agricultural films also find application in silage and greenhouse segments. They are used in silage to enhance the nutritive value of animal feed and increase milk output. Anaerobic fermentation and moisture retaining features is expected to increase the agricultural films market share in silage segment. Agricultural films market size in greenhouse segment accounted for over 41% of overall volume in 2014 and is expected to register highest gains of over 6.3% over the period of 2015-2022. The growth can be credited to uncertain climatic conditions coupled with its increasing use in horticulture.

Major agricultural films raw materials include EVA, LLDPE, HDPE, Reclaims, and LDPE. LLDPE films market price worth USD 3.2 billion in 2014, is expected to record a CAGR of 6.5% over the period of 2015-2022. Improved shelf life coupled with high tensile strength is expected to drive the demand over the coming six years. Growing efforts to produce biodegradable LLDPE is also predicted to enhance its popularity in near future. HDPE agricultural films market is anticipated to witness a substantial growth over 2015-2022, owing to its extensive use in mulching and fumigation. LDPE contributed towards over 21% of the overall demand in 2014, and is expected to witness a moderate growth over the next few years, owing to its application in regions where there is inadequate supply of water on account of weather changes.

North America agricultural films market is expected to record a CAGR of 5% over the period of 2015-2022, owing to its growing applications in the greenhouse sector along with diminishing arable lands. U.S. is expected to make substantial regional revenue contributions over the coming years.

Asia Pacific agricultural films industry is expected to witness a considerable growth over the coming six years, owing to its wide applications in agriculture as a result of limited water supply and tough weather conditions. Furthermore, supportive government norms favoring the implementation of advanced farming techniques along with increasing mulching applications are expected to boost the regional growth in the near future. China is expected to be a major revenue pocket for APAC.

MEA agricultural films market, which contributed over 8% of the overall demand in 2014, is predicted to grow substantially over the next few years due to low availability of fertile land coupled with high demand for food due to population rise. South Africa, Saudi Arabia, and UAE are predicted to be major contributors to the regional share over the coming years.

Market players will try to increase their profit through product and technological innovation. Key industry participants include ExxonMobil, Armando Alvarez, Trioplast, Novamont S.p.A., Group Barbier, Armando Alvarez Group, British Polyethylene Industries, Kuraray Company, Dow Chemical Company, and BASF.


Written By : Dhananjay Punekar