Growing preference for air compressors as a reliable power source for tools & machines in various industrial applications as well as construction sector is predicted to boost global air compressor market size over the coming years. According to Global Market Insights, Inc., "Air compressor industry size is expected to reach USD 39.2 billion by 2023, recording a CAGR of 3.6% over 2016-2023." Effective energy efficiency measures are expected to provide tremendous growth opportunities for the industry over the coming years.

Air compressor market finds its application in semiconductors & electronics, home appliances, healthcare, food & beverages, manufacturing, oil & gas, and energy sectors. Manufacturing sector, which contributed over 35% of the overall air compressor market share in 2015, is expected to dominate the market over the coming seven years. Its application in food & beverages sector is predicted to grow significantly over the coming years owing to its extensive use in manufacturing processes such as agitation, cooling food, and boxing & packaging products. Air compressors are used in oil & gas industry to ensure elongated membrane service life and prevent potential shutdowns as well as avoid nitrogen blanket substitutions required in LNG tankers and transfer stations.

U.S. air compressor market size, by application, 2012 - 2023 (USD Million)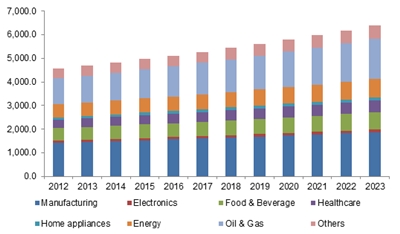 Based on the technology, air compressor market is segmented into rotary, centrifugal, and reciprocating air compressor systems. Centrifugal air compressor systems segment is projected to grow at a rate of 4% over 2016-2023. Rotary air compressor systems segment contributed towards 45% of the global revenue in 2015, and is estimated to witness a noticeable surge over the coming years. The growth can be contributed to its ability to maintain the constant flow of air, though there are fluctuations in discharge pressure. Reciprocating air compressors systems segment is projected to surpass USD 8 billion by 2023.

Major air compressor products include portable and stationary air compressors. Portable air compressor market accounted for over 40% of the overall revenue in 2015, and is expected to witness a significant growth over the coming seven years. The growth can be credited to its low maintenance costs, reliability, eco-friendly features, and ease of handling. Furthermore, high demand for improved air quality, supportive government policies on energy conservation, and growing consumer awareness about the product are few of the factors predicted to favor portable air compressors market growth over 2016-2023.

Oil free air compressor segment worth USD 10 billion in 2015, is expected to witness high growth over the coming seven years. Reduced maintenance costs, retrofit demand, effective operations at lower costs, and variable-speed equipment acceptance are few of the factors projected to boost the segment growth over the next few years.

Asia Pacific air compressor market is expected to record highest gains of 4.5 % over the timeframe of 2016-2023, with India and China being the key revenue pockets for the region. North America and Europe air compressor markets are predicted to witness a steady growth over the period of 2016-2023.

Market players will try to increase their revenue by focusing on mergers & acquisitions, R&D investments, and product innovations. Key industry participants include Ingersoll-Rand Incorporation, Bauer Group, General Electric, Atlas Copco, and Chicago Pneumatic.


Written By : Dhananjay Punekar