Consumer preference toward off load recreational activities is heavily influencing the marketability of novelties in all terrain vehicle market. Although their categorical designation only acknowledges their recreational aspects, ATV market is quite extended across various other occupational disciplines like military and defense, forestry, and agricultural sectors. In fact, a sizable chunk of the overall revenue share is obtained from military domain. In military sector, these high-tech vehicles are extensively deployed for various customized operations like armor transport, especially across inaccessible locations. Market investors are quite optimistic toward the projected all-terrain vehicle market outlook and are betting big to exploit the potential opportunities it is likely to unfold in the coming years. For instance, renowned market giant, Polaris, in 2016, has launched a new high-performance turbo diesel ATV named MRZR-D for expeditionary forces. The light weighted MRZR series manufactured by the firm has long been a military favorite, subject to its excellent offload mobility and extreme flexibility. The new edition MRZR-D is claimed to outpace the previous series with regard to its outstanding performance.

North America All-Terrain Vehicle (ATV) Market, By Product, 2016 & 2024, (USD Million)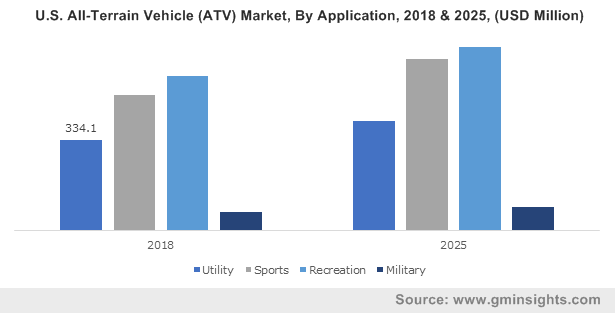 Technological proliferations, unquestionably, play a crucial role in the expansion of ATV market, subject to the fact it has enabled incorporation of advanced features in the vehicle model which in a way is diversifying the application spectrum of the business space. Unique functionality features like infotainment systems, GPS monitoring, mobile tracking, Go-Pro cameras, integrated Bluetooth headset connectivity have upscaled the all terrain vehicle industry demand immensely. While aforementioned features make ATVs popular across occupational domains, features like lower center of gravity, superior handling ability, and stiffer suspensions are gearing its demand across racing applications.

Global all terrain vehicle industry is rather regulatory driven, subject to several records of injuries having occurred due to dearth of proper know-how with regards to its usage. According to stringent regulations enforced by the United States CPSC (Consumer Product Safety Commission) children below sixteen years are not allowed to drive ATVs and for adults, wearing safety garments like helmets, boots, long pants, and gloves is a mandate. Speaking along similar lines, an international organization dealing with vehicle emission regulations that is influencing the regulatory environment of ATV market is California Air Resources Board. This entity mainly deals with the environmental viability of ATVs and as per the imposed regulations, all ATVs are required to comply with CARB-stated emission standards.

Quite evidently conspicuous from the aforementioned regulatory declaration, it is an obvious fact that U.S. government has much to contribute in the growth of regional all-terrain vehicle industry. Add to it, numerous snowball associations and related clubs across this belt conduct frequent recreational activities, which in consequence leads to an increased commercialization of quad bikes, three-wheeler, and RZR. In fact, experts claim, with U.S. at growth front, North America, in all plausibility, would cover almost 50% of the global ATV industry share by 2024. Although these vehicles are street-legal across majority of the countries, the market is still subject to regulatory approval in some of the provinces.

Speaking of the competitive terrain, global ATV market boasts of a portfolio of renowned biggies like John Deere, Honda, Yamaha, Kawasaki HiSun, Polaris ATVs, Taiwan Golden Bee, ShuoPu Science & Technology Development Co.,Ltd, Arctic Cat, Suzuki, KYMCO, and Cectek, Linhai Co., Ltd. These giants are heavily banking on mergers and acquisitions to stronghold their position and consolidate the global share. The acquisition of Hammerhead's offload vehicle business by Polaris in a bid to witness a profound penetration in the China market, is a recent evidence testifying the fact. Another tactic which as per experts' opinion, would prove to be beneficial for the business proliferation is hefty investment in research activities. This is due to the fact that extensive research initiatives would ensure inception of innovative products in ATV industry that are not only of improved functionality but also have strong sustainability quotient. Inherently stimulated by a comparatively strict regulatory landscape in tandem with encouraging initiatives undertaken by the industry giants, the commercialization potential of the overall business space is forecast to be positively high over the ensuing years. As per a recent report put forth by Global Market Insights, Inc., all terrain vehicle industry size would surpass a valuation of USD 8 billion by 2024.

Written By : Satarupa De