The global antibacterial glass market size was evaluated at $ 160.1 million for 2015 and is predicted to be more than $ 270 million by end of the forecast period. Growing proportion of hospital acquired infections is projected to fuel the growth of the industry during forecast period.

Few years back scientists at Yonsei University in Seoul, capital of South Korea, had invented a method by applying layer of silver ions to glass coating to hinder the development of pathogenic bacteria like Campylobacter jejuni, Escherichia coli and Salmonella typhimurium. The method is used to protect medical device and can also be used in military applications and disaster recovery. These scientists also explained that since middle of nineteenth century silver was known be an antibacterial material and found its applications in odor destroying socks and bactericidal formulations for medical devices.

The global antibacterial glass market is segmented into key geographical regions including North America, Latin America, Asia Pacific, Europe and MEA. North America antibacterial glass market is predicted to register a CAGR of 6.5% during the forecast period. Growth of the region can be credited to factors like rising focus on hospital segment, availability of best research & development facility, accessibility of modern systems, favourable government policies and growing awareness about the benefits of its utility among the population of the region.

Europe antibacterial glass market size, by application, 2012-2023 (USD Million)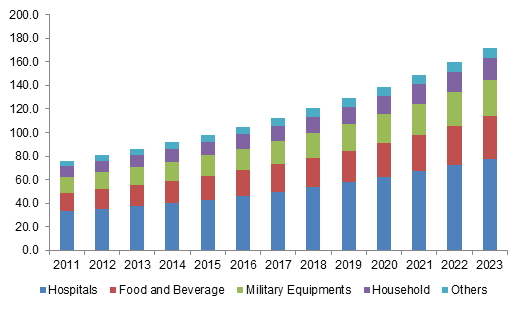 Europe is predicted to continue its industry domination during forecast period. It is projected to be evaluated at $ 170 million by the end of forecast period. Presence of key industry players and increasing demand for Smartphones with antibacterial glass cover is predicted to have a positive growth impact on Europe antibacterial glass market.

The developing regions like China and India in Asia pacific are predicted to experience lucrative growth during forecast period owing to growing healthcare spending and rising public awareness about application of antibacterial glass.

Key industry players profiled in the report are as follows:
• AGC Glass Europe
• BÜFA Glas GmbH & Co. KG
• Saint-Gobain SA
• VBT Glass
• Morley Glass & Glazing Limited
• Essex Safety Glass Limited
• Nippon Sheet Glass Company Limited
• Beijing JiYan-Tech Company Limited
• Corning Incorporation
• Archello
• Ishizuka Glass Company Limited
• Joh.Sprinz GmbH & Co. KG
• Glas Trösch Holding AG

Saint-Gobain has made many acquisitions in last few years. In 2005, it acquired BPB plc, a British firm, the biggest producer of plasterboard in the world. In 2007, it acquired Maxit group and thus expanded its industrial mortars business. Recently, the firm had also sold its cosmetic glass production business that included a plant in Georgia in USA.
Corning Incorporation is ranked 297 by Fortune 500 for 2015. It had won the national medal of technology many times for its process & product innovation. In 2011, Corning acquired an Israel firm Mobile Access Networks which became a part of its telecommunication unit. It introduced antimicrobial gorilla glass in 2014 to hinder the bacterial and fungal growth. As the firm provides this glass to many big multinational firms like LG electronics, Apple and Samsung, it is predicted to contribute towards the growth of the industry in future.

Download a sample copy of this report: https://www.gminsights.com/request-sample/detail/444
Written By : Dhananjay Punekar