Antidiabetics market is anticipated to surpass USD 116 billion revenue by 2023 owing to the alarming diabetes occurrence rate worldwide. International Diabetes Federation projects 552 million diabetes cases to be registered by 2030. Geriatric demographic and obesity patients are likely to exhibit higher diabetes rates and will be the main drivers of this industry accounting for 360 million diabetes cases by 2023.

Europe insulin antidiabetics market size, 2015 & 2023, (USD Million)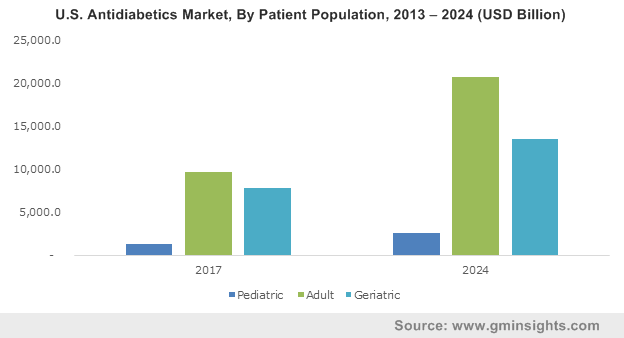 Moreover, rising awareness among people about the causes and consequences of diabetes is also favoring the market growth. Diabetes as a global health concern is being addressed by the government through various campaigns to inform and educate people about the effects and consequences of this disease and thus, motivate them to take effective measures for its control. For instance, NIDDK (National Institute of Diabetes and Digestive and Kidney Diseases) has organized educational campaigns like 'Control your diabetes for life','Small Steps', etc. to spread awareness about the importance of diabetes control.

Multinational pharmaceutical companies like Pfizer, Merck, GlaxoSmithKline, Novartis, Eli Lilly, Sanofi, AstraZeneca are aiming towards expanding their market across 57.2 million people by 2025. Expanding their respective product portfolios will be the major growth strategy adopted by these players over the coming years. Generic drug manufacturers will also witness high growth opportunities in this market taking advantage of the reliance factor on low cost medicines.

The Asia Pacific antidiabetics market is forecast to reach USD 28 billion by 2023. India and China are anticipated to be the revenue pockets due to high patient pool across these regions. In addition to this, the regional growth will be fueled by increasing penetration rates of insulin analogs. The European market is estimated to register a CAGR of 9% from 2016-2023. The growth is mainly attributed to the large obese population in this region.

North America insulin antidiabetic market share worth USD 22.2 billion in 2015, will witness a noticeable surge in the coming years, driven by factors like better healthcare facilities in terms of accessibility, high disposable income, and favorable reimbursement policies.

Insulin products will significantly grow over the coming years and will account for a revenue of USD 75 billion by 2023. Growing diabetes occurrence rates coupled with rising awareness among people about its treatment and control will drive the insulin market growth.

Antidiabetics market is becoming highly competitive with a variety of industry participants entering into the business space. Generic drug manufacturers have high scope wherein they can drive the revenue by manufacturing biosimilar medicines. Also, the new trend where the drug manufacturers strategically tie up with social insurance systems to ensure convenient healthcare access will lead to some interesting developments in this market in terms of competition and facilities.