Beneficial reimbursement policy structures for apheresis procedures is one of the prime factors fast-tracking apheresis equipment industry growth worldwide. Prominent industry players are readily involved in novel product launches and strategic mergers & acquisitions for sustaining in the competitive field. The announcement of Terumo, a big name in the cellular and apheresis industry, about its new launch named 'Spectra optia apheresis system' is expected to add a remarkable value to the market altogether. This most innovative apheresis device is one of its first kind that would be able to treat with Guillain-Barré syndrome and Myasthenia Gravis by means of therapeutic plasma exchange. As per a report by Global Market Insights, Inc. "Apheresis equipment market worth USD 1.7 billion in 2015, is slated to exceed a revenue of USD 4.5 billion by 2024, with a CAGR estimation of 11.4% over 2016-2024."

Increasing occurrences of blood diseases such as leukemia and sickle cell anemia along with surging demand for advanced blood component separation techniques is expected to chart a lucrative roadmap for apheresis equipment industry. A significant increase in surgical procedures rate pertaining to the escalating frequency of accidents will further make notable contributions toward the overall apheresis equipment market revenue. Furthermore, the advent of technology, have soared the market demand to a large extent. For instance, introduction of customized automatic apheresis equipment that is embedded with automated interface system, continuous flow centrifugation, anticoagulant infusion system, and screen navigation have accelerated the overall apheresis equipment industry growth.

U.S. Apheresis Equipment Market Size, by procedure, 2012- 2024 (USD Million)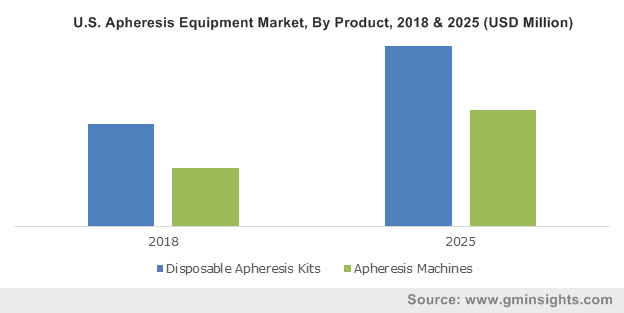 Apheresis machines and disposable apheresis kits are the two basic bifurcations of Apheresis equipment market. Disposable kits recorded a global domination over the product landscape by covering almost 78% of the overall market in 2015. Comparatively lesser price and growing popularity will thrive the product demand in the years ahead and is anticipated to exceed USD 2944 million by the end of 2024. Machine based apheresis equipment industry will also register a shooting CAGR of 17.1% over the period of 2016-2024. Automated component separation devices fall under machine category of apheresis equipment market.

Apheresis equipment market finds its extensive application in the treatment of neurology, hematology, and renal diseases. Neurology accounted for half of the overall industry share in 2015, and collected a massive revenue of more than USD 863 million in that year. With the increasing prevalence of neurological diseases that demand plasma-derived therapies such as auto immune disorders and multiple sclerosis, apheresis equipment industry from Neurology is poised to grow noticeably at an annual rate of 12.3% over the coming seven years. Plasmapheresis contributed 54% of the overall apheresis equipment industry share in 2015 and is anticipated to cross USD 2,152 million in the coming seven years.

Regionally, U.S. apheresis equipment market outpaced the global landscape in 2015 by covering almost 87%of the overall industry share. The huge coverage of the regional industry can be grounded to the country's improved healthcare access, favorable reimbursement policies, and keenness toward hi-tech automated products. U.S. government's heavy investment in research activities along with a considerable number of platelet donors available in the region is further favoring a positive trend in the overall apheresis equipment industry. As per estimation, U.S. market is projected to collect a massive revenue of USD 1524 million by 2024.

Countries like China, India have profound grounds enhancing overall Asia Pacific apheresis equipment market outlook. The speedy growth of this region can be primarily credited to the increasing prevalence of blood-related disorders in these regions. Continuously progressive healthcare infrastructure and a presence of upgraded health care professionals are some of the other influential factors that are equally complementing the growth curve. APAC market size which was more than USD 412 million in 2015 is expected to take a giant leap in the coming years in terms of revenue share by collecting USD 1265 million by 2024. Japan will contribute significantly toward the APAC apheresis equipment industry share owing to the region's increasing adoption of advanced apheresis products along with growing occurrence of cardiovascular diseases.

Associated risks with apheresis procedures, histocompatibility, and donor deficiency are some of the crucial aspects from where the market is anticipated to face limitations. However, unmet needs of emerging market will encourage the manufacturers to invest more in these regions. Some of the key players of apheresis equipment market include B.Braun Melsungen, Fresenius Kabi, Terumo, Melsungen, Hemacare Corporation, and Therakos.

Written By : Satarupa De