Artificial disc market is gaining huge popularity, as the artificial disc replacement technique is proving to be a safe and a better alternative for spiral fusion. Basically, this procedure involves replacing a painful disc with a prosthesis or an artificial disc. Spinal disorders are getting increasingly commonplace subject to sedentary lifestyles, obesity, and a growing aging population. One such potential driver of artificial disc market is the growing prevalence of various degenerative diseases, which is rather frequent in the United States. These disorders are the leading causes of body pain and other ailments. They are often caused due to periodic stress and minor injuries that lead to the spinal disc losing water as the annulus bone weakens.

Technological advancements and product innovation with increasing research and development activities have significantly propelled artificial disc market. There is a growing emphasis on the research of multi-level artificial disc replacement, which is likely to stimulate the ongoing research on artificial disc market. Normally, anterior cervical discectomy and fusion (ACDF) is a popular and most common treatment method for cervical disc degenerative disease. Nevertheless, with the soaring success rates of artificial disc replacement (ADR) operations, a major shift has been observed from the ACDF to ADR treatment method for lumbar and cervical disc replacement.

Germany Artificial Disc Market Size, By Type (USD million)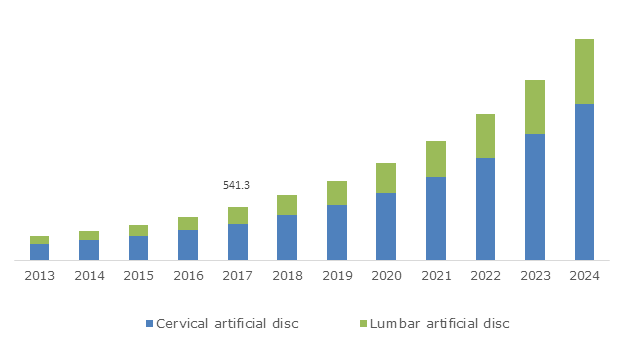 Given below are five key factors that affect the artificial disc industry outlook:
With a striking CAGR estimation of 21% from 2016-2024, artificial disc market is set to observe a significant upsurge. As per a report by Global Market Insights, Inc., artificial disc industry stood at USD 770 million in 2015 and is projected to reach 4.5 billion by 2024. Increasing trend of non-invasive medical interventions is likely to accelerate the growth of this industry over the years.

North America, led by U.S. artificial disc market is one of the major regions contributing to the overall development of this industry. A considerable surge in disposable incomes and rising healthcare expenditure have positively impacted the business expansion. Strong reimbursement policies in North America have further provided an impetus to the regional artificial disc market. In 2015, U.S. artificial disc industry held revenue worth USD 360 million and is projected to be valued at over USD 2 billion by 2024, which translates to a massive growth rate of more than 20% between 2016-2024. On the other hand, by accounting for the maximum growth rate of 24% over 2016-2024, Asia Pacific is set to be a key contributing region toward global artificial disc market share. Rapid growth in the regional healthcare infrastructure have set the artificial disc industry in motion to achieve lucrative growth prospects.

Accounting for the largest market share, metal on biopolymer material segment held 85% of the overall artificial disc industry share in 2015. This has been deemed as the device of choice for surgeons as the material facilitates convenient disc insertion during the operation. Flexible PU/PE material allows better shock absorption and motion. However, the cheaper cost of metal on metal artificial disc had led to artificial disc market size from metal on metal material segment to be valued at USD 72 million in 2015. Rising need for affordable products in the developing economies will fuel the growth of this segment, which is anticipated to record a CAGR of 20% over 2016-2024.

This industry is likely to witness a number of strategic mergers and acquisitions in future. One such concrete example is of Zimmer Biomet Holdings Inc. and LDR Holding Corp. In a transaction that was valued around USD 1 billion in cash, Zimmer-Biomet agreed to buy LDR Holding to add surgical technologies for the treatment of patients with spine disorders. With this deal, the company also launched a product called Modi-C and captured a considerable share of U.S. artificial disc market. Other dynamic artificial disc industry participants include Globus Medical, Stryker Corporation, Depuy Spine, Aesculap Implant Systems, NuVasive, and Medtronic.

Over the years, lumbar disc replacement emerged as the most prevalent non-surgical treatment option, as the procedure allows normal movement and quick improvement in back pain in comparison to other treatments. Owing to the greater acceptance of this procedure among people with several back-pain disorders, lumbar artificial disc market has gained considerable traction over time. Charite artificial disc was the first metal on polyethylene device approved by US FDA for lumbar artificial disc replacement. Later on, the success of this device brought many other players into the industry.

The dynamic artificial disc industry is likely to see consolidation over the coming years. Market players will try to increase the revenue share through product differentiation, technological innovation, and mergers & acquisitions.

Written By : Ojaswita Kutepatil