Rising geriatric population along with frequent cases of sensorineural hearing loss will fuel audiology devices market share substantially. Increasing incidences of deafness is a major health concern, in which regards, several government and organisational initiatives have been launched to spread awareness pertaining to the hearing impairment and encourage the use of audiology devices, which will inturn enhance the audiology devices industry outlook. According to Global Market Insights, Inc., "Worldwide audiology devices market is predicted to generate a revenue of more than USD 13 billion by 2023." Moreover, huge R&D investments by the market players to enhance product portfolio and develop innovative hearing aid products will further fuel audiology devices market size over the next few years.

Hearing aids market is anticipated to contribute over 60% of the overall audiology devices industry revenue revenue by 2023. Hearing aids product is mainly divided into behind-the-ear (BTE), receiver-in-the-ear (RITE), in-the-ear, and canal. BTE products contributed majorly towards the hearing aids industry share in 2015 and is expected to be a prominent revenue contributor over the coming years. Canal hearing aids will collect a revenue of more than USD 800 billion by 2023, driven by its ability to fit in the ear canal comfortably.

UK Hearing Aids Market Size, By Product, 2012-2023 (USD Million)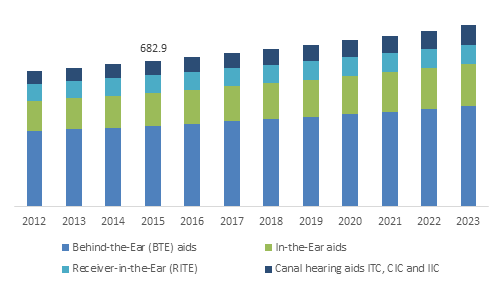 Digital, analog, BAHA or BAHS, cochlear implants, and diagnostic devices are the key technology segmentations for the audiology devices market. Cochlear implants technology will exhibit a lucrative growth rate by recording a CAGR of 10% over the coming six years. The growth can be primarily attributed to its benefits over the conventional products. In addition to this, increased reimbursement strategies will further influence the cochlear implant based audiology devices industry considerably. Diagnostic device technology was worth USD 500 million in 2015 and is predicted to grow noticeably over the coming timeline.

Digital technology segment will exhibit an attractive annual growth rate of 5% over the coming six years, owing to its capability of noise cancellation along with its capability to enhance speech signals. Additionally, digital technology based devices offer easy accessibility to the user. For instance, it can adjust the volume level automatically as per the environmental conditions.

North America audiology devices market is anticipated to witness an annual growth rate of 5.3% over the coming six years.
Considering regional outlook, U.S. audiology devices industry share worth more than USD 1.4 billion in 2015, is predicted to register a CAGR of 4% over the period of 2016 to 2023. The main attributing factors towards the industry growth is growing private and public insurance coverage.

Germany audiology devices market will display an eye-catching growth rate over 2016-2023, owing to surging product demand along with promising government support.

India digital hearing aids industry collected a revenue of more than USD 140 million in 2015 and is anticipated to grow lucratively at a rate of 9% over the coming years of 2016 to 2023. The demographic change and rise in healthcare spending will propel the regional industry demand significantly. The rise in geriatric population across the MEA region will influence Middle East & Africa audiology devices market growth notably.

Japan diagnostic devices market worth over USD 50 million in 2015, is expected to register an annual growth rate of 6.5% over the coming six years, as a result of mounting aging population across this region.

China audiology devices market size will generate considerable demand for the audiology device, driven by growing healthcare expenditure and implementation of screening programs regarding hearing losses.

Industry participants will adopt business strategies like mergers, acquisition, and strategic collaborations to enhance their market position. William Demant Holding A/S, Sonova Holdings AG, Tremetrics, Starkey Hearing Technologies, Benson Medical, Inmedico, Serene Innovations, Inc., and Siemens Healthcare are the some of the notable players in the audiology devices industry.

Written By : Sunil Hebbalkar