Growing at 2.5% CAGR over 2016-2023, autoimmune disease diagnostics market will get a push owing to the increasing prevalence of autoimmune diseases favorable government norms, rising health awareness, and as enhanced R&D investments globally. As per NIH (National Institutes of Health) estimates, nearly 23.5 million Americans suffer from autoimmune diseases, which is a major factor boosting the demand for autoimmune disease diagnostics servicesin America. Moreover, rising healthcare expenditure will also positively impact global autoimmune disease diagnostics market due to the growing demand for curtailing the global disease burden expenses. NIH estimates the direct healthcare costs due to autoimmune diseases per annum to be nearly USD 100 billion. Furthermore, technological innovations in healthcare industry such as novel biomarkers, as portable diagnostic devices, genetic testing, etc. will favorably impact global autoimmune disease diagnostics industry trends over the next few years.

North America autoimmune disease diagnostics market worth USD 5.3 billion in 2015, is projected to witness a high growth over the coming years, owing to high occurrence of autoimmune ailments. Furthermore, growing popularity of portable diagnostic devices will further boost the regional growth. U.S. is projected to be a major regional revenue contributor.

Autoimmune Disease Diagnostics Market Size, By Product, 2012 - 2023 (USD Million)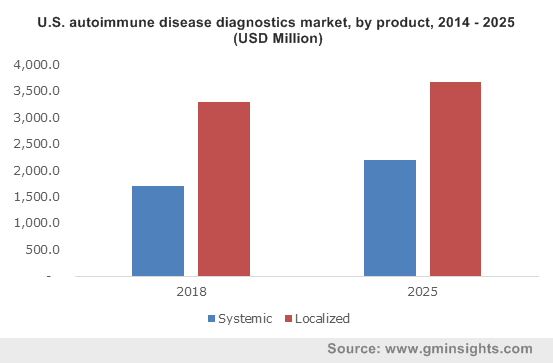 Europe autoimmune disease diagnostics market size was valued at USD 4.3 billion in 2015 and was the second largest region contributing towards the global revenue. High government backing in terms of financial investments along with increasing prevalence of these ailments across Europe will drive the industry growth over the coming years UK and Germany are projected to be major regional revenue pockets for Europe.

Asia Pacific autoimmune disease diagnostics market is estimated to register a growth rate of o5% over the period of 2016-2023, primarily driven by the large patient base across APAC. Japan and China are predicted to contribute significantly towards the regional share.

Major autoimmune disease diagnostics products include localized and systemic products. Localized autoimmune disease diagnostics industry revenue is expected to reach over USD 10 billion by 2023. The growth can be attributed to rising awareness about the autoimmune diseases along with its increased occurrence. Systemic autoimmune disease diagnostics market size worth USD 4.2 billion in 2015, is anticipated to grow at a CAGR of 3.5% over the coming six years. Over the coming years, industry players will invest heavily in R&D to improve their product and solution portfolios. Moreover, technological developments such as genetic and molecular testing will gain heavy momentum in autoimmune disease diagnostics business space over the coming timeframe. Key autoimmune disease diagnostics market participants are Abbott Laboratories, SQI Diagnostics Inc., Beckman Coulter Inc, Siemens Healthcare, Roche Diagnostics, INOVA Diagnostics Inc., and Quest Diagnostics.

Written By : Ojaswita Kutepatil