Automated breast ultrasound system (ABUS) market is expected to exhibit robust surge, owing to the rising prevalence of breast cancer across the globe. Growing radiology market and intensive R&D for enhanced imaging techniques will augment ABUS industry. Moreover, rising awareness towards breast cancer, subject to government initiatives advocating the breast cancer awareness will stimulate the ABUS market. According to Global Market Insights, Inc. "Automated breast ultrasound system market is estimated to witness a CAGR of 21% over the period of 2016-2024."

The primary function of the ABUS system is to obtain ultrasound images with the help of a transducer. This system provides 3D images along with detecting cancer in dense breast tissues. ABUS is an essential tool in the women's healthcare, aiding in early detection of breast cancer stages. According to Immunological & Oncological Center, about 70,000 breast cancer cases are recorded annually. Effective monitoring of breast cancer with these systems in the clinics will fuel the automated breast ultrasound system market size.

U.S. Automated Breast Ultrasound System Market size, by Product, 2012 - 2024 (USD Mn)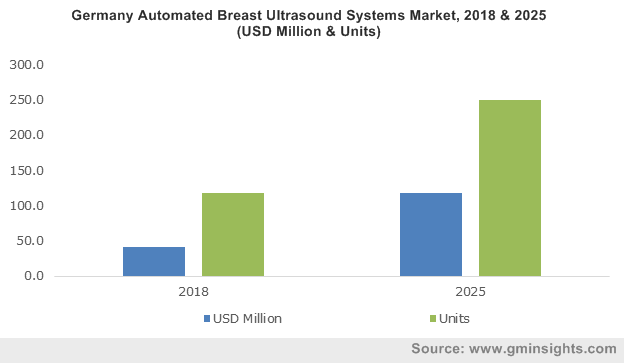 U.S. to lead the regional ABUS industry growth over 2016-2024
U.S. is the major market across North America automated breast ultrasound system industry. Increasing adoption of advanced screening technologies coupled with growing awareness for cancer testing will propel the U.S. ABUS market size. Furthermore, increasing screening programs and early stage diagnosis will boost the China automated breast ultrasound system market, attaining a revenue share of USD 1 billion by 2024. Moreover, favorable government activities and reimbursement schemes will complement the ABUS industry growth.

ABUS to be the dominant product segment
Based on products, the automated breast ultrasound system market is segmented into two types of systems namely automated breast ultrasound system (ABUS) and automated breast volume scanner (ABVS). The ABUS product market is anticipated to surpass USD 1.1 billion by 2024, accounting for the largest industry revenue share holder. The heavy growth of this segment is subject to increased product penetration due to its user benefits. The ABVS product market, being the fastest growing segment is projected to surpass USD 950 million by 2024. Benefits of ABVS such as high resolution imaging, reduce scan time, high sensitivity and reproducibility of 3D images is likely to boost the product demand in the ABUS market.

Hospitals to drive the application landscape
Extensive use of ABUS systems in hospitals is expected to promote the ABUS industry trends over the coming timeframe. Hospitals held over 60% ABUS market share in 2015 and are expected to witness heavy gains at 21.2% CAGR over the period of 2016-2024. Diagnostic imaging centers is another lucrative application segment of automated breast ultrasound systems. Intensive research in breast cancer screening has led to advancements in this segment propelling the industry trends.

The market players are adopting strategies such as production innovation coupled with generous amount of investment in research and development of the systems. Moreover, differentiation pertaining to the quality, innovation, services, reputation, promotion, etc. will be key policies implemented by the industries. Top industry giants include Hitachi, General Electric Company, Toshiba, Koninklijke Philips, SonoCine, and Siemens.

Written By : Ojaswita Kutepatil