The ongoing evolution of Automatic Emergency Braking Market is grounded on the fact that the vehicle accidents rate is exponentially increasing with each passing year. A report by U.S. NHTSA depicts that one third of the automobile crashes result from rear-end collisions that arise due to tailgating. Addressing the safety issues of both passengers and pedestrians, the government of developing countries are inclining toward incorporating technological advanced mechanism in the vehicles, which otherwise is pushing the market. As per a report by Global Market Insights, Inc., "Automatic emergency braking market is poised to hit a revenue record of USD 15 billion by 2024, with a sharp growth trajectory at a CAGR of 29.3% over the period of 2016-2024."

With the latest innovations in the braking mechanism such as seat belts and antilock brakes, drivers and front seat passengers are ensured with better security and less severity of accidents. Optimum and real-time information about the road condition, environmental forecast, and envisioned moves of the other vehicles are some of the key attributes of automatic emergency braking industry. Furthermore, favorable road safety programs initiated across the globe in order to combat the safety crisis is fueling the industry growth. For instance, Euro NCAP mandated to equip the vehicles in the region with hi tech integrated safety systems, to avoid intense collisions.

U.S. Automatic Emergency Braking Market size, by vehicle type, 2014-2024 (USD Million)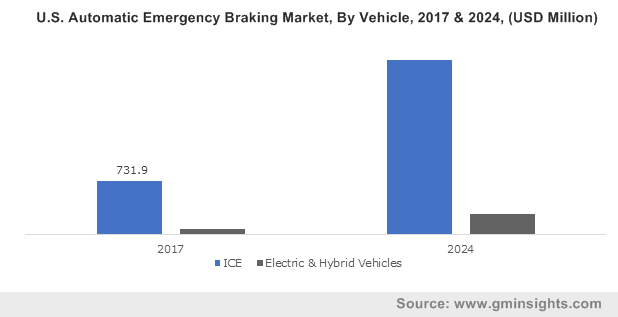 Rising concerns toward vehicle safety have generated a standard interest for the OEMs to provide reliable safety technology. AEB technology is bifurcated on the type of vehicles comprising commercial and passenger vehicles. Amongst these, the passenger vehicles are gaining popularity due to changing consumer preferences to buy the vehicles which are equipped with advanced technological features. AEB safety technology are the most preferred systems for passenger vehicles to minimize tailgating impacts. Furthermore, upswing of luxury vehicles, crossovers, and SUVs will augment automatic emergency braking industry.

Regionally, Asia Pacific automatic emergency braking market share will grow significantly over the years ahead, owing to escalating highway and infrastructure developments. UK and Germany will be the prominent contributors for Europe automatic emergency braking industry share. The various manufacturers across these countries are implementing this technology into their vehicles to comply with international rules and regulations formed by car assessment organizations.

The surging adoption of this technology across developed economies such as U.S. will generate lucrative growth avenue for the regional automatic emergency braking industry over the period of 2016 to 2024. As per the study, more than 99% of the vehicles will incorporate AEB system across the U.S. by 2022, which will prevent around 28000 accidents and 12000 injuries during the period of 2019 to 2022.
Automatic emergency braking industry is fairly consolidated with major players accounting for more than 50% of the global share. The participants are investing heavily in R&D to stand strong in terms of pricing and technological advancements. Key players prominently sharing the automatic emergency braking market space include Continental, Autoliv, Bosch, ZF-TRW, and Mobileye.

Written By : Satarupa De