HVAC systems have become a global standard for the passenger vehicles. Increase in vehicle production owing to rising consumer income as well as growing vehicles demand is anticipated to contribute towards the demand for automotive HVAC systems in next few years. Furthermore, growing requirement for luxury and comfort in the passenger vehicles due to large amount of time spent in the vehicles is predicted to promote the industry growth trends. Technological innovations aimed at producing effective and affordable products are predicted to drive the demand for HVAC systems in automotive over the coming years.

As per the Global Market Insights Inc. report, the global automotive HVAC market size worth USD 12.44 billion in 2015, is anticipated to touch USD 23.19 billion by 2023 at a CAGR of 8.2%. Factors such as improvement in standards of living and growing consumer preference for energy-efficient products equipped with HVAC technology to improve vehicle performance are predicted to contribute towards the growth of the automotive HVAC market.

Japan automotive HVAC market size, by application, 2012 - 2023 (USD Million)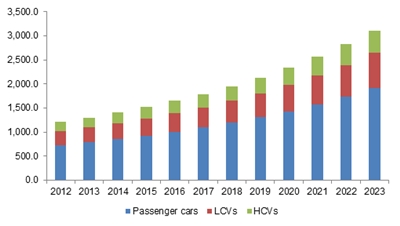 Automatic systems, contributing about 60% of the market share in 2015, is predicted to dominate the technology segment by growing at a rapid rate of 9.4% over the period of 2016-2023. Low fuel consumption coupled with a rise in comfort level of passengers are few of the factors projected to promote the segment growth over the coming few years.

Passenger cars application segment, contributing about 60% of the market share, is predicted to witness a noticeable growth in the next few years due to the rise in passenger vehicles demand, luxury automobiles business expansion, and good road infrastructure. Furthermore, growing electric vehicles trend is also expected to propel the application segment growth. Light commercial vehicles application segment is predicted to grow at a CAGR of 7.9% over the period of 2016-2023 owing to growing customer trend for these vehicles.

The Asia Pacific automotive HVAC market share worth USD 5.3 billion in 2015, is anticipated to record a CAGR of 9% over the period of 2016-2023 driven by rising consumer preference for comfort, product differentiation and improvement in vehicle functionalities. The Europe automotive HVAC market size is predicted to grow substantially over the coming years primarily due to factors like enhanced automobile production and favorable government norms. The U.S. market is expected to record a CAGR of 7.9% over the period of 2016-2023 owing to rise in vehicle production along with large-scale use of premium vehicles.

Key market players include Denso Corporation, Hanon Sytems, Valeo, and Mahle Group. These players will try to attract the customers and increase their market share through product & technological innovation.

Written By : Dhananjay Punekar