Increasing international trade in vehicles and advanced technological developments are major factors driving automotive aftermarket growth. Aftermarket is defined as the market for accessories, spare parts, and other related components of motor vehicles and deals with the production, installation, distribution, marketing, and sale of these vehicle components. According to Global Market Insights, Inc., "Automotive Aftermarket Industry is expected to grow at a healthy CAGR of more than 4.5% over 2016-2024."

Increasing requirement for effective automotive components, regular maintenance, stylish accessories, changing consumer lifestyle, and advancements in the electrical sector will fuel market growth. The increasing use of the internet will prompt the automotive sector to establish its presence in the e-commerce domain, resulting in increased sales of exhaust components and other vehicle spare parts.

U.S Automotive Aftermarket Size, by Product, 2013-2024 (USD Billion)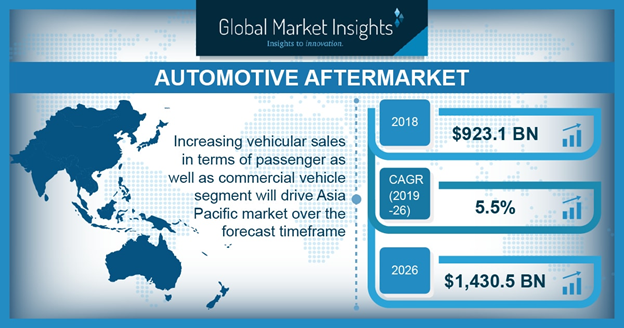 Automotive aftermarket professional channels such as auto dealerships, garages, and service stations registered a revenue of more than USD 300 billion in 2015. Vehicle warranty, aftersales services, attractive discounts, insurance, mobility services, and dependability are the key factors driving market growth.

DIY is slated to be a major sales outlet for this market owing to the benefits of cost-effectiveness, extensive information via online channels, and easy availability of spare parts. DIY automotive aftermarket industry was worth more than 100 billion in 2015 and is expected to grow at a healthy rate over 2016-2024. The tech-savvy young generation in countries such as China and India and the rising trends of query-solving with developed internet technologies is likely to fuel market growth.

In terms of product, global automotive aftermarket industry is classified into replacement parts such as brake, clutch, lighting, belt, exhaust, engine & AC, electrical, filters, transmission, wiper, and suspension, and accessories.

Accessories such as polished seats, spoilers, graphics, and wings are primarily used to enhance the appearance and overall performance of vehicles. Increasing requirement for sleek and sophisticated-looking automobiles and aesthetically pleasing car interiors will result in more demand for customized vehicles, driving the automotive aftermarket accessories market.

Replacement parts market size was valued at a revenue of USD 350 billion in 2015, driven by the increasing requirement of cost-effective and lightweight spare parts in automotive repair and maintenance.

Global automotive aftermarket industry share is dominated by a multitude of regional players. Key industry participants include ACDElco, Magneti Marelli, ASIMCO Technologies, Akebono Brake Corporation, Continental AG, Delphi, Denso, Robert Bosch, 3M Company, and Federal-Mogul. Other companies include ALCO Filters, BASF, Yazaki, Johnson Controls, Lear Corporation, and Magna International.

Owing to the fierce competition, companies must resort to measures such as brand build-up, high product quality, forward integration, and prompt maintenance services for customer satisfaction. A report study by Global Market Insights, Inc. states that 87% of the consumers find the aftermarket services to be highly satisfactory.

North America automotive aftermarket market was valued at a revenue of more than USD 165 billion in 2015 and is anticipated to witness further growth, driven by R&D initiatives and advanced technology.

APAC automotive aftermarket size was worth more than USD 90 billion in 2015. With India and China at the helm, the region is expected to record a CAGR of more than 6% over 2016-2024, driven by increasingly disposable incomes, poor quality of vehicle parts, maintenance issues, and favorable policies.

Europe automotive aftermarket size is slated to increase at a CAGR of more than 4% over 2016-2024. Increasing number of OE manufacturers, regulations regarding identification of automotive parts, huge consumer base, efficient service providers, and intense competition amidst companies will fuel regional market growth.

Latin America automotive aftermarket industry is predicted to register a CAGR of more than 5% over 2016-2024, driven by the requirement of automobile repair for older vehicles in countries such as Mexico.

Rising pollution levels, stringent government regulations, and implementation of eco-friendly procedures in automobile manufacturing will catapult the automotive aftermarket industry to great heights. Severe competition and the rising demand for high product quality will pose a challenge to the multiple manufacturers commanding this market.

Written By : Saipriya Iyer