The global demand for Automotive Coatings Market is slated to rise in the next few years, with the growing macroeconomic conditions, especially across the emerging nations. The economic development along with uplifted living standards of the consumers have resulted in an increased production of vehicles, leaving a proportional impact on automotive coatings market. Asia Pacific is one lucrative belt that has been of late witnessing a huge influence on the overall industry dynamics, subject to an enormous development in the automotive sector. With some of the most progressive nations such as China, India, Japan, APAC automotive coatings market almost accounted for 50% of the global share in 2014 and is projected to grow over 5.5% CAGR over 2015-2022.

Statistics depict, in 2014, China witnessed a sale of more than 23.5 million vehicles followed by Japan and India with volume over 5.5 million and 3 million respectively. Escalating demand for luxury cars with aesthetic appeal and durability is fueling the market expansion. Alongside the capability of these protective coatings to protect the vehicles from corrosion due to certain extreme environmental conditions is further complementing the business landscape. As per a report by Global Market Insights, Inc., "Automotive Coatings Market is projected to exceed a revenue of USD 28 billion by 2022, with expectations to grow over 5% over 2015-2022."

U.S. Automotive Coatings Market size, by technology, 2012 - 2022 (USD million)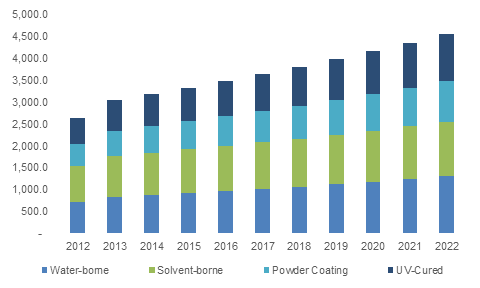 Speaking of technology, powder coating market is gaining popularity over solvent borne coatings, due to high VOC content in the latter. Extensive application of powder coatings in engine and accessories, dashboard, battery tray, luggage racks, and even as a basecoat for external body is complementing the business landscape. Basecoat dominated the product segment in 2014, accounting for almost 40% of the overall automotive coatings market.

Some of the attributing features of powder coating which are favoring the market expansion include high efficiency, easy customization, durability, minimum wastage, and easy application. As per estimates, powder automotive coatings market is projected to witness maximum growth in the years ahead, with expectations to reach USD 3.5 billion by 2022. However, mandatory initiatives taken by REACH, EPA pertaining to environmental concerns over VOC content is providing a negative impact on automotive coatings market growth in Europe and North America. Solvent borne coatings market is likely to witness moderate growth in the coming time frame with a projected CAGR of 4% over 2015-2022.

Considering the profusion of metal parts in an automobile, metal-based applications represented 70% of the global industry, with a valuation of USD 13 billion in 2014. With the shifting trends toward light weight vehicle production, automotive coatings market from plastic based variants is gaining a renewed attention. These types of coatings are mainly applied in nonmetallic parts of a vehicle which include dashboards, ashtrays, steering wheels, etc.

The remarkable expansion of automotive coatings market is quite evident from the varied end-use industries pertaining to the market. Light weight OEMs dominated the business landscape in 2014, accounting for almost 40% of the overall volume. The trend is likely to continue in the coming years owing to the increasing demand for luxurious personal cars worldwide. With the increasing purchase capacity of the consumers especially across developing nations, the demand for light weight vehicles equipped with sophisticated technologies is on a hike, which in a way is opening lucrative business opportunities for automotive coatings market. Light weight OEMs held a market valuation of over USD 7.5 billion in 2014 and is poised to chart a profitable roadmap in the years ahead. Automotive refinish covered 35% of the overall automotive coatings market size in 2014, accounting for the second largest end use segment. Robust growth in the automotive service industry is shedding a positive influence on the market from this segment.

Automotive coatings market is likely to face some challenges in the coming timeframe from the volatile raw material price trends which are used for the coating production. However, with the changing consumer preference toward long lasting superior quality products, the market is expected to attain remarkable valuation in the years ahead. On a global scale, automotive coatings industry is highly consolidated with four of the leading companies covering almost half of the overall business space. Some of the companies holding a prominent position in the market include Berger Paints, Arkema SA, Sherwin-Williams, Valspar Corporation, Beckers Group, and Eastman Chemical Company.

Written By : Satarupa De