The ever-increasing deployment of electronics in modern automobiles has considerably stimulated automotive collision repair market, owing to the massive rise in vehicle design complexity and technological advancements. Since the last decade, the implementation of pre-scanning and post-scanning technology has had a positive impact on the vehicle repair post collision – a trend that continues till date. Currently, most of the collision repair shops have deployed excessive electronics facilities to repair bumpers, headlamps, and sheet metal body of vehicles. Furthermore, the ever-increasing demand for vehicles has prompted numerous technical institutes and training centers to educate people about collision repair technologies. For instance, Leader Auto Resources (LAR) has declared the launch of its Dealer's Collision Technology Institute in Quebec, that will train people about the myriad processes and equipment of metalwork repair for aesthetic vehicle finishing. Even OEMs and renowned automakers are encouraging giants in automotive collision industry to organize such training programs. Thus, the surging requirement of efficient, economic, and quality service centers for restoring the interior and exterior damage of vehicles is likely to boost automotive collision repair market share over the years ahead.

U.S. Automotive Collision Repair Market, By End Use, 2012-2024, (USD Billion)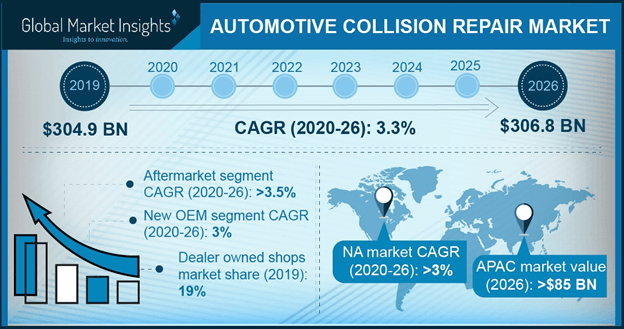 Taking into account the growing need for collision repair service centers, well-known automakers have been partnering with automotive collision repair market players in order to improve their customer service portfolio. For instance, the Volkswagen Group of America has collaborated with one of the top providers of supply chain management solutions for automotive collision repair industry, Overall Parts Solutions (OPS) to install advanced technologies at Volkswagen's dealerships across U.S. The integration of OPS technology in collision repair facilities will help auto service center to identify, locate, and deliver required repairing parts very quickly. In addition, the deployment of such programs enables vehicle dealers to effectively serve their customers by reorganizing parts delivery and repairs. Speaking along similar lines, some of the reputed biggies in automotive collision repair market are Continental Corporation, Federal-Mogul Holdings Corporation, Honeywell International Inc., Denso Corporation, ZF Friedrichshafen AG, Bosch, and Faurecia.

It would be prudent to mention that currently, automotive collision repair industry players have been facing considerable problems pertaining to the newly implemented electronics systems in the modern vehicles. In order to overcome such issues, auto service centers have been exploring advanced tools and solutions to enable an efficient and accurate work output. In addition, the rising number of ADAS equipped vehicles and smart cars have also had a positive impact on advanced aftermarket collision repair. In fact, when these modern vehicles meet with accidents, they demand a thorough diagnosis of electronic as well as mechanical systems. In this regard, most of the giants in automotive collision repair market have been deploying advanced software-based solution systems at their service stations, in a bid to provide reliable and efficient service to the customers – a move that would significantly propel automotive collision repair market size from aftermarket.

In order to provide advanced technology to collision repair service centers, software companies have also been continuously involved in research and development activities. Recently, the America based software company, Mitchell International, Inc. developed a new scanning system, specifically designed for US-based collision repairers and technicians. In addition, to develop next-generation scanning tools, Mitchell has partnered with one the renowned giants in automotive collision repair market, Bosch. Through this deal, Mitchell aims to enhance its expertise and leadership skills in automotive collision repair industry, given that Bosch has a portfolio of highly advanced that can reprogram ECU (electronic control unit) as well as recalibrate TPMS (tire pressure monitoring system) and ADAS. Taking cue from the aforementioned, other companies are likely to improve their growth tactics as well, thereby impelling automotive collision repair market.
OEMs have been playing a rather significant role in the development of automotive collision repair industry. Lately, rework programs such as dent repairs, painting, and bodywork have been demanding the presence of skilled technicians, in response to which several automakers have been organizing training programs. For instance, BMW has been establishing its own repair shops encompassing paintwork and bodywork facilities to provide safety, comfort, and better service to its consumers. The company has even approved of Axalta's Cromax to conduct paintwork at its authorized body shop. Several other OEMs including Audi, Ford, GM, Mazda, Nissan, Renault, Toyota, Honda, Opel, Skoda, Chrysler, and Volvo have also been seeking expertise in the automotive coatings arena. The significant involvement and continuous efforts of authorized repair shops and OEMs are thus likely to stimulate automotive collision repair industry share over the years ahead. Global Market Insights, Inc., predicts that, by 2024, the overall automotive collision repair market will surpass a revenue collection of USD 220 billion.
Written By : Sunil Hebbalkar