With the increasing number of vehicles globally, auto aftermarket industry is set to witness huge growth prospects over the coming years. As per the estimates, approximately 10 million car accidents took place in the US in 2012. Though, only a minor percentage of these accidents were fatal, however, vehicular damage due to collision of these vehicles accounted for a decent share of these accidents. Taking into consideration these trends, automotive collision repair market will definitely be a lucrative segment in the auto aftermarket industry over the coming years. According to Global Market Insights, Inc., 'Automotive collision market size worth USD 170.28 billion in 2014, is estimated to surpass USD 211 billion by 2022.'

Commercial vehicles and public transport mediums will witness heavy growth trends over the coming years, owing to the surging intercity and intracity travelling frequencies of the consumers. This will further boost the collision repair industry size, as these heavy vehicles need frequent repairs compared to regular passenger vehicles. Light duty vehicles such as sedans, SUVs, cars, etc. are estimated to witness a CAGR of 2.8% over the period of 2016-2022. Moreover, aging automobile fleets, which are more susceptible towards accidents will also significantly contribute towards the industry growth.

Europe automotive collision repair market size, by product (USD Billion), 2012 – 2022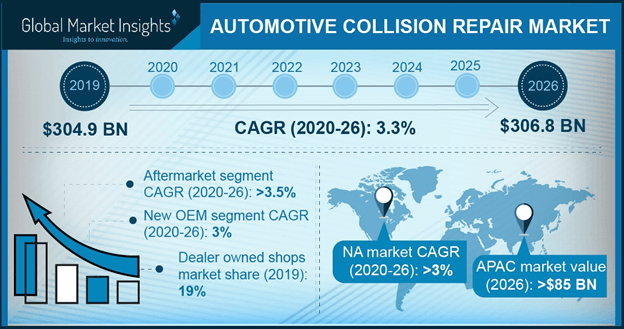 Automotive collision repair industry is quite fragmented and unorganized comprising independent repair outlets and large dealer workshops. Regulations by several government bodies and transport authorities have mandated it for the automobile buyers to incorporate insurance cover with the purchase, which is a revenue generating source for repair shops in case of accidents. Insurance firms tie up with these repair outlets to provide affordable and efficient services to the customers. Collision Repair Committee (CRC), established by US National Automotive Service Task Force ensures the efficiency of various repair outlets.

Paints & Coatings evolved as a major product in the automotive collision market, contributing towards 20% of the revenue in 2014. The segment will witness a rapid surge over the coming years, owing to the demand for protective materials coupled with the rising inclination towards aesthetic features of the automobiles. Consumables market will also account for a noticeable share of the overall market, owing to the demand for specialty chemicals such as adhesives & sealants during exterior damage of the vehicles. Consumable and paint & coatings together are estimated to attain a collective revenue of USD 72 billion by 2022.

Asia Pacific will be a lucrative ground for the automotive collision repair market growth. Factors such as massive number of vehicles along with economic automotive landscape will drive the APAC market growth over the coming timeframe. Moreover, lack of strict driving regulations across APAC, will increase the frequency of vehicular collisions thereby favoring the industry growth.

Europe market will grow significantly over the next few years, owing to the large presence of automobile manufacturers across this region. US automotive collision repair market is anticipated to surpass USD 42 billion by 2022.

The market is based on various sales-valuation models. For instance, DIY (Do-it-Yourself) Kits are offered by the retailers to the buyers who like to service their own vehicles. This growing trend has reduced the dependency on the repair outlets. Technological developments will impact the industry growth in the coming years. For instance, telematics will be witnessed to play a vital role in the automotive collision industry. Companies will get into new strategic-tie ups to enhance their product portfolios and will focus on expanding the geographic reach and brand visibility to sustain competition. Key industry players include Bosch, Continental Corporation, 3M, DENSO, DuPont, Honeywell International, BASF, Federal-Mogul Holdings, and ZF Friedrichshafen.

Written By : Shikha Sinha