Rapid technological innovations as well as strict government legislations pertaining to vehicle safety are expected to boost the automotive relay market size over the coming years. According to Global Market Insights, Inc., "Automotive Relay industry size worth USD 9 billion in 2015, is expected to reach USD 14.5 billion by 2023, recording a CAGR of 6.5% over 2016-2023." A paradigm shift in automotive electronics from normal switches for headlights & windshield wipers to inclusion of high frequency signals on millimeter waves is expected to favor industry growth over the coming years. Modernizations in automobile electronics have led to growing installation of automotive relays in vehicles. In addition to this, improvisations such as emergency assistance, web access, GPS, location-based services, remote diagnostics, and safe airbag deployment notifications in various devices is expected to fuel market growth over the coming years. Automotive relays play a vital role in switching between the safety systems such as head restraints, airbags, seatbelts, energy-absorbing steering systems, padded knee bolster, auto dimming mirrors, and heads-up displays.

U.S. Automotive Relay Market size, by application, 2012 - 2023 (USD Million)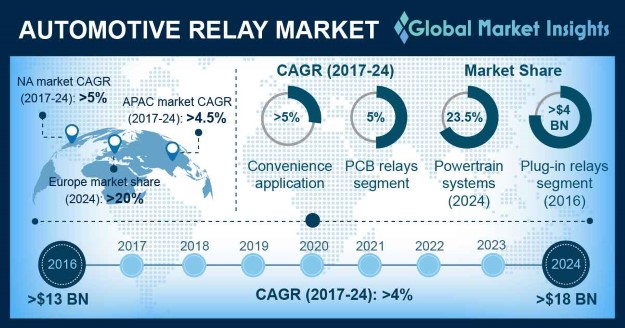 Automotive relay finds its application in powertrains, driver information systems, body & chassis, safety & security systems, and convenience systems. Automotive relay market share in driver information systems industry is expected to grow at a rate of 7.9% over 2016-2023 due to growing use of emerging technologies such as GPS, weather & traffic information, navigation, and location services in automobiles. Its application in convenience industry is expected to record a CAGR of 6.5% owing to high demand for infotainment systems, electronic power steering, sunroof control, mirror control, seat control, communications systems, and keyless entry systems. Automotive relay market size in safety & security systems industry is also anticipated to witness substantial growth over the coming seven years. Mandatory installation of safety devices such as airbags, theft protection equipment, power windows, defogging systems, and windshield wiping systems in vehicles is predicted to boost the demand for automotive relay across the automotive industry.

Major automotive relay products include plug-in relay and PCB relays. PCB (printed circuit board) relay market price worth USD 6 billion in 2015, is predicted to witness a high surge over the coming years. High priority for miniature high quality PCB relays over traditional devices for improving overall vehicle performance is predicted to drive the product segment growth over the coming years.

Asia Pacific automotive relay market revenue worth USD 4 billion in 2015, is projected to exceed USD 7.5 billion by 2023 owing to heavy demand for the devices along with a rise in vehicle production as a result of low labor costs & easy availability of raw materials. China is expected to contribute significantly towards the overall revenue of the region over the coming years.

Key industry players include American Zettler Incorporation, Denso Corporation, ABB Limited, Fujitsu, Deltrol Controls, Eaton Corporation, Panasonic Corporation, NEC Corporation, Omron Electronics Company, Nippon Aleph Corporation, and TE Connectivity Limited. Market players will try to expand their business and increase their product portfolio by focusing on key business strategies such as merger & acquisitions. Firms aim for efficient product distribution to ensure strong market presence. For instance, Microsemi Corporation does both direct marketing as well as indirect marketing of its products.

Written By : Dhananjay Punekar