The extensive demand for highly customized, tech-driven relays in passenger & commercial cars is certain to propel automotive relay market to greater heights. In recent times, subject to the massive growth in the domains of power electronics, consumer electronics, telecom, defense & aerospace, and medical electronics, the deployment of general purpose relays has nevertheless, been observing an exponential rise. Furthermore, the advent of IoT has commendably impacted the penetration of automotive relay industry in particular, given the rapid next-gen advancements in the automotive sector, such as vehicle electrification, connected cars, and autonomous driving. As per reliable sources, over 250 million vehicles are projected to be connected globally by 2020, with the rate of installed connectivity units in automobiles expected to rise by nearly 67%. In consequence, it can be inferred that the escalating consumer demand for connected cars is expected to bring about a drastic change in automotive relay market. Additionally, original equipment manufacturers have been integrating cloud computing technology with social, mobile, analytics technologies to derive maximum benefits across the value chain, that would further transform this business space.

U.S. Automotive Relay Market Size, By Application, 2016 & 2024 (USD Million)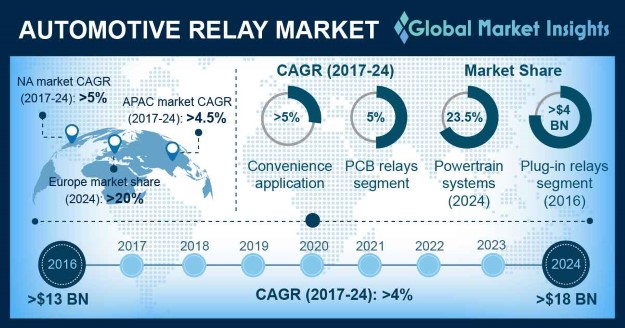 Merely a month ago, Japan's automotive behemoths, Toyota, Mazda, and Denso joined hands to develop battery-powered cars for reducing GHG emissions and improving the overall vehicle performance. Pursuing the path set by these giants, other automobile manufacturers have also been incorporating connected technologies in passenger vehicles, light trucks, minivehicles, and SUVs. The automotive sector, with the proliferation of smart tech, has been emerging as a transformative new domain, as automobile manufacturers have been keenly bringing about innovation in lightweight materials, power trains, active safety & assisted driving, and connectivity, which would ultimately create lucrative avenues for automotive relay industry.

It is prudent to mention that relays are essentially deployed in safety & security systems, convenience systems, power trains, and body & chassis systems to enhance their efficiency. Convenience systems in fact, are specifically expected to make a mark in automotive relay market over the next few years. Driven by the robust demand for relays in seat control, electronic power steering, communication, sunroof control, and infotainment, it has been forecast that automotive relay industry share from convenience systems will record a CAGR of 5% over 2017-2024.

The automotive industry, in recent years, has depicted a profound escalation across the globe, the growth scale of which has had a massive impact on the overall automotive relay market share. Countries such as Indonesia, India, and China, now termed as the primary Asian automotive hubs, have been experiencing large-scale vehicle production. The growing popularity of automotive infotainment, telematics, and communications applications across APAC is thus expected to create a profitable road map for Asia Pacific automotive relay industry. As per estimates, APAC is expected to dominate the overall automotive relay market, with a projected CAGR of more than 4.5% over the coming seven years.

The presence of prominent automobile manufacturers in the North America is expected to substantially increase the product demand in the region. Research in fact, claims North America automotive relay market to grow at a rate 5% over the coming seven years, having amassed a revenue of more than USD 2 billion in 2016. The rapidly growing demand for relays, especially in the automotive aftermarket in countries such as Mexico is expected to massively augment the regional business expansion.

The top-notch players across automotive relay market have been specifically focusing on innovation, design expertise, and strong product distribution channels to improve their brand value and business position across the globe. The implementation of strict laws to curb the greenhouse gas emissions is further expected to provide an impetus to propel automotive relay industry outlook. Lately, total quality management standards such as ISO/TS16949 have been set up, mandating manufacturers to develop eco-friendly & secured products, that have helped enhance vehicle performance and enabled cost-efficiency. The robust awareness regarding automobile safety and the surging demand for secured systems in passenger cars will thus, stimulate the revenue graph of automotive relay market, slated to exceed USD 18 billion by 2024.

Written By : Dhananjay Punekar