Biopolymer coating market is anticipated to observe an escalated growth rate subject to extensive product utilization in food & beverage packaging, paper packaging materials, textiles, general packaging, and pharmaceutical sectors. The product's ability to act as an oxygen barrier across food applications for curtailing quality degradation and improving shelf life will offer numerous growth avenues for the business. Thriving Flexible packaging sector, which is predicted to hit USD 250 billion by 2024, will further uplift the product demand. As per Global Market Insights, Inc., "Biopolymer coating industry is expected to surpass the revenue margin of USD 1.3 billion by 2024, growing at a CAGR of 6% over 2016-2024."

The growing popularity of lightweight products along with the polymer's ability to improve the quality of packaged goods will accelerate biopolymer coating industry expansion. Worldwide bioplastics production was more than 3.5 million tons in 2015, and is expected to surpass 7 million tons by 2024, thereby propelling market demand. Favorable features such as high elasticity, moisture permeability, recyclability, and rigid mechanical strength will further add toward the growing popularity of the product.

U.S. Biopolymer Coatings Market Share, By Product, 2015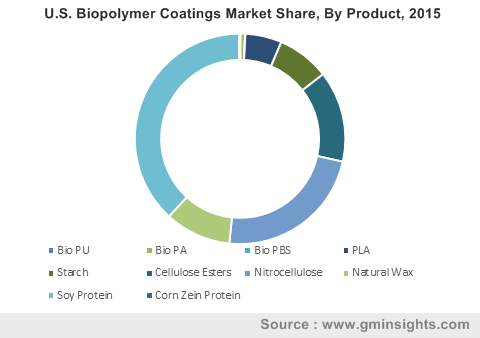 Considering the regional trends, Europe biopolymer coating market is expected to grow at an annual rate of 6% over the coming seven years subject to strict implementation of legislations supporting the usage of naturally-derived products in packaging food & beverage items. Germany and France are forecast to drive the regional growth. Germany biopolymer coating industry is foreseen to observe rapid expansion over the coming years, driven by the huge presence of leading automobile manufacturers across the region along with heavy use of the product in steering wheels, consoles, dashboards, and car seats.

Biopolymer coating industry in Brazil is estimated to grow at a CAGR of 5.5% over the coming timeframe, owing to high consumer demand for sustainability and green packaging. China biopolymer coating market size is projected to register an annual growth of 6.5% during the period of 2016 to 2024, due to escalated preference for the product across furniture and flooring sectors.

PLA based biopolymer coating industry in U.S. which will grow at the rate of 13% over 2016-2024, is expected to drive the U.S. biopolymer coating market in the future. Beneficial properties such as resistance to oil and biodegradability will propel the industry development. Prospering pharmaceutical and food & beverage sectors will also contribute substantially towards the revenue.

Bio PU coatings, Starch Coatings, Cellulose Esters, Wax Coatings, Corn Zein Protein, Nitrocellulose Coatings, Soy Protein Coatings, PLA Coatings, Bio PBS Coatings, Bio PU coatings, and Bio PA Coatings are the major biopolymer products. Starch-based biopolymer coating industry is projected to record a CAGR of 11.5% over the coming seven years, driven by growing product popularity across the pharmaceutical and general packaging sectors. Corn zein protein based biopolymer coating industry is predicted to grow at a rate of 4% over the duration of 2016 to 2024, owing to its escalated use in the pharmaceutical sector to coat tablets coupled with the product's ability to provide oxygen barrier.

PLA based biopolymer coating market is predicted to make notable gains of more than 13% over the coming timeframe subject to its wide applications in food & beverage packaging as well as general packaging. Its revenue in food & beverage packaging sector is projected to cross USD 50 million by 2024. Soy protein based biopolymer coating industry will register significant gains of nearly 4% over the period of 2016-2024.

Bio polyamide coatings industry is forecast to experience a high surge over the years to come and will make noteworthy contributions towards biopolymer coating market share. The growth can be attributed to rising product applications across electrical, automotive, and construction sectors. Bio PU coatings market is expected to record a cumulative growth of more than 6% from the period of 2016 to 2024, driven by extensive product usage in textile, architecture, and furniture sectors. Its environmental-friendly nature and low production costs has raised its popularity across these sectors.

Meredian Holdings Group Incorporation, Corbion, WestRock Company, NatureWorks LLC, Mitsubishi Chemical Holdings Corporation, BASF SE, Novamont S.p.A., Cargill Incorporation, EcoSynthetix Incorporation, Roquette, Safepack Industries Limited, E. I. du Pont de Nemours and Company, ADM, AkzoNobel N.V., and EcoSynthetix Incorporation are the key players of biopolymer coating industry.

Written By : Dhananjay Punekar