Overview
Global Biosurfactants Market size was more than 350 kilo tons for 2015 and is predicted to register more than 4.21% CAGR by end of forecast timeframe. Increasing customer preference for bio –based items along with rising ecological concerns about utilization of synthetic substances is predicted to promote industry growth. They are same like their synthetic equivalents and minimize liquid surface tension permitting chemicals to combine homogeneously. All these product features makes it applicable in dishwashers and detergents.
Strong scope of application in personal care items and detergents can favor industry growth. Increasing personal care products segment specifically in BRICS countries along with growing consciousness about advantages of naturally derived items can propel industry demand. In addition to this, growing use of biosurfactants in leather processing, oil recovery and drilling fluids can fuel industry demand.
North America biosurfactants market size, by application, 2012-2023 (Tons)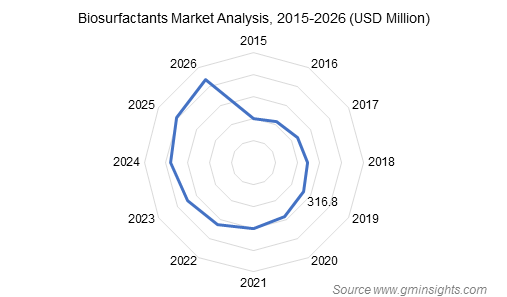 Less proportion of toxicity and high level of biodegradability as compared to its petroleum based equivalents can boost product demand. Further, they possess long shelf life span and are highly sustainable as compared to their synthetic equivalents. All these benefits along with strict rules about disposal and utilization of petroleum based items may fuel industry growth.
Global oilseed output was greater than 500 million tons for 2015. Accessibility of sustainable raw substances in oilseed form can favorably impact the industry output. Long shelf life span coupled with approval from regulatory agencies like EPA(U.S. Environmental Protection Agency )and FDA ( U.S. Food and Drug Administration) for its food processing use is predicted to boost industry growth.
Growing occurrence of ecological degradation due to fast industrialization in North America and APAC along with rising environmental concerns to minimize effect of toxic wastes and heavy metals on soil and water bodies can favor industry growth in future. Complicated and price intensive production process along with insignificant raw material supplies is predicted to inhibit biosurfactants market price trend.
Product Insights
The industry is segmented into various products like methyl ester sulfonates, alkyl polyglucosides and rhamnolipids.
MES(Methyl ester sulfonates) led the product demand by producing revenue of about $586 million for 2015. MES is extensively utilized as laundry detergents due to its property of heavy hardness tolerance towards calcium ions and its fast biodegradation rate. Rising customer preference for detergents as alternative for laundry soaps is predicted to drive demand for methyl ester sulfonates.
Alkyl polyglucosides(APG)segment is predicted to register CAGR of more than 4.51% in terms of demand. It is extensively utilized in domestic detergent applications due to its high welting and detergency features. Few other key APG applications are paint strippers, aluminum brighteners and metal cleaners.
Rhamnolipids segment crossed $4.1 million revenue mark for 2015 and is predicted to register more than 8.51% of CAGR in terms of demand. Rhamnolipids based biosurfactants are extensively utilized in personal care items like shampoo and moisturizers. In addition to this, growing use of rhamnolipids in oilfield chemicals to prevent hydrocarbon degradation can stimulate demand for biosurfactants market.

Application Insights
Global industry is segmented into various applications like food processing application, household detergent application and industrial cleaner application. Food processing segment is predicted to register CAGR of more than 5.51% and cross $151 million mark by end of forecast timeframe. Biosurfactants are utilized in food processing as gels, stabilizers, emulsifiers and foams.
Household detergent led the application segment for 2015 and was evaluated at more than $781 million during that year. Growing demand for household cleaners and laundry detergents are predicted to drive biosurfactants market growth. Growing customer consciousness about toxicity of petrochemical derived items has stimulated the demand for this segment.
Industrial cleaner segment is predicted to record more than 4.51% of CAGR. Alkyl polyglucosides is growingly used in industrial cleaner applications like paint stripping and oil surface cleansing due to its exceptional features. Fast industrialization in India, China and Brazil are predicted to enhance the segment demand.

Regional Insights
Global biosurfactants market is segmented into key geographical regions like North America, APAC, Europe, MEA and Latin America. Europe dominated the global industry by contributing more than $901 million revenue for 2015. Countries like UK, France and Germany contributed to the industry growth in the region.
APAC industry is predicted to register CAGR of more than 4.51% and acquire maximum gains. Countries like India and China are predicted to contribute to the regional industry expansion. Further, rise in personal care sectors , textile industries and agriculture sectors in countries like China and India coupled with growing personal care items demand in Southeast Asia are the factors predicted to contribute towards industry growth in the region.
Latin America is predicted to surpass $100 million mark by end of 2023 and register more than 5.51% CAGR during forecast timeline. Increasing household detergent applications, textile applications and agricultural applications in countries like Brazil and Venezuela may promote the industry growth in the region.

Competitive Insights
Key industry players profiled in the report include Urumqui Unite Bio-Technology Company Limited, Mitsubishi Chemical Corporation, Croda International PLC, Lion Corporation Chemicals Division, MG Intobio Company Limited, Saraya, BASF Cognis, AkzoNobel, Cargil, Ecover, Jeneil Biotech Incorporation, Soliance, Sun Products Corporation, Kao, Chemtura Corporation and Evonik Industries AG.
Download a sample copy of this report: https://www.gminsights.com/request-sample/detail/484
Written By : Dhananjay Punekar