The biomedical sector, one of many disciplines of biotechnology market, that came into inception in 1980, is currently depicting an upward growth trend. The contribution of biotechnology, a mammoth doctrine in itself, toward the development and discovery of various pharmaceutical drugs and biosimilars, has led to global biotechnology market experiencing a profound hike of late. Nowadays biotechnology is responsible for the success of modern medicinal practices and manufacturing technologies. Surging adoption of the emerging technologies such as tissue engineering, fermentation, recombinant technology, and DNA sequencing will also enhance biotechnology industry size over the years ahead.

U.S. Biotechnology Market Size, by Application, 2012- 2024 (USD Million)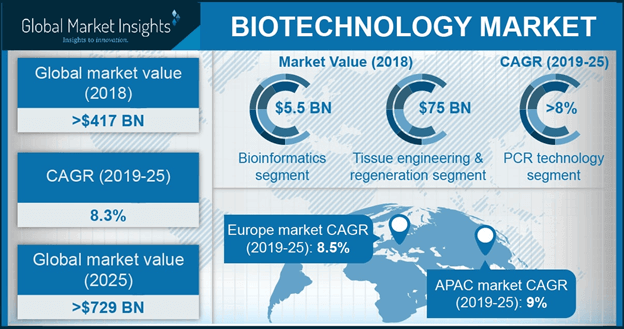 With the growing trends of industrialization and urbanization, people have been leading sedentary lifestyles of late. This has led to the rising prevalence of difficult-to-cure chronic diseases among various demographics, which has however, been quelled, owing to the emergence of biotechnology. The reason behind this can be attributed to the fact that therapeutic proteins created using DNA technology, which genetically modifies living cells, are used to treat chronic diseases. DNA sequencing also plays major role in gene therapy, gene-based diagnostic testing, and research tools. Undeniably, DNA sequencing is one of the most lucrative product segments of biotechnology market, which is anticipated to garner a profitable valuation over the coming years. The governments of various countries have also been investing heavily in R&D to accelerate the production of vaccines and products for chronic ailments, which will further stimulate global biotechnology market.

Major biotech companies and private research institutes across North America have been taking initiatives to perform heavy research in the biotechnology sector. Pharma giants such as AstraZeneca and Novartis have also been encouraging their researchers to develop new and effective drug therapies by investing significantly into advanced technological innovations. In fact, according to a recent news snippet, Novartis has introduced a new cancer gene therapy that is likely to create ripples of anticipation in the medical sector, thereby influencing biotechnology market over the years. Amgen, Johnson & Johnson, AstaZeneca, Novartis, Abbott Laboratories, Sanofi, Celgene, Biogen, GlaxoSmithKline, Roche Holding AG, Lonza, Genzyme, Genentech, and Pfizer are some of the noteworthy players in biotechnology market. Pertaining to the surging awareness among people and the presence of biggies across North America, biotechnology industry is slated to expand favorably over 2016-2024.

North America biotechnology industry collected a revenue of USD 137.4 billion in 2015 and will exhibit considerable annual growth rate over the coming seven years. This regional market is influenced by strategic collaborations among leading companies. For instance, in 2015, Roche collaborated with the U.S. based biotechnology firm named as Janus Biotherapeutics to develop a therapy for autoimmune disease. Various pharmaceutical and biotechnology companies have been undertaking initiatives to improve the quality of clinical research. This discipline is likely to lead the industry giants toward the generation of new therapies to accomplish the surging need for advanced medication across the globe.
With the global surge in population, the demand and usage of various resources has increased as well, which has resulted in the depletion of non-renewable energy sources. Scientists are therefore focusing on the development of bio based and renewable energy sources to fulfill the global demand for food. On that note, biofuels and bioenzymes, that have come into picture in the recent years, will influence biotechnology market share considerably.

Biopharmacy dominated the overall biotechnology market by accounting more than 87% of the revenue contribution in 2015 and will generate substantial valuation by the end of 2024. The tremendous escalation in the occurrence of chronic diseases by the day owing to sedentary lifestyles has led to the requirement of personalized medicines, which is another factor that will propel biotechnology market significantly. Favorable funding from the government will also enhance the demand for biopharmacy applications. According to Global Market Insights, Inc., "Worldwide biotechnology market having had a revenue of USD 330.3 billion in 2015, will surpass a revenue collection of USD 775.2 billion by 2024 with a CAGR of 9.9% over the years ahead."

As per statistics, various organizations such as the Department of Biotechnology (DBT) and National Biotechnology Board (NTBT) provide sufficient financial assistance to promote biotechnology. Under the Europe NEST program, various pharmaceutical companies have been getting benefits to develop new vaccines and drugs using synthetic biology. On that note, Europe biotechnology market is slated to witness lucrative annual growth rate over 2016-2024, owing to the increasing awareness among the people about their health along with supportive health policies offered by the government agencies to the consumers across this region. Moreover, deployment of favorable regulatory norms across Europe will also stimulate biotechnology industry growth.
Biotech companies have been outsourcing their research projects to other firms for developing new bio formulae without hampering their core operations. This growth tactic is likely to provide a positive impetus to industry biggies for retaining their position in global biotechnology market. As is the case with most industries, partnerships and M&As also form a major part of the strategy spectrum of this business space that helps companies expand their profit margins.

Written By : Sunil Hebbalkar