Breast implants market is being chronicled among the more remunerative business spheres in recent times, owing to the rising trend of women undergoing breast reconstruction and breast augmentation. Breast implants have been taking on priority among women given their increasing eagerness to look fit and attractive, while maintaining their breast volume and overall body fitness. The inception of breast implants market dates back to the 19th century, when in 1890, an Australian researcher, Dr. Robert Gersuny used paraffin to augment women's breasts. The technique however, led to a high infection rate and heavy breasts, and was abandoned eventually, given its extensive failure rate. From then on to now, breast implant techniques have undergone a plethora of changes, which has led to the substantial commercialization scope of breast implants industry share. Modernization has brought forth several options for customers – like the next generation breast implant design and breast augmentation, both of which contribute toward making a woman's body look healthy, attractive, vibrant, and youthful. Perhaps on account of its extensive proliferation in the fashion and medical arenas, breast implants market size was worth USD 3 billion in 2016.


U.S. Breast Implants Market size, By Product, 2013-2024 (USD Million)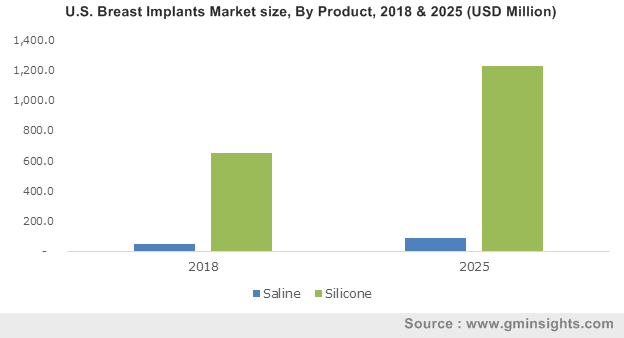 Considering the robust surge in the adoption rate of cosmetic plastic surgeries, renowned players in breast implants market are strongly focusing on the design innovation and technological advancements in implants. This growth in the innovation spectrum may lead to the reduction of wrinkling or rippling in breasts, which is a rather favorable determinant propelling breast implants industry share. With the passage of time, the medical fraternity has been experiencing an appreciable percentage of changes, with surgeons gaining more experience and expertise in cosmetic surgeries, inclusive of breast implant surgeries. In effect, it can be declared that the rising number of skilled and qualified surgeons is also a vital factor that may serve to accelerate breast implants market share positively.
It is prudent to mention that breast implants market is quite substantially characterized by extensive research and product differentiation. A leading medical aesthetic company, GC Aesthetics, recently made it to the headlines for having consistently conducted clinical studies since the past decade to manufacture safe, highly developed implants. Additionally, the company has also been providing funds to plastic surgeons for them to carry out in-depth research regarding the socio-economic impact of breast cancer diagnoses as well as their impact on a woman's sexuality, workplace, and social activities. GC Aesthetics' contribution toward breast implants market also borders on the subject of corporate social responsibility, which is being undertaken by many companies of late. Speaking along the same lines, prominent players in breast implants market include Mentor, GC Aesthetics, Allergan, Polytech Health and Aesthetics, HansBiomed, Groupe Sebbin, Ideal Implant, Sientra, and Groupe Sebbin.

According to the World Cancer Research Fund International, in 2012, nearly 1.7 million cases of breast cancer in women were diagnosed. The American Cancer Society estimates that nearly 252,710 cases of breast cancer will be treated in U.S. in 2017. Considering the disastrous effects of a mastectomy and its influence on the patient's physical and mental well-being, doctors often prescribe the procedure of breast reconstruction. This goes to prove that the increasing number of breast cancer cases among women will, in all probability, stimulate breast implants market size over the coming seven years.

The United States is one of the nerve centers of breast implants market. In 2016, U.S. covered more than 85% of North America breast implants market share, owing to the shifting trends toward breast augmentation surgery. The increasing adoption rate of advanced products as well as the growing investments in healthcare infrastructure development are most certain to propel the regional breast implants industry share.

It is noteworthy to mention that among the all cosmetic surgery treatments, breast augmentation has quite a successful track record. These surgeries aim to increase or restore the breast size with the help of saline implants, silicone gel or in some cases, fat transfer, and supposedly, are less invasive and painful. In addition, the on-going research and developments in breast augmentation will further stimulate the demand for this application, thereby impelling breast implants industry size over the years ahead.

Silicone implants have been gaining traction in breast implants industry, subject to their capability to replicate the lighter weight and feel of a natural breast. On these grounds, surgeons have been giving preference to silicone implants.

Another trend proliferating breast implants market lately is the development of surgical adhesives to repair the infected tissues for breast cancer. Given the increasing number of breast cancer cases on a global scale, these adhesives are likely to garner substantial attention. Companies partaking in breast implants market share have been investing heavily in research and development activities to introduce new technologies - a fact which may majorly augment breast implants industry size in the ensuing years.

Written By : Sunil Hebbalkar