Key tie-ups between major industry majors for inducting new thermal technologies are expected to majorly influence Building thermal insulation market growth. For instance, reputed business players such as Berger Paints India Limited and NBCC Limited have engaged in strategic collaborations to launch new external thermal insulation & composite systems for enhancing the energy efficiency of the constructions in India. The main aim behind the introduction of new ETICS systems in the country is the products' cost-effectiveness. In addition, the technology abridges the thermal bridges and substantially curtails the energy needs of the buildings, which in turn, is anticipated to contribute remarkably toward the green environment. Global Market Insights, Inc., state that building thermal insulation industry, worth USD 25 billion in 2016, is projected to surpass USD 34.9 billion by 2024.

Strict legislations enforced by reputed regulatory bodies coupled with substantial government funding in the form of loans at low interest rates will favorably impact the market trends. Thermally insulated products possess excellent conductivity, longevity, and moisture sensitivity, which are the key properties that will positively leverage building thermal insulation market. Global construction expenditure, which was estimated at USD 7.5 trillion in 2016, is projected to surpass USD 15 trillion by 2024, which will provide numerous opportunities for the business players to expand their product portfolio.

U.S. Building Thermal Insulation Market Size, By End-Use, 2016-2024 (USD Million)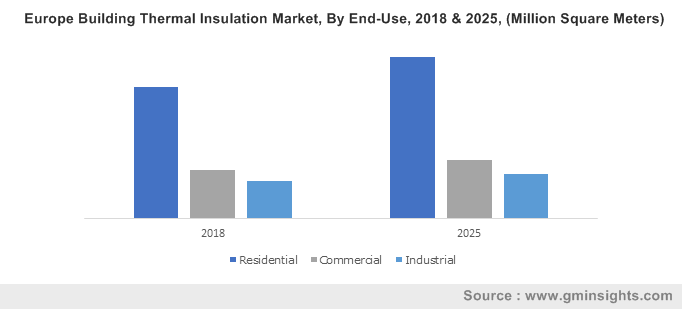 The expanding construction sector across APAC is one of the key driving forces behind the growth of this region. Estimates claim Asia Pacific building thermal insulation industry to record notable gains of more than 4% over the coming timeline. Escalating need for thermal insulation to control the building temperature across residential and commercial sectors will push the revenue. India, China, and Japan are projected to be the major revenue contributors. China construction sector, worth USD 1.5 trillion in 2016, is forecast to register significant gains of over 4.5% during the duration from 2017 to 2024, which will indirectly fuel the APAC building thermal insulation market size.

MEA building thermal insulation market revenue is predicted to surpass USD 320 million by 2024, driven by the rising popularity of green technologies to maintain a clean environment. UAE and Saudi Arabia are more likely to drive the regional share. UAE building thermal insulation industry alone produced a revenue of over USD 260 million in 2016.

Europe building thermal insulation market contributed over 45% toward global industry share in 2016, and is expected to grow at a remarkable pace in the years ahead. Strict norms enforced by law enforcement agencies in Europe are expected to amplify the growth. Germany is foreseen to majorly drive the industry growth across the region.

Thermal insulation is highly popular across residential, commercial, and industrial sectors. The residential sector, which accounted for over 56% of building thermal insulation industry size in 2016, is projected to support the business growth. The rising need to decrease greenhouse gas emissions and optimize power consumption will help in accelerating the industry expansion.

Building thermal insulation market in the commercial sector is set to record a CAGR of greater than 4% over the coming seven years. Growing product preference to regulate the temperature of malls and commercial shops for providing comfort to customers will create favorable grounds for business expansion. Renovation of old structures is expected to contribute significantly towards the business space.

Floors, roofs, and walls of the various construction structures profusely make use of thermal insulation. Building thermal insulation industry size from roof applications is projected to expand by nearly 4% over the coming timeline. Mounting consumer preference for flat roofs, the revenue of which is estimated to cross USD 5.6 billion by 2024, is expected to support the rapid expansion of building thermal insulation market.

Wall applications, which generated a revenue of more than USD 12 billion in 2016, are expected to make notable contributions toward building thermal insulation market share over the years ahead. An escalating requirement to improve energy preservation and weather proofing will impel building thermal insulation industry development.

Floor applications, which contributed over 19% of the global market demand in 2016, are expected to drive building thermal insulation industry value. Rise in the number of construction projects due to swift urbanization will augment the scope of the business.

Expanded polystyrene (EPS), wool insulation, and polyurethanes are some of the key materials used in thermal insulation of the buildings. Wool insulation material, which accounted for over half of building thermal insulation market share in 2016, is expected to boost the business landscape. Intensified demand for the product across the residential and the commercial activities will favorably influence the building thermal insulation industry revenue.

Expanded polystyrene is projected to exhibit a CAGR of 4.2% over the years to come, owing to the beneficial product features such as resilience, lightweight, and effective processing ability. Polyurethanes, which generated a revenue of more than USD 1.8 billion in 2016, are expected to influence the industry landscape. Its ability to reduce emissions and maintain the cooling effect of the buildings through heat regulation is more than likely to positively leverage the product trends.

Huntsman International LLC, Dow Building Solutions, Saint-Gobain S.A., Johns Manville, BASF Polyurethanes GmbH, Owens Corning, and Kingspan Group Plc are the major players of building thermal insulation market.
Written By : Dhananjay Punekar