Global butane market is witnessing vigorous growth due to increasing government support for the use of LPG as domestic fuel. Growing application of LPG in domestic, commercial, and agricultural sector, particularly in Asia Pacific and Africa will bring a huge set of opportunities for the butane market space. Moreover, environmental benefits of using auto gas have encouraged countries such as Australia and Algeria to promote auto gas vehicles. In response to this fact, increasing use of auto gas over gasoline or diesel will further thrive the butane industry growth. According to Global Market Insights, Inc., "Butane Market size is anticipated to surpass USD 265 million by 2022."

Favorable government initiatives in Indonesia and India in regards to usage of LPG as it emits low CO2, has been the key factor driving the industry outlook. For instance, Indonesia government had initiated Paraffin-to-LPG conversion program and distributed 3 kilos refillable LPG cylinder and stove. Moreover, India government has also launched the Rajiv Gandhi Gramin LPG Vitaran program to distribute low cost LPG in rural areas. These respective initiatives will favor butane industry trends over the coming five years.

Europe butane market size, by application, 2012-2022 (Million Tons)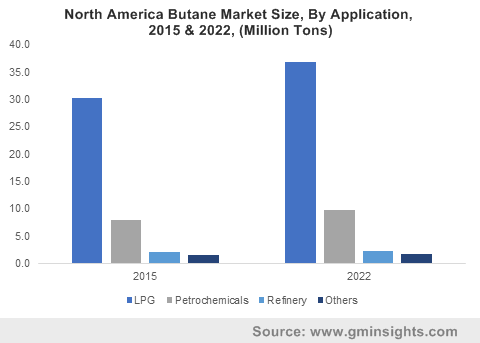 Asia Pacific is forecast to lead the regional outlook
Asia Pacific butane market is estimated to witness substantial growth in the coming years. India and China are the dominant market, accounting for maximum share and revenue generation worth USD 57 billion in 2014. Rising demand for energy and cooking fuel, mainly in rural parts of India and China will boost the regional growth of the butane industry.

Middle East and North Africa regional market share occupied over 18% of the total volume in 2014. Potential growth rate can be particularly observed in UAE, Saudi Arabia, Nigeria and Qatar. Petrochemical market is expected to witness fast paced growth in the coming five years in these regions. Increasing application of LPG in feedstock as an alternative for crude oil & natural gas in chemical industries and refineries has propelled the growth of butane industry share.

Petrochemical application is projected to surge at highest rate over 2015-2022
Butane industry is poised to spectate colossal growth as it finds its major applications across the LPG, petrochemicals, and refinery sectors. The petrochemical application accounted for 16% of the total volume and is further expected to witness highest growth rates over the period of 2015-2022. The upsurge of the petrochemical industry in the Middle East region will notably fuel the butane industry trends. The attributing factor for this regional growth is the increasing demand for butane, which is used in manufacturing of ethylene and butadiene in the Middle East.

LPG butane market is another lucrative application segment, which was worth USD 120 billion in 2014. Ringing application of LPG as cooking fuel and adoption of LPG as a transportation fuel in Asia Pacific regions will push the global industry growth of LPG. Moreover, LPG is also used as heating fuel in cold regions over the globe. Increasing demand for heating application is expected to generate gains over the coming timeframe. Furthermore, Dimethyl ether applications when combined with LPG will find extensive usage in heating and cooking applications. Rising demand for alternatives of LPG will also boost the Dimethyl Ether (DME) Market in the coming years.

The butane market is highly fragmented with very few market players. This industry is consolidated with top four market players sharing not more than 40% of the total demand. Within this market, Exxon Mobil is emerging as the market front-runner. Other notable participants include British Petroleum (BP), Devon Energy, ConocoPhillips, Chevron Corp, Total S.A., CNPC, Praxair, Royal Dutch Shell and SINOPEC.

Written By : Ojaswita Kutepatil