Rapid technological innovations along with the development of new biomarkers is expected to accelerate carcinoembryonic antigen (CEA) market revenue over the coming six years. Furthermore, rising occurrence of cancer along with favorable government outlook towards improving medical diagnosis is expected to offer lucrative growth opportunities for the industry. According to WHO, the diagnosed rate of cancer patients is expected to rise by 70% over the next two decades. As per Global Market Insights, Inc., "Carcinoembryonic antigen (CEA) market size is expected to witness highest gains of 6% over the period of 2016-2023." Minimally invasive diagnostics practices, which are cost-effective and require minor incision, are expected to drive the industry trends. Introduction of novel immunological procedures such as radioimmunoassay is anticipated to boost the CEA industry revenue over the next few years.

Germany Carcinoembryonic Antigen (CEA) Market size, by application, 2012-2023 (USD Million)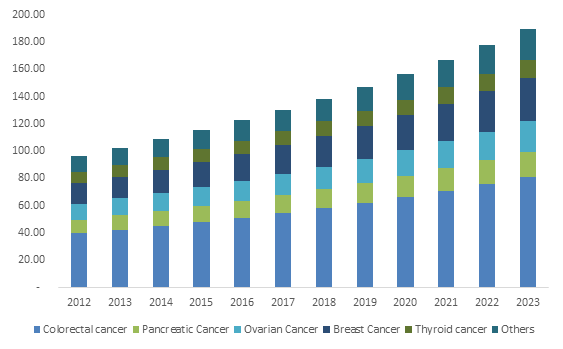 Carcinoembryonic antigen industry finds wide application in colorectal cancer, pancreatic cancer, ovarian cancer, thyroid cancer, and breast cancer diagnosis. Colorectal cancer diagnosis segment dominated the industry size in 2015 by contributing towards 40% of the overall revenue. Sedentary lifestyle, irregular & harmful diet, high liquor intake, and exposure to hazardous/radioactive elements is expected to drive the segment growth over the next few years. In fact, rate of occurrence of colorectal cancer across the globe is 1 million and is rising steadily each year. As per the NICE (National Institute for Health and Care Excellence), the accuracy of colorectal cancer detection through CEA test is nearly 30% to 80%.

Breast cancer diagnosis segment in Carcinoembryonic antigen (CEA) market is expected to hit USD 460 million by 2023, driven by the adoption of new biomarkers along with carcinoembryonic antigen. Again, rising cases of breast cancer and popular breast cancer screening tests is expected to further contribute towards the industry growth.

Regional highlights affecting CEA industry over 2016-2023 are displayed below
High per capita income, rise in the number of cancer patients, favorable government guidelines, improved healthcare services, and introduction of new modes of cancer treatment are the key attributing factors expected to drive the Asia Pacific CEA industry growth. India and China are expected to be major regional revenue pockets.

Latin America CEA market is expected to witness a significant growth over the coming years, driven by unhealthy & haphazard lifestyle, unbalanced diet, high alcohol intake, and excessive smoking habits. Brazil and Mexico are forecast to contribute significantly towards the regional share.

North America CEA industry, which dominated the overall revenue share in 2015, is anticipated to experience optimum growth over the next six years, owing to the high rate of cancer occurrence, high patient awareness, easy availability of advanced diagnostic tools, and improved healthcare infrastructure facility. U.S. is expected to drive the regional revenue.

Europe CEA market, which attained a revenue margin of USD 100 million in 2015, is projected observe a high surge over the coming timeframe. Germany is estimated to drive the regional growth.

Market players will try to retain their dominant position through high R&D investments, introduction of technologically innovative products, and strategic collaborations. Key industry participants include Abbott Laboratories, GenWay Biotech Inc., and Roche Holdings AG.
Written By : Dhananjay Punekar