With a rapid increase in the number of carpooling communities and a major part of the population supporting shared mobility, Carsharing industry is on its way to achieve a consequential gradient. This is evident from the fact that major automobile companies including premier organizations are bringing about a massive change in their business models to suit the tastes and comfort level of prospective customers looking for suitable shared automobiles, thereby providing an impetus to global Carsharing market. Volkswagen, the German auto giant, has made an investment of more than USD 290 Million in Gett, Inc., the famous Israeli mobility company, with an aim to commence electric bus rides marketed under MOIA, one of the VW group companies. This move is expected to significantly increase VW's profits, and will also stimulate regional Carsharing industry.

The world is witnessing a remarkable increase in shared mobility, especially in the urban areas, since vehicle sharing contributes to sustainable transportation, thereby helping toward the eradication of pollution. Stringent government norms regarding harmful vehicle emissions will be a major factor propelling global Carsharing market, which is set to hit a revenue of USD 16.5 billion by 2024, with a CAGR projection of 34.8% over 2016-2024.


Germany Car Sharing Market Size, By Application, 2013-2024 (USD Million)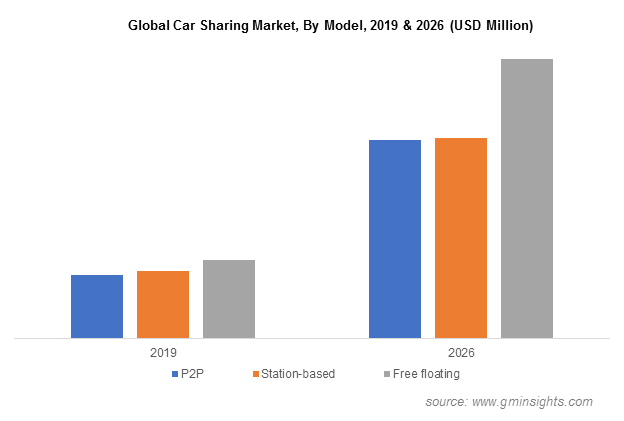 Key industry giants are working towards creating sustainable business models embedded with connected technology to ease Carsharing. These companies also collaborate with one another for the purpose of providing improved mobility services and developing high tech car models for consumers. For instance, General Motors has partnered with Yi Wei Xing, a Chinese company that specializes in arranging short car rentals. This deal will help GM explore the Carsharing market in China and develop its own models keeping in line with consumer personal mobility requirements. Major companies accumulating a significant share in Carsharing industry include Mobility Carsharing, Zoomcar, Autolib, Uber, WhipCar, Lyft, Hertz Corporation, GoGet, Car2go, Zipcar, RelayRides, DriveNow, Orix, and Getaround.
Carsharing market from private applications will exhibit remarkable growth prospects over the coming seven years, driven by the factors of prompt availability and reliability. Carsharing is set to become a major source of transportation in the corporate sector, owing to huge demand for shared mobility from major corporations. The necessity to contribute toward environmental safety, reduce vehicular emissions, and optimize transportation will augment Carsharing industry share from business applications. Private vehicle parking is often a major issue with most corporates, which can be eliminated with Carsharing. This factor will also propel Carsharing market from business applications, which is forecast to lead the application landscape over 2016-2024.

One-way and round trip sharing are the two major business models of Carsharing industry. Adopting the one-way model is advantageous in the sense that the passengers need not undergo the hassle of returning the car at the pick & drop location, which is why some companies specifically offer one-way Carsharing services. For instance, BlueSG in Singapore provides a one-way electric vehicle EV Carsharing program. Additionally, one-way models provide flexibility and user convenience, which will rapidly spur Carsharing market from one-way business model.

Round trip business models allow customers to pick and drop a vehicle from the same location, configured by means of a personal access card. Travel cost in this model is based on the total distance and the payment is charged on a per user basis. Huge adoption of this model owing to the aforementioned benefits will propel round trip Carsharing industry share.

China is home to major Carsharing market participants such as Park24 and Orix Auto. The nation is also witnessing a rise in the number of start-ups that will require abundant Carsharing services, which is likely to fuel China Carsharing industry. The rising investments from automakers and the huge demand or vehicle sharing across the corporate sector will impel China Carsharing market, set to grow at a CAGR of 40% over 2016-2024.

High rate of urbanization and the increasing number of carbon footprints in the atmosphere will expedite U.S. Carsharing industry. U.S. led the regional Carsharing market in 2015 owing to the increasing adoption of vehicle sharing services. Huge funding from government authorities that encourage Carsharing will also remarkably spur the regional industry over the next few years.

Subject to highly advanced technological upgradations, Carsharing market will experience a steep ascent over the years to come. Companies are rapidly investing in R&D activities to diversify their product and service offering. Mergers, acquisitions, and partnerships are established growth strategies that industry players make use of. Recently, Zoomcar and Mahindra Electric signed a deal that aims to increase the frequency of electric Carsharing. This venture will enable users to purchase Mahindra's electric vehicles on Zoomcar's platform, leading to an increase in the sharing of electric vehicles, thereby stimulating global Carsharing market.

The penetration of smartphones in every industry has been rapidly increasing with time. The rising utilization of smartphones and tablets for booking vehicles will also boost Carsharing industry. This technology provides the benefits of reduced pollution, less traffic congestion on roads, reduced parking space, shorter journeys, and reduced fuel prices. These advantages will surely lead to a positive influence on Carsharing market over the coming years.

Written By : Saipriya Iyer