With a rapid increase in the number of carpooling communities and a major part of the population supporting shared mobility, carsharing market is on its way to achieve a consequential gradient. This is evident from the fact that major automobile companies including premier organizations are bringing about a massive change in their business models to suit the tastes and comfort level of prospective customers looking for suitable shared automobiles. The customer-centric approach is certain to provide an impetus to global carsharing market size, pegged at USD 1.5 billion in 2017.

Citing an instance of the aforesaid pointer, Volkswagen, the German auto giant, recently made an investment of more than USD 290 in Gett, Inc., the famous Israeli mobility company, with an aim to commence electric bus rides marketed under MOIA, one of the VW group companies. This move is expected to significantly increase VW's profits, while simultaneously augmenting regional car sharing industry trends.

UK Car Sharing Market size, by model, 2017 & 2024 (USD Million)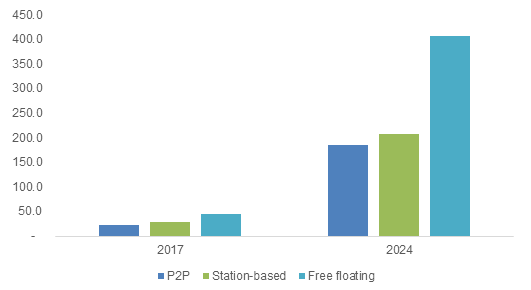 The world is witnessing a remarkable increase in shared mobility, especially in the urban areas, since vehicle sharing contributes to sustainable transportation, thereby helping toward the eradication of pollution. Key industry giants are working towards creating sustainable business models embedded with connected technology to ease carsharing. These companies are also known to collaborate with one another for the purpose of providing improved mobility services and developing high tech car models for consumers. For instance, General Motors has partnered with Yi Wei Xing, a Chinese company that specializes in arranging short car rentals. This deal will help GM explore the car sharing market in China and develop its own models keeping in line with consumer personal mobility requirements.

Ride sharing is set to become a major source of transportation in the corporate sector, owing to huge demand for shared mobility from major corporations. The necessity to contribute toward environmental safety, reduce vehicular emissions, and optimize transportation will augment carsharing industry share from business applications. Private vehicle parking is often a major issue with most corporates, which can be eliminated with carsharing. Reduced parking inconvenience is thus, a major factor that would propel carsharing market from business applications – indeed, this segment is anticipated to remain dominant over 2018-2024, accounting for a major share of the overall revenue.

Car sharing industry players, as a rule, work on the operational business models of one-way and round-trip sharing. Adopting the one-way model is advantageous in the sense that the passengers need not undergo the hassle of returning the car at the pick & drop location, which is why some companies specifically offer one-way car sharing services. For instance, BlueSG in Singapore provides a one-way electric vehicle EV carsharing program. Additionally, these models provide flexibility and user convenience, which will rapidly spur carsharing market from one-way business model.

This vertical practically has its roots spread across myriad geographies, though China is touted to emerge as a prime revenue contributor over the course of the next few years. The country is home to major carsharing market participants such as Park24 and Orix Auto. The nation is also witnessing a rise in the number of start-ups that will require abundant carsharing services. Regional magnates such as Didi Chuxing have also lately been involving themselves to enhance the efficiency of the country's ride-sharing services.

Speaking along similar lines, Didi Chuxing recently joined a bandwagon of 31 renowned automakers to launch the Didi Auto Alliance – a car sharing alliance that is touted to bring together vital resources and the strengths of shared mobility with pivotal links in the automotive industry. The nation is also aided by a favorable regulatory framework that earnestly supports the promotion of ride sharing citing environmental and economic concerns. A couple of years back, in March 2016, the National Development and Reform Commission enforced a set of guidelines that helped strengthen the credit system for the shared economy. Regional government bodies across Beijing, Shanghai, Shenzhen, and Qingdao have also been providing offering parking lots and other services that are certain to augment China cars haring industry outlook.

Subject to highly advanced technological upgradations, carsharing market share will experience a steep ascent over the years to come. Companies are rapidly investing in R&D activities and have been expanding their reach across myriad geographies with their innovative plans for shared mobility. Recently for instance, Zoomcar and Mahindra Electric signed a deal that aims to increase the frequency of electric carsharing. This venture will enable users to purchase Mahindra's electric vehicles on Zoomcar's platform, leading to an increase in the sharing of electric vehicles, thereby stimulating global carsharing market.

Yet another company, Re.Volt, plans to very soon commence a carsharing scheme in Prague with 20 electric vehicles. In the event that the plan is successful, the firm aims to expand the fleet to 240 EVs and strengthen its stance across the Europe carsharing industry.

The penetration of advanced technologies across the automotive sector has been a major driving force behind the development of carsharing market. As scientists unleash further progression in IoT and AI, the benefits of reduced pollution, less traffic congestion, reduced parking space, shorter journeys, and lowered fuel prices are likely to become more apparent. The potential recognition of these advantages by consumers is certain to increase shared mobility, thereby leading to a spike in the revenue graph of carsharing industry. As per reliable estimates, carsharing market size is expected to cross USD 11 billion by 2024.
Written By : Saipriya Iyer