Rising expenditure on construction activities worldwide is anticipated to favorably influence ceramic tiles market over the coming years. Government initiatives to propel infrastructure growth, rising per capita income, foreign investment, and increasing population are few of the factors predicted to benefit construction industry, consequently stimulating ceramic tiles market size. Strong growth in flooring industry, which holds a significant importance in commercial and residential infrastructure such as hospitals, airports, and railway stations, is predicted to catalyze the market share over the coming eight years. According to Global Market Insights, Inc., "Ceramic Tiles Market share worth USD 77 billion in 2015, is expected to reach USD 178 billion by 2024, growing at a rate of 9.8% over 2016-2024."

Ceramic tiles find significant applications in residential and commercial sectors. Emerging residential projects will further bring a wide set of opportunities for the ceramic tiles market players. Ceramic tiles application in residential replacement sector worth USD 36 billion in 2015, is predicted to witness a substantial growth over 2016-2024. Increasing spending on renovation activities to improve appearance of walls and floors is predicted to fuel the demand for ceramic tiles applications in residential replacement sector. Its application in commercial sector is anticipated to grow at a rate of 9.8% over 2016-2024 due to growing demand for ceramic tiles to provide aesthetic look to commercial structures like workplaces, shopping malls, and airports.

U.S Ceramic Tiles Market share, by application, 2013-2024 (USD Million)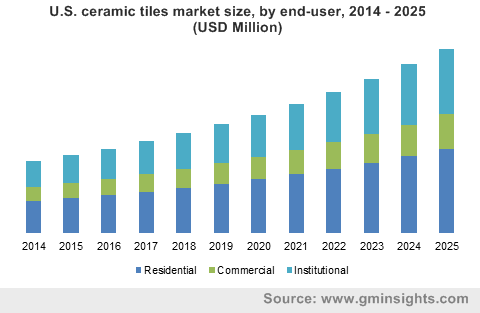 Ceramic tiles products such as wall tiles and floor tiles are witnessing heavy demand across various industries. Ceramic wall tiles market is forecast to grow at a rate of 9.5% over 2016-2024 as they are sunlight resistant which helps them to retain color for longer period and makes them widely preferred in walls. Furthermore, these tiles are extensively used in kitchens owing to their ease of cleaning and aesthetic appeal. Floor ceramic tiles market share produced a revenue of over USD 39 billion in 2015 and is expected to witness a substantial growth over the coming eight years owing to its high durability as well as shock & thermal resistance properties. In addition to this, ease of replacing and installing these tiles is predicted to increase its popularity in near future.

Asia Pacific ceramic tiles market is expected to record a CAGR of 10% over 2016-2024 due to rise in expenditure in construction industry. Furthermore, rising preference for marble floors along with replacement of metal slabs, paints, and home decorative items with ceramic tiles are expected to boost the regional growth over the coming years. South Korea, Japan, and India are predicted to be the key revenue pockets of the region over the coming eight years.

North America market worth USD 1 billion in 2015, is anticipated to witness a significant surge over forecast timeframe due to growing remodeling practice coupled with forthcoming construction projects comprising commercial as well as residential constructions. U.S. ceramic tiles market is expected to make a substantial contribution towards the overall revenue of the region.

Key industry players include Siam Cement Company, Lamosa Grupo, Mohawk Industries, Kajaria Ceramics Limited, Ras Ceramics, China Ceramics Company Limited, Ceramiche Atlas Concorde S.P.A, and Saloni Ceramica. Regional expansion and product innovation will be the key growth strategies witnessed by the industry over the coming years.

Written By : Dhananjay Punekar