Chitosan industry size is expected to grow at a rate of 16% over the period of 2016-2024, owing to its wide applications in agriculture, horticulture, winemaking, bioprinting, water treatment, polyurethane paint coatings, biomedicine & pharmaceuticals, cosmetics, food & beverages, and pharmaceuticals sectors. High demand for pure water due to rapid industrialization and rising population is expected to drive global chitosan market trends over the coming years. Its increasing use in the water treatment sector, owing to its non-toxic and biodegradable properties, is expected to boost chitosan market growth over the next few years.

Chitosan market share in biomedicine & pharmaceutical sector is expected to grow at a CAGR of 17% over 2016-2024. The growth can be attributed to the wide use of the product in bandages as a result of its hemostatic, hypoallergenic & antibacterial properties, which helps in reducing pain, blood clotting, and bleeding. Furthermore, it helps to deliver medicine through the skin. Chitosan market size in water treatment sector estimated at USD 300 million in 2015, is projected to witness a noticeable growth over the coming timeframe. The growth can be credited to its ability to remove oil, phosphorous, and heavy material impurities as well as suspended particles from water.

U.S. Chitosan Market size, by application, 2013-2024 (USD million)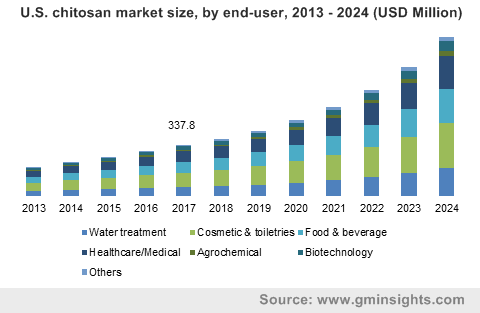 Chitosan market revenue in food & beverages sector is expected to grow at a significant rate of 16% over the coming eight years, owing to its antibacterial, antifungal, antioxidant, and antiviral properties which helps in enhancing the shelf life of food. Its application in the cosmetics sector valued at USD 500 million in 2015, is expected to grow significantly over the coming timeframe due to its growing use in anti-aging creams, haircare, and dental care products. Global cosmetics segment worth USD 260 billion, is projected to record a CAGR of 4% over 2016-2024. The growth of the cosmetics segment is expected to favorably influence the global chitosan industry growth.

North America chitosan market price worth USD 550 million in 2015, is expected to grow considerably over the next few years. The growth can be credited to rising health awareness among consumers along with high expenditure on dietary supplements. U.S. is expected to be a major regional revenue contributor.

Asia Pacific chitosan market is expected to record significant gains of 18% over 2016-2024, owing to its growing use as bio-pesticide in agriculture sector. Furthermore, rapidly growing industrial sector is predicted to contribute substantially towards the regional growth. Japan and China are expected to contribute considerably towards the regional share.

Market players will try to increase their brand visibility and revenue by implementing business strategies such as strategic alliances and product differentiation. Key industry players include GTC Bio Corporation, KitoZyme, Xianju Tengwang Chitosan Factory, Panvo Organics Private Limited, FMC Health and Nutrition, and PT Biotech Surindo.

Written By : Dhananjay Punekar