Rapid changes in the food consumption patterns due to rise in disposable income, technological innovations, overall economic growth, and expansion of food supply chain is anticipated to drive the commercial refrigeration equipment market over the coming years. Growing international trade of frozen food products due to shifting diet preferences have resulted in heavy demand for commercial refrigeration equipment. Rising applications of these devices in horticulture and seafood sectors are projected to stimulate the market growth over the coming seven years. As per Global Market Insights Inc., "Commercial Refrigeration Equipment Market worth USD 30.94 billion in 2015, is forecast to surpass USD 47 billion by 2023, at a CAGR of 5.6% over the period of 2016-2023."

The Asia Pacific commercial refrigeration equipment market share is projected to exceed USD 14.5 billion mark by 2023 due to the growing popularity of fast food and coffee chains. China is anticipated to contribute substantially towards the overall APAC revenue. North America market, led by the U.S. is anticipated to witness a substantial growth over the period of 2016-2023 owing to high demand for food service and growing urbanization. Furthermore, technological breakthroughs in smart defrost systems, size reduction, and microprocessor-based control systems are likely to further contribute towards the regional growth.

Germany commercial refrigeration equipment market size, by application, 2012 - 2023 (USD Million)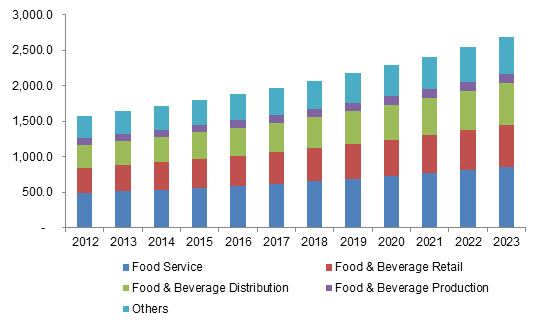 Among the various kinds of commercial refrigeration equipment such as refrigerators & freezers equipment, transportation refrigeration equipment, and beverage refrigeration equipment, the transportation refrigeration equipment market is predicted to make significant contributions towards the industry growth. The segment, worth USD 5.5 billion in 2015, is projected to grow at a CAGR of 6.8% over the period of 2016-2023. Growing purchasing power of consumers along with globalization in the food trade patterns are predicted to improve the penetration of transportation refrigeration equipment in the industry.

Commercial refrigeration equipment finds applications in the food & beverage retail, food service, food & beverage distribution, and food & beverage production sectors. The commercial refrigeration equipment applications in food service sector is expected to surpass USD 15 billion by 2023. Rising consumer spending on frozen food items and surging fast food chains are few of the factors expected to boost the equipment size in the food service sector over the coming seven years. The commercial refrigeration equipment market share in food & beverage production sector is expected to record a CAGR of 6.6% over the period of 2016-2024. The market has witnessed substantial technological innovations such as growing application of remote-monitored equipment to check the high liquid level, refrigeration leak, and pressure level of the refrigeration system. In addition to this, acceptance of magnetic refrigeration, thermo-acoustic, and thermo-electric refrigeration systems will further propel the use of commercial refrigeration equipment in the food & beverage production sector.

Key industry players include Daikin, Dover Corporation, Johnson Controls, and Carrier Corporation. Market players will try to increase their revenue through high R&D investments, new product launches, and mergers & acquisitions.


Written By : Dhananjay Punekar