The shifting global focus toward renewable energy sources will lead to concentrated solar power market exhibiting a flourishing growth rate in the years ahead. The industry participants can expect lucrative growth opportunities in the future to generate significant revenue from concentrated solar power market. To expand their business presence across the globe, many of the market players are adopting strategies such as mergers and acquisitions & joint ventures. As per the report by Global Market Insights, Inc., "The installation capacity of concentrated solar power market will cross the limit of 24 GW by 2025." This industry collected a revenue of USD 30 billion in 2015, owing to the benefits that CSP plants offer for electric grids in terms of backup and storage.

To overcome the energy deficiency caused due to the depletion of fossil fuels and reduce GHG emissions, the world is shifting its focus toward renewable energy. This, in turn, will boost concentrated solar power market share noticeably. U.S. concentrated solar power industry generated a revenue of more than USD 12 billion in 2015 and is predicted to record a considerable growth rate the years ahead. The attributing factor toward the industry growth is implementation of stringent governmental norms to reduce the carbon content in the environment. In addition, financial support from the government in terms of tax subsidies and tariff will fuel concentrated solar power market trends noticeably.

Global Concentrated Solar Power (CSP) Market installed capacity, by technology 2016 & 2025 (GW)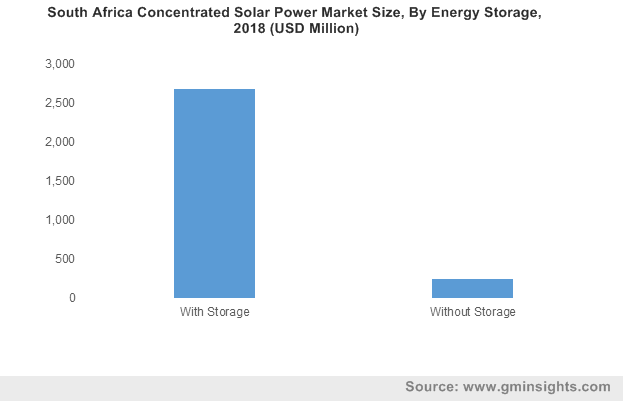 Technological advancements and huge investments in R&D will remarkably alter the growth curve of concentrated solar power industry over the coming years of 2016 to 2025. Based on technology, power tower will register an annual growth rate of more than 23% over the years ahead, owing to its enhanced performance, low cost, high efficiency, and large capacity. Several companies have invested in this technology subject to its excellent features. DLR had a major hand in installing the PS10 solar power tower in Spain (the world's first commercial concentrated solar power tower plant). Speaking of Spain, in 2013, the country fulfilled more than 3.1% of the electricity demand from photovoltaic plants and 1.8% with concentrated solar power plants. Government encouragement toward the adoption of clean energy will stimulate Spain concentrated solar power market share, which is anticipated to surpass a capacity of 3.5 GW by 2025.

Parabolic trough technology accounted for more than 70% revenue share in 2015 and will exhibit considerable growth rate over the period of 2016 to 2025, primarily driven by its cost-effectiveness as well as high efficiency as compared to the other technologies. Linear Fresnel is also another lucrative technology segment, which will surpass a revenue collection of USD 9 billion by 2025. The revenue generation is credited to its ground-based mirror design and the availability of collectors at affordable rates.

Chile concentrated solar power market will exhibit lucrative growth rate of more than 27% over the period of 2016 to 2025. The fact the major industry giants have planned potential solar power projects in the region due to favorable climatic conditions will push the regional growth.

India concentrated solar power market was worth around USD 1 billion in 2015 and will generate lucrative revenue over the coming timeframe, primarily driven by the steps the government has taken toward the production of energy from renewable sources. The government is also providing significant funding to install CSPs across the country to fulfill the increasing electricity demand.

Morocco concentrated solar power industry will collect a revenue of more than USD 5 billion by 2025, mainly driven by the favorable steps taken by the Moroccan Agency for Solar Energy to install a solar power plant of capacity 2 GW.
The noteworthy participants in concentrated solar power market are BrightSource Energy, NextEra Energy Resources, Siemens, Areva, Solar Reserve, Solar Millennium, Abengoa, TSK Flagsol, Acciona, and eSolar.

Written By : Sunil Hebbalkar