Technological innovations and a rising demand for high quality dental fillings will stimulate Dental Filling Materials Market growth. The American Dental Hygienists Association states that 80% of the population in the U.S. suffers from periodontal gum disease and approximately 78% are subject to cavities by the age of 17, which increases the prevalence of dental disorders. Furthermore, dental caries is estimated to affect 60% to 90% of the population, increasing the requirement for high quality tooth fillings.

According to Global Market Insights, Inc., "Dental Filling Materials Industry size is expected to be worth more than USD 1.4 billion by 2014, with a CAGR estimation of 3.7% over 2016-2024." Disposable incomes, increasing public awareness regarding oral hygiene, and the rising frequency of dental health problems amongst the geriatric population will catalyze the product demand.


Europe Tooth Filling Materials Market size, by product, 2012-2024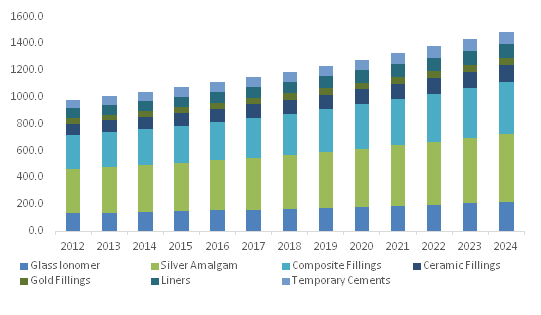 High infrastructural development in dental health will propel China Dental Filling Materials Market, which accounted for more than 41% of the regional share in 2015, and is likely to observe a CAGR of 4.6% over 2016-2024. Early dental problem detection and increasing awareness about oral hygiene will drive Asia Pacific Dental Filling Materials Industry, which contributed to more than 36% of the global revenue in 2015.

Germany Dental Filling Materials Market attributed to more than 26% of regional revenue in 2015 and is projected to exceed a value of USD 83 million by 2024. This growth can primarily be credited to public awareness pertaining to dental health maintenance and improved procedures for cosmetic dentistry.

Adoption of advanced technology in dental filling materials and a growing inclination toward aesthetic dentistry will propel U.S. Dental Filling Materials Industry share, which was valued over USD 270 million in 2015.

Below are the product trends ruling Dental Filling Materials Market:
Glass ionomer is used to manufacture dental fillings that are preferably used for children, driven by the properties of consistent fluoride release and color compatibility.

Gold Dental Filling Materials Market is slated to cross USD 56.7 million by 2024, growing at a CAGR of 2.9% over 2016-2024. Gold has a reputed social relevance and is compatible with food chemicals, both of which are the key drivers for this segment.

With a CAGR estimation of 3.8% over 2016-2024, composite Dental Filling Materials Industry will primarily flourish due to the increase in the number of dental health checkups across the globe, and is anticipated to record a value of USD 388 million by 2024.

Silver amalgam is extremely durable and is widely applied in cosmetic dentistry, driving product demand in countries such as U.S. and Germany. Silver amalgam Dental Filling Materials Market size crossed USD 360 million in 2015 and is slated to exceed USD 506 million by 2024.

Ceramic is highly durable and helps prevent tooth stains, owing to which these fillings are extensively used to treat dental cavities. These product properties will help fuel ceramic Dental Filling Materials Industry, which was worth more than USD 94 million in 2015.

Worldwide Dental Filling Materials Market is quite fragmented, with top companies being vertically integrated to ensure cost-effectiveness and high productivity. Players such as Dentsply, Coltene Whaledent, GC America, DMG Chemisch-Pharmazeutische Fabrik, SDI Limited, Kerr Corporation, Pentron Clinical Technologies, DenMat Holdings, Kuraray Noritake Dental, and Kettenbach engage in advanced technology to manufacture sophisticated, performance-driven, and aesthetic dental fillings.
Written By : Saipriya Iyer