Digital technology has enabled people to make smarter choices regarding their health, which will significantly push the digital health market worldwide. Rising geriatric population and increasing incidence of chronic diseases will foster the adoption of digital health services. Moreover, growing consumer desire for smart devices to help them communicate with their physicians or improve their health is likely to contribute further in the growth of digital health industry. Furthermore, deployment of smart phones coupled with cloud-based technologies in the healthcare sector is a major factor proliferating the digital health market. According to Global Market Insights, Inc. "Digital health market is anticipated to register a CAGR of 25.9% over the period of 2016-2024."

In addition to this, favorable government support and initiative in promoting digital health and advanced healthcare IT facilities wil linfluence the global trends. Innovations in the digital health industry involve convergence of health technology, mobile devices, and digital media. Growing prevalence of harnessing digital health innovations for better tracking of health-related activities will spur the digital health industry growth over the coming years.

U.S. Digital Health Market size, by Technology, 2012- 2024 (USD Billion)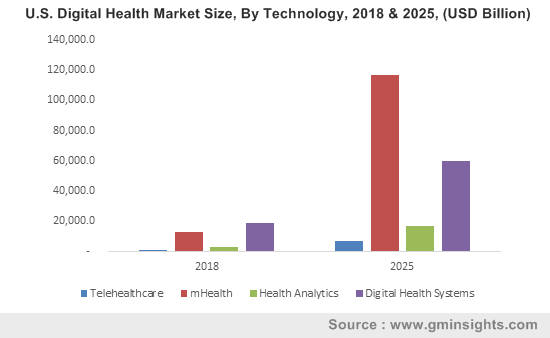 Digital health systems to contribute massively in the digital health industry revenue.
The global digital health industry is classified into four main technological segments, which are Telehealthcare, mHealth, Health Analytics, and Digital health system. Growing awareness and increasing funding regarding tele-health has boosted the telehealthcare industry. Moreover, the shortage of doctors, particularly in the U.S. have generated escalating demand for telehealthcare technology.

Digital health systems market contributed for the largest revenue share having had accounted for 62% in 2015. The digital health systems comprise of electronic health records (EHR) and e-prescribing systems. Increasing investments in interoperability and advancing technologies will fuel the digital health system technology market size notably. The digital health systems market is anticipated to reach over USD 130 billion by 2024.

mHealth market is estimated to expand at a highest growth rate of 36.5% over the period of 2016-2024. An enhancement in the healthcare industry with improvisation in the digital communication technologies will lead to a robust growth over the coming years. This segment is set to witness remarkable growth, owing to increase in the sales of smartphones, improved access to healthcare information, and improved emergency health services and diagnostic services. mHealth technology will also provide the users with maximum outreach at pocket friendly cost.

U.S. to dominate the regional landscape
U.S. market continuing its dominance over the globe, is projected to surpass USD 152 billion by 2024. Favorable government initiatives such as HITECH Act and HIPAA Act have contributed significantly and have promoted digital health systems by providing funds to hospitals and physicians in the region. Increasing utilization of smart phones, advancement is technology, and extensive promotion of e-health services in Europe will further expand business space in the region. Germany digital healthcare market is anticipated to exceed USD 40 billion by 2024. The increasing adoption of new technologies along with favorable government initiatives will stimulate the China digital health market, which is estimated to surpass USD 17 billion by 2024.

The digital health market is highly competitive and fragmented. The major industry participants include LifeWatch, Philips Healthcare, Qualcomm, McKesson Corporation, and AT & T.

Written By : Ojaswita Kutepatil