Dimethyl Ether or DME Market holds a considerable share in the chemical industry, having attained a revenue of USD 5.16 billion in 2015. Its rising preference over conventional or traditional fuels is the chief factor driving the DME industry trends. According to Global Market Insights, Inc. "Global dimethyl ether market size is estimated to grow at a CAGR of 9.9% over the period of 2016-2024." The rising demand for alternatives of LPG (Liquid petroleum gas), owing to increasing prices of oils, propane, butane, etc. is also a pivotal factor supporting the DME industry outlook. Dimethyl ether and LPG share a similar composition base and as per the estimates over 65% of the Dimethyl ether produced worldwide is mixed with LPG to address applications such as cooking, heating, machinery, equipment, etc.

Fossil Fuel and Bio-based are the two major raw materials used in the production of Dimethyl Ether. Below is the highlight of the raw material trend in DME industry over 2016-2024:
| | | |
| --- | --- | --- |
| Raw Material | CAGR (2016-2024) | Drivers |
| Fossil Fuel Based DME | 8% | Rich presence of natural gas, which is the key production source, will boost the fossil fuel based Dimethyl Ether market growth over 2016-2024. |
| Bio Based DME | 11% | Demand for clean and eco-friendly products will promote the bio- based DME industry growth over the coming seven years. Moreover, its use as aerosol propellant and transportation fuel will boost the market growth substantially. |
Dimethyl ether market share is anticipated to surpass USD 11 billion by 2024. The various applications of DME such as transportation fuel, aerosol propellants, industrial usage, and LPG blending is contributing significantly towards the DME industry size. Below are the key application trends to watch for over the coming seven years:

U.S. Dimethyl Ether Market size, by application, 2013-2024 (USD Million)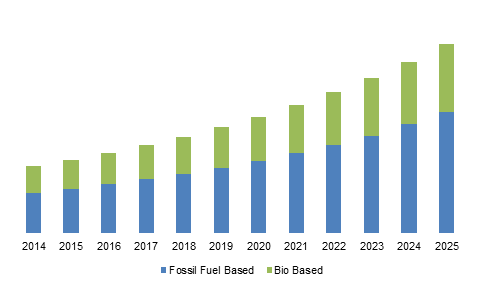 DME industry share in aerosol propellants application was worth USD 1 billion in 2015 and is estimated to register a notable growth trend over the coming years. DME's high efficiency, affordability, versatility, and a wide range of boiling points and vapor pressure will augment the industry growth over the coming timeframe.

Increasing demand for substitutes of the traditional fuels will boost the transportation application market share over the period of 2016-2024. DME contains a high cetane number and possess a better ignition quality which make them a preferable source over diesel fuels. Moreover, strict government norms pertaining to the rising concerns regarding the environmental pollution will further lead to heavy demand of Dimethyl ether in the transportation fuel applications.

DME applications when mixed with LPG will also witness lucrative growth over the coming years, with a varied set of applications in domestic usage such as cooking, heating, etc., and machinery & equipment sector.

Geographically, Asia Pacific dominated the global landscape in 2015, with China and India leading the regional demand. China being the largest LPG producer is also increasing its dimethyl ether production capacity significantly. The blended composition of LPG and DME will find extensive applications in household and transportation activities. Methanol is the primary used source for DME production in China which is used as a diesel alternative in heavy duty trucks and ships.

Increasing adoption of bio-based DME will boost the North America Dimethyl Ether market share. Europe market will also witness lucrative gains registering an annual growth rate of 10% over the period of 2016-2024. Initiatives by automobile manufacturers and rising R&D investment towards developing low emission vehicles will boost the Europe dimethyl ether industry size.

Stringent regulations to curb the pollution level, of which air pollution is one of the major concerns, will provide heavy growth prospects for the DME industry globally. Despite lacking behind the diesel fuel in some areas such as lubricity and viscosity, the dimethyl ether industry will propel notably, owing to the environmental benefits and cost friendliness of this source. The automobile industry will enhance the use of bio-based dimethyl ether market owing to the inclination towards developing low emission vehicles which also enhances the vehicle efficiency. The market is fairly competitive at present, with key players such as AkzoNobel, China Energy Ltd, Korea Gas Corporation, Royal Dutch Shell PLC, and Mitsubishi Corporation sharing the business space.

Written By : Shikha Sinha