Global Dodecanedioic acid (DDDA) market size is predicted to grow from more than 55 kilo tons in 2015 and register CAGR of more than 5.2% by the end of forecast period.
Dodecanedioic acid is used in production of rust inhibitors that are widely used in chemicals, water treatment, industries and pulp & paper. Growing demand for paints comprising zero volatile organic compounds has added to the expansion of the industry.
Verdezyne Incorporation, a firm manufacturing bio based chemicals, and Cornell Brothers Corporation, the biggest marketer and most reputed distributor of specialty chemicals in APAC region, signed a deal for sales and distribution of Verdezyne bio based Dodecanedioic acid (BIOLON DDDA). The deal demonstrates heavy demand for the high quality renewable specialty chemicals like BIOLON DDDA in APAC.

BIOLON DDDA will be manufactured at Verdezyne first commercial unit in Malaysia and will be distributed in seventeen nations of APAC region, including South Korea, China and Japan. Verdezyne commercial unit is predicted to be completed by 2017 and will have a capacity to manufacture about 9000 metric tons of diacids including BIOLON DDDA yearly. The deal ensures Cornell Brothers Corporation of right to use more than 10 % of the expected unit capacity. BIOLON DDDA will be utilised in manufacturing different end user products like cosmetics, automotive components, fragrances, polymer resins and toothbrush bristles. Global Dodecanedioic acid market is segmented into key geographical regions namely North America, APAC, Latin America, Europe and MEA.

APAC DDDA market share dominated the global industry and was evaluated at more than $125 million for 2015. The region is also predicted to experience rapid growth in future due to growing number of manufacturing industries in India and China. Further, the enhanced production of nylon in India, China and Japan along with the growing demand for power coatings and paints in industries are predicted to contribute to the growth of the industry in APAC region. Also the government support for increasing the production of bio based DDDA to promote green environment in the region is expected to have a positive impact on the industry growth during forecast period.

U.S. DDDA market share, by application, 2015 (KT)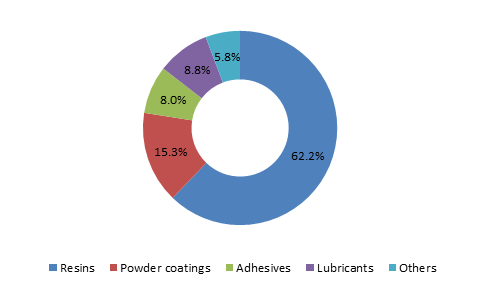 North America, influenced by US Dodecanedioic acid market growth, is predicted to register CAGR of 5.5% by end of the forecast period. Adoption of green technology by vehicle producers like General Motors & Ford to reduce greenhouse effects along with growing nylon production in USA can contribute to the growth of the industry in North America.

Low nylon production in countries like Italy, Germany and France owing to high production costs is predicted to lead to sluggish industry growth in Europe during forecast period.MEA Dodecanedioic acid market is predicted to register a CAGR of more than 4.8% by 2023 due to growth of oil & gas segment along with demand for paints & coatings by industries. In June last year, Will & company of Europe and Verdezyne signed a distribution deal for BIOLON DDDA which is a best substitute for petroleum derived chemicals fulfilling consumer demand.

Sime Darby Berhad and Verdezyne signed a deal in April this year in presence of US President Barack Obama and Malaysian Premier Sri Najib Razak. According to the deal, Sime Darby Berhad will help Verdezyne in increasing the production of unique yeast strains for industrial chemicals by investing $48 million. The deal will not only contribute to the growth of specialty chemicals globally but will also strengthen the relations between Malaysia and USA.

Many key industry players are developing bio based alternatives for specialty chemicals. The global share of the industry is consolidated moderately with firms like Evonik, Cathay, UBE and Invista contributing about more than 50% of the overall industry demand.

The key industry players profiled in the report include:
• BASF SE
• UBE Industries
• Santa Cruz Biotechnology
• Verdezyne Incorporation
• Invista
• Zibo Guangtong Chemical Company Limited
• Cathay Industrial Biotech
• Evonik industries
Download a sample copy of this report: https://www.gminsights.com/request-sample/detail/422
Written By : Dhananjay Punekar