Global requirement for reliable power supply and rapid industrialization will lead to considerable expansion of energy management (EMS) market. Climatic changes and the decline in fossil fuels have led to fluctuations in fuel rates, due to which the governments of different countries have come up with initiatives to curb GHG emissions and reduce energy wastage. This progression, coupled with high rate of urbanization and public awareness toward energy consumption will drive EMS industry in the years to come. According to Global Market Insights, Inc., "Energy management systems (EMS) Market, having held a revenue of more than USD 12 billion in 2015, will cross USD 38 billion by 2024, increasing with a CAGR exceeding 13% over 2026-2024."

Over the last decade, the increasing rate of industrialization has only served to encourage energy conservation across the globe. For instance, Directive 2003/87/EC, introduced by the European Union, aims to reduce one fifth of the overall GHG emissions by the year 2020. Such initiatives coupled with stringent government norms will propel energy management systems industry in the coming years.


Europe Energy Management System Market size, by component, 2013 - 2024 (USD Billion)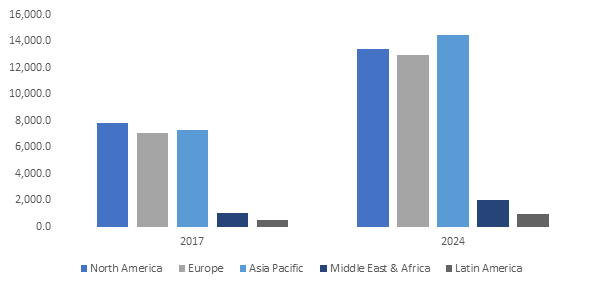 The U.S. government announced the Resident Energy Efficiency Valuation Act (REEVA) in 2015 to reduce wastage of energy across commercial and residential sectors. Stringent government measures such as the aforementioned, along with increased consumer awareness regarding energy saving will propel U.S. energy management systems market size, worth over USD 4 billion in 2015. This industry is slated to observe a y-o-y growth of 11% over 2016-2024.

Soaring industrialization and urbanization rates have resulted in increased construction spending in countries such as China, which announced an infrastructural investment of USD 260 billion in 2015. High demand for efficient power supply across developed urbanized areas will positively influence China EMS market, projected to cross USD 2 billion by 2024.

Favorable government initiatives to adopt high quality products at reasonable rates will also spur home energy management systems industry. It is anticipated that this market will grow at a CAGR of 16% over 2016 to 2024.

Industrial energy management systemss help curb greenhouse gas emissions, demonstrate efficiency and sustainability, analyze energy consumption and equipment performance, and are highly cost-effective. These excellent benefits will pave the way to increase industrial energy management systems industry size, which was worth more than USD 9 billion in 2015.

With building energy management systemss, the triple benefits of energy consumption control, monitoring, and management can be achieved. Rising concerns regarding carbon emissions and high demand for smart buildings across residential and commercial sectors will fuel building energy management systemss market, which held a revenue share of more than 25% in 2015. Rising standards for smart building will stimulate overall business growth.

Control systems take into consideration the factors of temperature, ventilation, pressure, and humidity to balance power consumption across residential and commercial areas. Energy management systems industry size from control systems is projected to exceed USD 3 billion by 2024.

Smart meters help calculate and analyze the overall electricity consumption. Smart metering systems market is anticipated to grow lucratively over 2016-2024. Energy management systems industry size from metering and field equipment was worth more than USD 2 billion in 2015, and is projected to observe remarkable growth over 2016-2024, driven by the product properties of retaining balance and achieving overall network efficiency.

Increased investments in the construction sector for efficient, energy-saving infrastructural development will boost Germany energy management systems market, which accounted for more than 25% of the regional share in 2015. With a revenue of more than USD 1 billion in 2015, this industry is expected to depict healthy gains over the next few years.

Key market players include Eaton Corporation, Johnson Controls, IBM, GE, Siemens AG, Emerson Electric Corporation, Honeywell International, Eral Electric, Schneider Electric, ABB, CA Technology, and Cisco Systems.

Fuel rate variations, government initiatives, and a high requirement for electricity will stimulate global EMS market. Implementation of energy saving systems will require a mammoth initial capital, which is likely to act as one of the chief constraints of this industry. However, various programs introduced by the government to encourage high initial investment will help combat the restraint of EMS market.

Written By : Saipriya Iyer