Expanding construction sector is slated to provide huge growth prospects for Expanded Perlite Market over the coming years, with the product being primarily used in green building materials to conserve energy during heating and cooling processes. Construction sector, which was estimated at USD 8 trillion in 2015, is projected to surpass USD 13 trillion by 2024. As per Global Market Insights, Inc., reports "Expanded perlite industry size is forecast to hit USD 1.34 billion by 2024." Expanding oil & gas sector is projected to favorably influence the industry growth in the near future, owing to the growing product penetration across mining, shale gas drilling, and water treatment sectors. In addition to this, global oil rig counts, numbered 15 thousand in 2013 and expected to touch 20 thousand margin by 2024, are predicted to contribute considerably towards the industry revenue. Horticulture yield, which accounts for nearly 26% of global food & animal products business, is expected to fuel the industry growth over the period of 2016-2024.

U.S Expanded Perlite Market size, by application, 2013-2024 (USD million)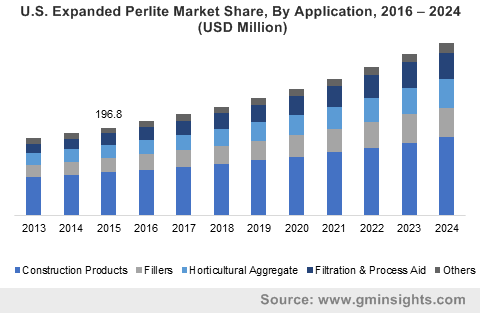 Expanded perlite industry is noticing high demand across sectors such as horticultural aggregate, construction products, fillers, and filtration & process aid sectors. Fillers sector is a one of the key application areas, likely to generate high avenues for expanded perlite market over the next few years. Expanded perlite helps in filling pores in cinder blocks, and is also used as a filler in personal care product preparations such as scrubs and soaps. Expanded perlite market is expected to witness a significant growth in the horticulture aggregate sector, owing to its high demand in soil aggregates preparation. Furthermore, rise in horticulture activities, owing to enhanced consumer demand for fruits, plants, vegetables, and seeds is expected to drive the market growth. Construction products sector is anticipated to contribute significantly towards expanded perlite market share over the coming timeframe, driven by the growing use of expanded perlite in masonry, concrete additives, bricks, cement mixture, and boulders.

Considering the regional overview, high presence of key industry players along with rise in consumer base is expected to drive North America expanded perlite market share over the coming seven years. Furthermore, expanding oil & gas sector as well as rising number of activities in the shale gas sector is expected to contribute substantially towards the regional growth. U.S. is expected to drive the regional revenue.

However, expanding horticulture activities, rise in expenditure on construction activities, and growing awareness about the benefits of the product application are expected to be key drivers of Asia Pacific expanded perlite market over the coming years. Japan, India, and China are expected to be the major revenue pockets of the region.

Key industry participants include Supreme Perlite Company, Perlite Vermiculite, The Schundler Company, Aegean Perlites SA, Cornerstone Industrial Group, and Perlite Hellas S.A., and Keltech Energies.

Written By : Dhananjay Punekar