Rising demand for nutrient-rich diet along with the properties of food additives to impart flavor, taste, and color to the food product, is predicted to drive the demand for the food additives industry over the coming years. They are primarily used in cake mixes, ready-to-eat meals, snacks, and frozen meals. Growing domestic consumption of organic food & beverages due to expansion of the retail network, population rise, and new product launches is projected to promote the growth of the food additives market in BRICS countries. For instance, the rising consumption of snacks like bread, potato chips, and sausages in China and India as a result of expanding food retail stores along with new product launches is expected to contribute towards the market share. Innovations in food packaging & processing methods in eatables segment in the U.S. as well as in countries belonging to the EU is projected to benefit the market over the coming years. As per Global Market Insights Inc., "The food additives market size is projected to surpass USD 52 billion mark by 2022, growing at a CAGR of 5% over 2015-2022."

The Asia Pacific food additives market worth USD 10 billion in 2014, is predicted to register substantial gains over the period of 2015-2022. India and China are predicted to be major revenue pockets owing to the favorable government policies encouraging FDI in domestic food & beverages industry in the region. Furthermore, growing dairy industry along with improvements in cattle breeding techniques in New Zealand are anticipated to benefit the demand for food additives.

U.S. food additives market size, by product, 2012 - 2022 (USD Million)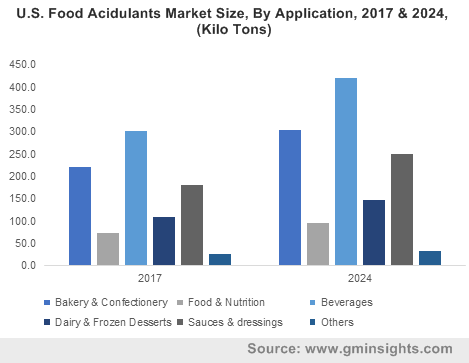 The MEA food additives market is predicted to witness a noticeable growth over the period of 2015-2022 owing to increase in meat consumption in countries like South Africa, Saudi Arabia, and UAE. The Europe market contributed about 30% of the overall revenue share in 2014 and is anticipated to grow at a rate of 4.8% over the period of 2015-2022. The rising significance of functional ingredients for imparting emulsification, shelf life, and flavor to food products is anticipated to drive the industry demand. France, UK, and Germany are predicted to contribute significantly towards the regional growth.

Amongst the various kinds of food additives available in the global industry, enzymes based food additives market is expected to grow at the fastest rate of 5.5% over the period of 2015-2022. Growing use of enzymes in eatables owing to low cost as compared to synthetic chemicals along with strict regulations restricting GHG emissions is predicted to boost the growth of enzymes based food additives industry. Protease, xylanase, carboxylase, polymerase, and lipase are few of the key enzymes which help the baked items in enhancing their crust appearance and organoleptic features.

Flavors & fragrances based food additives market contributed about 30% of the overall revenue share in 2014 and is predicted to witness a noticeable growth over the coming six years owing to rising demand for natural plant flavors extracted from spices, neem, and herbs. Emulsifiers based food additives market comprising sorbitan esters is predicted to witness significant gains of 6% over the period of 2015-2022 owing to its use in formulation of confectionary coatings, coffee whiteners, chocolates, shortenings, and toppings. Fat replacers based food additives comprising starch, produced revenue of USD 1 billion in 2014 and is predicted to witness noticeable growth over the coming six years.

The industry will witness various collaborations, joint ventures, and mergers & acquisitions by the players as a major part of their growth strategies. The companies will expand their reach and geographic presence and will also spend heavily on R&D activities to sustain competition and maintain their market value. Key market participants include Archer Daniels Midland, Novozymes, Ingredion Incorporated, DuPont, BASF, Chr. Hansen and BioSpringer.


Written By : Dhananjay Punekar