Fortified salts market is slated to witness a lucrative growth over the coming years, subject to the product's ability to curb the deficiency of micronutrients such as iron and iodine in diet that may give rise to ailments such as anemia and goiter. As per NCBI reports, a diet deficient in iron and iodine was the main cause of health-related ailments among more than 33% of the global population in 2002. Moreover, WHO has clearly recommended that a proper diet be fortified with iodine for women and children to reduce the occurrence of nutrition-related disorders such as goiter and thyroid, which may, in all likelihood, propel fortified salts market share. Global Market Insights, Inc., states that fortified salts industry, which produced a revenue of more than USD 3.5 billion in 2016, is set to hit USD 7 billion by 2024.

According to WHO, deficiency of iodine not only arrests the intellectual growth of the fetus, but also affects overall female health, leading to diminished life quality for women. Pertaining to the aforementioned factor, it has become essential to fortify regular salt with iodine, to increase the percentage of iodine consumption globally, which will most certainly leverage the expansion of fortified salts industry.

U.S. Fortified Salts Market Size, By Product, 2016 & 2024 (USD Million)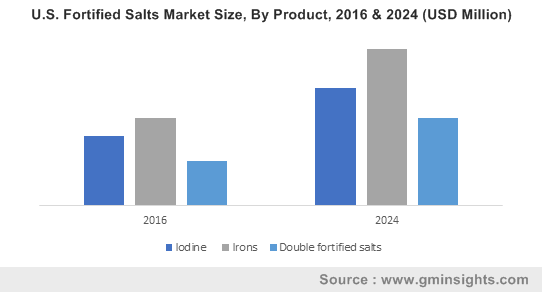 International Organizations such as UNICEF, World Bank, and the International Council for the control of iodine deficiency disorders have promoted fortification of salt with iodine in regions prevalent with goiter, which may gradually propel fortified salts market revenue. As per reliable reports, iodization of salt is cost-effective and feasible. Besides, it has been proved to be highly effective in curbing endemic goiter as well as other ailments caused as a result of iodine deficiency. Subject to these benefits, fortified salts market may observe an appreciable expansion in the years ahead. Another contributing factor toward the industry growth is WHO's statement that diseases caused due to iodine deficiency had been greatly reduced through salt fortification - a major achievement in the public health nutrition sector since past 30 years.

Assorted studies have revealed the coexistence of iron as well as iodine deficiencies in countries such as India, which has led to a rise in ailments such as goiter and anemia. A recent news that made it to the headlines reveals that the Government of India has asked the state governments to mandate the usage of double fortified salt with iron and iodine, fortified wheat, and edible oil in the mid-day meal of school children, a step which may generate bright growth prospects for fortified salts industry across the country.

According to National Health Profile estimates in 2015, approximately 70% of Jharkhand's female population falling in the age group of 16-49 years were affected from anemia and a large proportion of the child population in the state was found to be suffering from the sickle cell anemia disorder. In the light of this scenario, in December 2016, the Jharkhand government had offered double fortified salts to the state's population at reduced costs to check the growth of anemia and thyroid in the state. The experimental provision, if deemed successful, will boost fortified salts industry size across the region.

Iodine fortification across various topographies affecting fortified salts industry revenue
WHO has estimated that economies such as U.S. and Switzerland have depicted favorable outcomes through the usage of fortified salts. For instance, large-scale salt iodization had reduced the incidences of goiter from 40% to 10% in the Michigan state of the U.S. over the last few years, which has proved to provide a significant impetus to fortified salts market growth.

Somewhere around the first quarter of the 20th century, it was observed that a majority of school children in Switzerland were affected due to goiter, the occurrence of which was found to have reduced to a great extent, when they were served a diet with iodine-fortified salt. Post this observation, the Swiss government had launched a scheme to provide iodized salt to its citizens, through which it was ensured that iodine was available to people in sufficient proportions, which has considerably upscaled the growth of fortified salts market in the region.

Double fortification of salt with iron and iodine impacting fortified salts market size
A 40-week trial run was conducted on school children in Morocco in 2002, where they were served meals cooked with salts that were fortified with iodine as well as iron. The results depicted post the trial were positive - as per observations, the group which ingested salts fortified with iron and iodine exhibited a reduction in thyroid problems to a higher extent. The experimental trial subsequently led to the augmentation of fortified salts market in the region. Numerous other experiments are also being conducted globally, the successful outcomes of which will provide a positive impetus to fortified salts industry in the future.

Europe had declared its objective to curb iodine deficiency at World Health Assembly in 1992, however, many countries across the region have still not mandated the usage of fortified salt. Global estimates from the year 2003 proclaim that the population of nearly fifty-four nations still consume food with low iodine content, which may prove to be a major hindrance to the expansion of fortified salts industry over the years ahead. Nonetheless, major corporations such as AkzoNobel N.V., Sambhar Salt, Cargill, and Tata Chemicals Limited, operating in fortified salts market have been undertaking incessant efforts to increase their product penetration and expand their supply chain network across major geographies. The expansion strategies of regional manufacturers in this highly fragmented business will also serve to act as a major driver augmenting fortified salts industry share.

Written By : Dhananjay Punekar