Over the recent years, the rising proclivity toward adopting renewable energy sources has been one of the most significant elements that have embellished fuel cell market share. The dire need to drastically slash greenhouse gas (GHG) emissions and reduce the economic dependency on fossil fuels has necessitated developed and developing nations to embrace fuel cell technology at a substantial scale, which has further impelled the growth prospects of fuel cell industry. Furthermore, a number of eminent industry players have been focusing on technological innovations to reduce the overall cost of fuel cell installations which has accelerated the pace of product deployment across the globe. The future progression trajectory of the fuel cell market can be comprehended by glancing through a research report collated by Global Market Insights, Inc., which claims that the global annual fuel cell industry would surpass a total installed capacity of 900 MW by 2024.


Europe Fuel Cell Market Size, By Product, 2016 & 2024 (USD Million)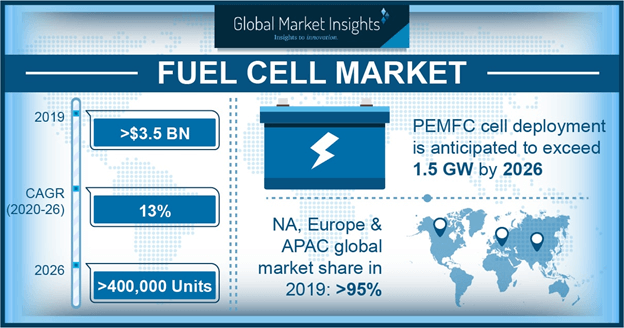 Fuel cells, also known as electrochemical cells, do not generate emissions which makes them more efficient and eco-friendly than the conventional batteries and combustion technologies. According to a recently released report by Hydrogen Council, a foremost international advisory entity comprising prominent energy, automotive and industrial firms, hydrogen could fulfill 18% of the world's overall energy requirement and would lower CO2 emissions by 40% to 60% in various business verticals ranging from transportation to real estate. Owing to the aforementioned factors, hydrogen fuel cells are being increasingly utilized in a broad range of applications including power generation, portable power systems, electric vehicles, and cogeneration which has provided a significant impetus to fuel cell industry share, which commanded a total revenue portfolio of over USD 2 billion in the year 2016. While elaborating further, it is quite imperative to mention that the fuel cell market space has been witnessing massive investments by government and private entities toward enhancing the existing hydrogen refueling infrastructure which would fundamentally transform this business arena in the forthcoming years, cite analysts.

A concise overview of the initiatives undertaken by regional governments and their influence on the global fuel cell industry progression:
The Federal Ministry for Economic Affairs and Energy of Germany, BMWi, has recently launched the second phase of National Innovation Program named as 'Hydrogen and Fuel Cell Technology 2016-2026'. The programme aims to promote fuel cells as a crucial technology in the nation's energy transition to attain clean mobility by inducting fuel cell vehicles in public transit network and commercial fleets of towns, cities and private-sector investors. As per reports, BMWi plans to assign a total fund of USD 262 million for the preliminary time span of the project i.e. till 2019, which would be utilized to develop infrastructure for electric mobility and carving out a renewed fuel strategy.

Recently, the U.S. Department of Energy's Office of Fossil Energy announced the selection of 16 projects that would receive USD 10.2 million in funding to enhance solid oxide fuel cell (SOFC) technology. Reportedly, these projects would aim to resolve the technical hurdles faced by the prevailing SOFC technology and administer field testing of prototype systems to verify the solutions arrived at. Concurrently, the popularity of SOFC's can be interpreted from the fact that these products accounted for more than 40% of the global fuel cell industry share in 2016. Apparently, the government initiatives such as aforementioned are likely to vigorously expand SOFC market share, which would, in turn, contribute to the growth of overall fuel cell market space.

In May 2017, Canada launched a federal zero-emissions vehicle (ZEV) strategy under the aegis of Ottawa's Pan-Canadian Framework which aims to lower greenhouse gas emissions to 30% of 2005 levels by the year 2030. The industry experts have claimed that the fuel cell electric vehicles are poised to play a significant role in reducing the nation's total GHG emissions, given that the transportation sector accounts for almost one-quarter of the harmful emissions.

Apparently, the aforementioned instances of favorable government frameworks regarding the adoption of renewable energy sources along with technological advancements are bound to propel the expansion of fuel cell market size over the estimated time frame. As per estimates, the global fuel cell industry share is set to exceed USD 6 billion by 2024, in terms of remuneration.
Written By : Saif Ali Bepari