The growing emphasis on taking care of the elderly population has aided towards the expansion of geriatric care services market. The increasing ageing population, which is anticipated to surpass 2,000 billion by 2050 (as per the UN) coupled with rising occurrence of chronic diseases in this demography, is likely to augment the geriatric care services industry growth. In addition to this, rising adoption of urban lifestyles resulting into nuclear family trends is creating a need for care taking facilities and healthcare services for the ageing population. Moreover, growing elderly population intending to live independently is likely to be the key factor favoring the growth of geriatric care services industry. According to Global Market Insights, Inc. "Geriatric Care Services Market size is estimated to witness a CAGR of 5% over the period of 2016-2024."

The geriatric care services provide services such as health care, personal care, aiding with daily activities, etc. to the elderly population diagnosed with chronic illness, cognitive disability, or other disorders. Favorable regulations in regards with Medicare and Medicaid reimbursement policies, developments in health care industry, and advancement in technologies such as robotic assistance will further drive geriatric care services industry share.

UK Geriatric Care Services Market size, by service type, 2012-2024 (USD Billion)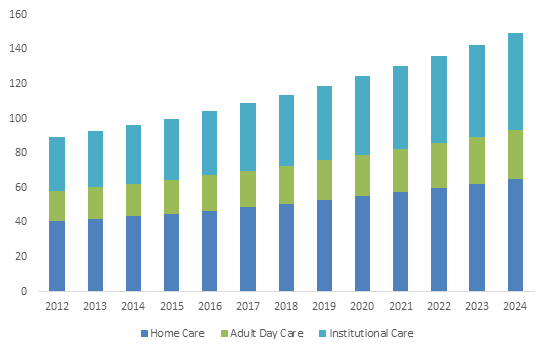 Institutional and home care are projected to be the top grossing service types
Geriatric care services are broadly classified into home, institutional, and adult day care services. Institutional care service market dominated the service landscape and is the most preferred form of geriatric care service. Home care is another lucrative sector anticipated to generate revenue exceeding USD 480 billion by 2024. Moreover, the affordability of home care services over institutional care services will also fuel the home care services market share over the coming period. Home care is anticipated to register a CAGR of 4.5% over the period of 2016-2024. The home care services segment is poised to witness a fast-paced growth, owing to favorable government reimbursement policies and increased awareness regarding treatment of chronic diseases.

North America is projected to dominate the regional landscape
North America is projected to remain in the leading position accounting for the largest share in the global geriatric care services industry. Advanced care facilities and favorable government policies in the U.S. has fairly attributed to the growth of geriatric care services industry. According to data published by the CDC in 2012, it was estimated that U.S. constitutes of following number of geriatric facilities-
4,800 Adult day service centers.
3,700 Hospices
15,700 Nursing homes.
12,200 Home health agencies.
22,200 Residential care communities

Furthermore, the number of geriatricians in the U.S. is anticipated to reach to 60,397 by 2022. Presence of pertinent facilities on large scale along with rising level of awareness will further boost the geriatric care services market regional outlook.

Asia Pacific is projected to be the rapidly growing region over the coming timeframe, exhibiting significant growth aspects in the geriatric care services industry. Asia Pacific geriatric care services market with growth looming from China is expected to be the most lucrative region generating heavy gains in the coming seven years. Economic and infrastructural development of care centers coupled with ageing population will fuel the growth of geriatric care services market.

The industry players are likely to adopt key strategies such as industrial collaborations and merges & acquisitions. Companies are extremely competitive in terms of services offered, quality, cost, and insurance coverage. Prominent market players include Genesis HealthCare, Senior Care Centers of America, Brookdale Senior living, Extendicare, and Kindred Healthcare.

Written By : Ojaswita Kutepatil