Global guidewires market has generated a heavy momentum in the medical space, driven by its increasing demand to enable an affordable and efficient surgical treatment. Moreover, the tremendous increase in the geriatric population along with a subsequent rise in the frequency of cardiac disorders is bound to fuel the global guidewires industry growth in the coming years. According to Global Market Insights Inc., "Guidewires Market size is expected to record a CAGR of 5.5% from 2016 to 2023."

WHO estimates that the global population above 65 years might increase from 7% in 2000 to 16% by 2050. With the incidences of cardiovascular and neurological diseases on a rise, the use of guidewires for diagnostic and surgical purposes is expected to increase rapidly over time, escalating the guidewires market growth.

Germany Guidewires Market, by Product, 2012-2023 (USD Million)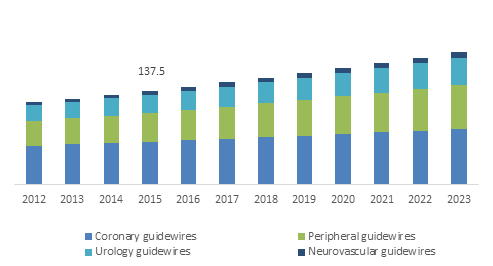 Technological advancements have made it possible for product improvement and innovation, leading to an extensive growth for the key players in this industry. Some of the advanced features in guidewires include medical infusion, magnetic navigation technology, widely used in interventional cardiology, and super elastic hydrophilic coats. Similar technological advancements in neurological guidewires include portability, excellent tip flexibility, and advanced torque response. Highly developed and ever-changing trends in technology will stimulate global guidewires industry growth.
Based on the type of product, guidewires can be classified into coronary, neurovascular, peripheral, and urology guidewires. Coronary guidewires market is expected to exhibit a CAGR of more than 4% over 2016-2023, driven by the high prevalence of peripheral vascular disorders among the elderly.
On similar lines, the number of patients suffering from kidney disorders is also on the upsurge, leading to a spur in the urology guidewires industry, which is expected to register a revenue of more than USD 530 million by 2023.
Neurosurgery is a complex and vital medical specialty, and incidences of the same are on an upward spiral. Increasing neurological disorders lead to a heavy demand for minimally invasive neurovascular surgeries. This will undoubtedly contribute to the neurovascular guidewires market growth, which will exhibit a CAGR of more than 6.5% over 2016-2023.
U.S. guidewires industry is estimated to witness a CAGR of more than 4.4% over 2016-2023, owing to the improved diagnostic services, advanced technological products, and a constantly rising demand for minimally invasive surgeries
Japan guidewires market is estimated to surpass USD 210 million by 2023, driven by factors such as large geriatric patient base, improved healthcare facilities, increasing disposable incomes of the consumers and high prevalence of neurovascular, cardiovascular, and urology disorders.

Key players in the guidewires industry include Boston Scientific Corporation, Abbott Laboratories, Codman Neuro, and Terumo Medical Corporation, Merit Medical Systems, Cook Medical, Medtronic, St. Jude Medical, Cordis Corporation, and B. Braun.

Lack of experts, substandard infrastructure, poor healthcare systems, and high product cost may restrain guidewires industry growth. Nevertheless, the rising incidences of vascular disorders, improved standards of healthcare, high standards of surgical procedures, usage of guidewires in key medical specialties, and increased funding for R&D is likely to propel this market to greater heights.
Written By : Saipriya Iyer