Boasting of a wide spectrum of applications, heat transfer fluid market has been a subject drawing considerable attention lately due to the huge investments and product innovations made by prominent players. Clariant's recent launch of a new range of safe and innovative products for the heating, ventilation, and air-conditioning industry validates the aforementioned fact. Heat transfer fluids are primarily used to store thermal energy and therefore are circulated through the mechanical parts so that heat transfer takes place from one device to another. These fluids, on account of excellent heat transfer properties, have a widespread range of applications in the automotive, food & beverage, chemical, plastics, pharmaceuticals, and manufacturing sectors. Apart from these, heat transfer fluids play a major role in the oil & gas and concentrated solar power generation applications that have been gaining mass prominence of late. Industry analysts expect this widespread application scope of these fluids to offer a rather profitable spectrum of avenues for heat transfer fluid industry players. In fact, reports claim that the worldwide heat transfer fluid market size was worth USD 2.2 billion in 2016, a testament to the fact that industry players are already gearing up to exploit potential opportunities in this business space.


U.S. Heat Transfer Fluid Market, By Product, 2013-2024, (Kilo Tons)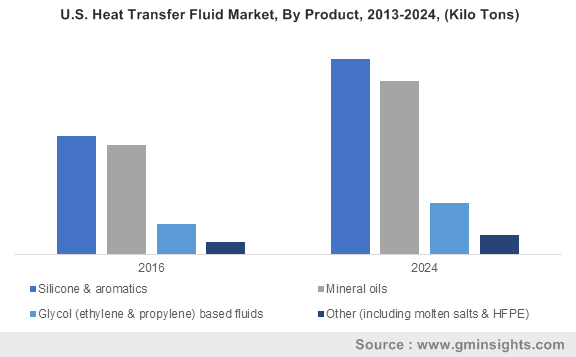 Concentrated solar power and oil & gas sectors are expected to contribute significantly toward the revenue expansion of heat transfer fluid market. As per research, the concentrated solar power application is expected to witness a CAGR of 7.5% over 2017-2024, subject to growing government projects and funding for power generation from renewable energy sources. In fact, recently, a massive 1.3 billion worth concentrated solar thermal power station has been proposed for Townsville, capable of producing 250 MW. Citing yet another instance, the world's largest concentrated solar power project at the Mohammed bin Rashid Al Maktoum Solar Park, Dubai, will have a total production of 700 MW of clean energy, in turn stimulating regional heat transfer fluid market. These instances overtly explain the extensive demand and expansion rate of heat transfer fluids for CSP application in the ensuing years. Since heat transfer fluids are widely utilized to store and transfer thermal energy in the concentrated solar power systems, a direct relation exists between the increasing demand for heat transfer fluids and CSP projects. Estimates claim that the global installation capacity of CSP units in 2016 was over 5000 MW – a figure that is expected to witness an unprecedented surge in the years to come. Considering the vast number of CSP projects spanning the globe, the overall heat transfer fluid industry would undoubtedly register notable growth ahead.

Another lucrative application area of heat transfer fluid is the oil & gas industry. Owing to their unique characteristics of low pressure and high temperature, heat transfer fluids are widely used in this application arena. The exponentially growing drilling activities coupled with surging petroleum processing projects will prove to a pivotal factor bolstering heat transfer fluid industry expansion from the oil & gas segment. Estimates claim heat transfer fluid market to generate more than USD 870 million from the oil & gas application by 2024. The projected growth of this sector over 2017-2024 can be significantly attributed to new oil & gas exploration projects, especially in North America and Asia Pacific. Moreover, the establishment of new LNG terminals across various regions, is also expected to drive heat transfer fluid market growth. The recent agreement inked by Saudi Aramco with several firms from the United States, China, the United Arab Emirates, and Europe to work on a range of oil and gas development projects is also an important development underlining the growth of heat transfer fluid market. Apart from this, the expansion of heat transfer fluid industry can also be attributed to upstream spending on projects related to U.S. oil & gas exploration and offshore drilling.

Speaking of the U.S., the surging rate of concentrated solar power, HVAC, chemical, and exploration projects in the region is quite overtly responsible for the commendable growth of heat transfer fluid market in the region lately. With U.S. leading the way, North America heat transfer fluid industry, as per reports, is expected to attain a CAGR of 6.3% over 2017-2024. Analysts project the increasing necessity for maintaining machine temperature in the chemical and O&G companies to be an important factor responsible for the massive heat transfer fluid demand over the foreseeable future.

Other than North America, the expansion of heat transfer fluid industry is quite vivid across the Asia Pacific region. The developing countries in APAC have been witnessing transformative trends, which in turn is driving considerable growth in CSP, food & beverage, pharmaceutical, and chemical sectors, the result of which is propelling the regional heat transfer fluid market. Pertaining to the same, APAC heat transfer fluid industry size was valued at over USD 550 million in 2016. Industry experts further predict the favorable governmental policies and initiatives for clean energy generation and CSP installations to help this business thrive amidst challenges. It wouldn't be incorrect to say that these initiatives proclaimed by regional governments have prompted several companies to make sizable business investments in the Asia Pacific, on the grounds of which APAC has been forecast to witness a CAGR of over 7% over 2017-2024.

Given the tremendous scope of heat transfer fluids across myriad application domains, it goes without saying that global heat transfer fluid market share is likely to scale appreciative heights in the forthcoming years. In fact, as claimed by Global Market Insights, Inc., heat transfer fluid industry size is anticipated to surpass a valuation of USD 4.2 billion by 2024. Considering the current expansion rate of the automotive, oil & gas, and chemical sectors across the globe, it is overtly coherent that heat transfer fluid market would emerge to be one of the most profitable business spaces in the years ahead. Not to mention, the contributions made by companies such as Dow Chemical Company, British Petroleum, Shell, ExxonMobil and Hindustan Petroleum Corporation Ltd. are likely to further propel the commercialization scope of heat transfer fluid industry.
Written By : Ojaswita Kutepatil