Increasing adoption of solar-based renewable energy systems, prominently CSP (Concentrated Solar Power), will augment Heat Transfer Fluid (HTF) Market size over the coming six years. According to Global Market Insights, Inc., "Worldwide Heat Transfer Fluid (HTF) market collected a volume of 480 kilo tons in 2015 and is anticipated to grow at an annual growth rate of over 6% from 2016 to 2023." Oil and gas industry, where HTF is being extensively used will be a major revenue generator for the heat transfer fluid market.

UK heat transfer fluids market size, by product, 2012-2023 (Kilo tons)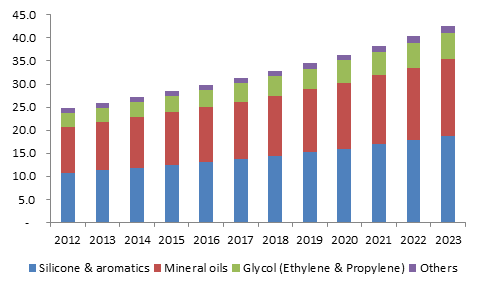 Heat transfer fluid market share will grow noticeably, owing to its usage in the key application sectors such as pharmaceutical, chemical, HVAC, concentrated solar power (CSP), oil & gas, food & beverages, and plastic industry.

CSP application will exhibit lucrative annual growth rate of 7.2% over the coming six years, driven by escalating requirement of heat transfer fluid to store and transfer energy across the concentrated solar power.
Oil & gas application segment is witnessing huge adoption of heat transfer fluid for offshore heating & cooling process, which in turn, will boost the HTF industry size aggressively.

Silicon & aromatics, mineral oils, and glycol are the major HTF products. Favorable support from FDA and growing food and beverages industry will significantly influence glycol based products, which will grow at a CAGR of over 6.5% over the period of 2016 to 2023. Silicon & aromatic heat transfer fluid industry worth USD 995 million in 2015, is estimated to generate heavy revenue over the coming timeline, owing to its surging demand for expanding oil & gas industries.

Geographically, Asia Pacific HTF market is anticipated to grow at an annual growth rate of 7.1% over the coming six years. The growth can be attributed to the expanding industrial sector such as chemical, oil & gas, and food & beverages. India, China, and Japan will be the major revenue pockets for the APAC market size.

Europe heat transfer fluid industry collected a revenue of USD 700 million in 2015 and is estimated to grow considerably over the coming years. Germany and UK contributed significantly towards the regional trends. Expanding solar tracker market will positively influence the HTF industry across this region. The growing oil and gas exploration across the countries of MEA such as Nigeria, Saudi Arabia, Egypt, and Kuwait will contribute heavily towards the industry growth.

Market players are focusing to enhance the bio-based solutions over the coming years, pertaining to the growing concerns regarding the environmental sustainability. Huntsman, Eastman, Dow Chemicals, Hindustan Petroleum, CFR Chemicals, Shell and British petroleum, and ExxonMobil are some of the noteworthy industry participants in the heat transfer fluid market.

Written By : Sunil Hebbalkar