Home infusion therapy market has witnessed commendable traction across the world owing to the ever-increasing geriatric population coupled with rising patient preference toward home-based infusion therapies. Home-based infusion therapy has been providing significant relief to people suffering from chronic diseases such as diabetes, cancer, respiratory disorders and cardiovascular complexities. Concurrently, the prevalence of chronic ailments, including the aforementioned ones, is on the rise across the globe which has necessitated the ailing population to avail the services of home infusion therapy providers. Furthermore, the number of patients responding unsatisfactorily to the conventional medications is growing at an unprecedented rate which, in turn, is propelling the home infusion therapy market to expand at an exceptional pace. The home infusion therapy market size, according to a research report collated by Global Market Insights Inc., witnessed phenomenal revenue growth exceeding $14 Billion in 2016.

U.S. Home Infusion Therapy Market size, By Product, 2013-2024 (USD Million)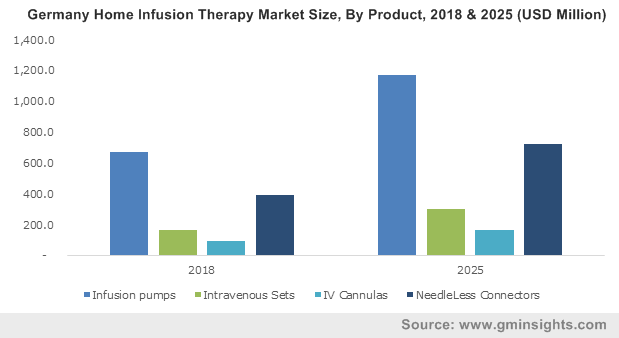 In the recent years, hospital-acquired infections have been growing rapidly which has accentuated the demand for home care amenities. Home-based health care offers the comfort of various services such as rehabilitation, medical supplies, pharmaceutical deliveries, home infusion, ease of access to medical equipment and respiratory therapy. In addition, the seamless adoption of cutting-edge innovations in medical technology arena coupled with a strong regulatory structure has contributed tremendously toward the expeditious growth of home infusion therapy market. Smart infusion pumps, one of the prominent products of home infusion therapy industry, has seen an exceptional technological upgradation in the recent past. Infusion pumps have found immense usage in medical setups such as nursing homes, home care, and hospitals, which has compelled the home infusion therapy market players to unveil state-of-the-art infusion pumps. A noteworthy instance that can be cited is of Smiths Medical, one of the major medical device manufacturers, which has recently launched the enhanced variant of an ambulatory infusion pump. The latest infusion pump comes equipped with PharmGuard Server-linked wireless communication that enables clinicians to remotely manage the performance of pumps, securely deploy software updates, effortless download of data reports and facilitates tracking the location of infusion pumps. Such stunning product innovations with high-precision and accuracy are bound to favorably impact the growth prospects of home infusion therapy market in the near future.
Simultaneously, the challenges anticipated by home infusion therapy industry need to be enumerated. Inappropriate dose administration and improper use of infusion therapy devices may hinder the business expansion. Add to it, the inadequate and overtly complex reimbursement framework might impede the home infusion therapy market progression.

Speaking of the regional growth outlook, the U.S. has been the world leader in home-based infusion therapy industry owing to its robust demand for homecare amenities, enhanced access to healthcare systems and highly responsive reimbursement procedures. In the Asia Pacific region, especially Japan, the home-based infusion devices shall witness improved demand as the infrastructure development and rising incidence of chronic ailments will assist home infusion therapy market to expand at a large scale. Speaking of the Europe's home infusion therapy industry, Germany shall emerge as the bright spot owing to the rising private and public funding on health care services with advanced pain management methods being prescribed by clinicians of the nation.

In the recent times, home infusion therapy market has been symbolized with alliances and acquisitions among the prominent players which have laid a strong emphasis on customer base expansion and enthusiasm for sustained industry growth. To cite an instance, ICU Medical Inc., the world's predominant pure-play infusion producing enterprise, has concluded its acquisition of Hospira Infusion Systems operations to strengthen its IV therapy and smart infusion products portfolio. At the same time, it would be prudent to mention that the home infusion therapy market is moderately saturated while being highly combative as it includes some of the leading medical device manufacturers such as Baxter, Smiths Medical, Carefusion, Terumo, JMS, B.Braun Melsungen, Fresenius Kabi, and Caesarea Medical Electronics among others. With anticipated technological headways, acquisitions, and collaborations among the leading and upcoming firms, global home infusion therapy market is estimated to witness a CAGR of 9% over 2017-2024.
Written By : Saif Ali Bepari