Rising demand for petroleum products, wherein hydrogen is primarily used to remove contaminants from crude oil will surge hydrogen generation market considerably over the coming years. According to Global Market Insights, Inc., "Global hydrogen generation market is predicted to grow substantially at an annual growth rate of more than 5% over the period of 2016 to 2024." The governments across the globe are taking strict actions to reduce carbon and sulfur emissions, which will in turn boost the hydrogen generation industry trends, on account of as hydrogen used to eliminate sulfur content.

Petroleum refinery, metal, chemical are the key application areas for the hydrogen generation market. Chemical sector dominated the application landscape by contributing over 50% of the worldwide industry share in 2015 and is anticipated to surpass a revenue of USD 90 billion by 2024. The driving factor towards the market growth is growing need for ammonia in the fertilizers industry.

U.S Hydrogen Generator Market Size, By Application, 2013-2024 (USD million)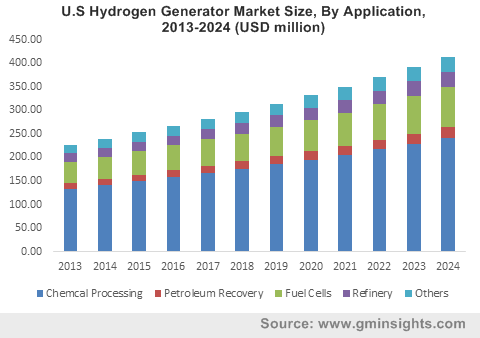 Hydrogen generation market share from the metal applications will grow considerably over the coming timeline, owing to the heavy demand for metals, mostly steel, across automobile and construction industry. Additionally, semiconductor, glass, and propellant fuel industry will also positively influence the industry outlook. Hydrogen generation industry size in petroleum refinery applications is expected to grow substantially, owing to its growing requirement in applications such as hydrocracking process coupled with growing demand for middle distillates such as diesel, gasoline, etc.

Captive and Merchant are the two major delivery modes for hydrogen. Captive hydrogen generation delivery mode will surpass a revenue of USD 150 billion by 2024, driven by its key application across metal and refinery industry.

Based on the process, hydrogen generation industry is segmented mainly into two types- electrolysis and steam reformer. The electrolysis process accounted for 7% of the total market volume in 2015 and will grow notably by exhibiting an annual growth rate of 5% over the period of 2016 to 2024.

Geographically, U.S. hydrogen generation industry collected revenue of USD 15 billion in 2015 and is projected to grow significantly over the coming years, driven by the strict vehicle emission norms. Saudi Arabia hydrogen generation market size will grow at a rate of 5% over 2016-2024. The increasing demand for fertilizers will effectively influence the industry growth.

Asia Pacific hydrogen generation market is projected to display an annual growth rate of 5% over the period of 2016 to 2024, owing to the growing demand for petroleum products. India and China will be the major revenue pockets for the APAC market share. Europe hydrogen generation industry is anticipated to exhibit lucrative growth rate over the coming years. The growth can be attributed to the surging requirement for chemicals in construction as well as food & beverage industry. Germany will contribute significantly towards the regional growth by contributing a revenue of USD 5 billion by 2024.

Denko K.K., Caloric Anlagenbau GmbH, Messer Group GmbH, Xebec Adsorption Inc, Nuvera Fuel Cells Inc, Taiyo Nippon Sanso Corporation, Iwatani Corporation, and Praxair Technology, Inc are some of the key industry participants in hydrogen generation market.

Written By : Dhananjay Punekar