Rising consciousness regarding minimizing plastic waste & maintaining environment sustainability will gear up the expansion of hydrogen peroxide market. Rapid consumption of paper and packaging material across the globe coupled with rising consciousness for recycling of paper and using eco-friendly packing processes instead of plastics has been a major factor pushing the growth of hydrogen peroxide industry. Hydrogen peroxide is used as a bleaching and deinking agent for the paper and pulp making process. A strong consumer base with increasing disposable income will also propel the market trends. As per Global Market Insights, Inc. "Hydrogen peroxide market is anticipated to surpass USD 6 billion, registering an annual growth rate of 5% over 2016-2024."

New developments and ongoing research in the market is expected to positively impact the hydrogen peroxide industry. For instance, the use of electronic grade hydrogen peroxide with sulfuric acid as an oxidizing or cleaning agent in etching of semiconductor boards will generate huge growth opportunities for the hydrogen peroxide market outlook.

U.S Hydrogen Peroxide Market size, by end-user, 2015 & 2024 (USD Million)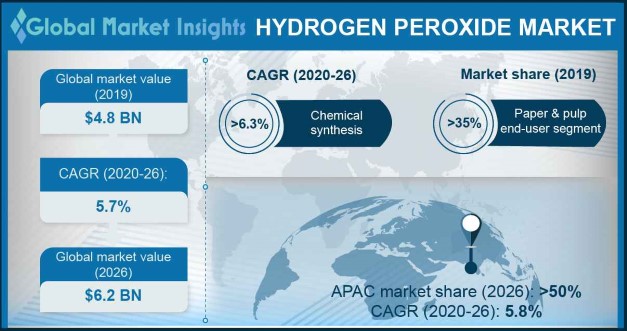 Moreover, the introduction of hydrogen peroxide propylene oxide (HPPO) process in 2008 in a collaboration between ThyssenKrupp Uhde and Evonik Industries has embarked the commercialization of this process. As a result, increasing adoption of HPPO process in various other companies such as Solvay, Dow Chemicals, and BASF SE will have a dynamic impact on the hydrogen peroxide market share.

Below are the regional highlights influencing the global hydrogen peroxide industry trends over the period of 2016-2024.
· Asia Pacific, led by China hydrogen peroxide market is anticipated to grow at a rate of 6% over the period of 2016-2024. Supportive government norms along with cost effective labor workforce will justify the regional growth.

· North America market is expected to witness heavy gains with target market size slated to reach USD 1,000 million by 2024.

· Europe, having covered a quarter of the overall industry share, is projected to register a CAGR of 4% in terms of volume over the period of 2016-2024.

· Asia Pacific market, which accounted for 50% of the global hydrogen peroxide industry in 2015, will be the main focus for the investors and manufactures, in turn driving the regional landscape. Moreover, strict regulations by EPA, REACH, OSHA, & FDA in North America and European regions will further shift the focus of the manufacturers to Asia Pacific terrestrial land.

Hydrogen peroxide industry finds a wide set of application across waste water treatment plants, paper & pulp, mining, and chemical sector. Increasing in adoption of the HPPO process along with an increase in usage of propylene oxide in drilling chemicals for oil fields, synthetic emollients, flame retardants, etc. will generate huge demand for hydrogen peroxide in chemical sector. Hydrogen peroxide applications in the chemical sector is projected to account for over USD 2,000 million by 2024.

Paper and pulp industry is the most lucrative sector, which dominated the global hydrogen peroxide market share by covering 40% of the overall share in 2015. Hydrogen peroxide market share in the paper & pulp industry is predicted to surpass USD 2500 million by 2024. The growth is subject to growing demand for recycled papers and stationery in the packaging industry. Wastewater treatment sector is another profitable end-user contributing toward a notable share in the hydrogen peroxide market and is foreseen to register a CAGR of 5.5% over the period of 2016-2024.

Major participants of the hydrogen peroxide industry include Arkema, Gujarat Alkalies, Solvay S.A., Kemira Oyj, AkzoNobel, Mitsubishi Chemical Corporation, Evonik Industries, and Gujarat Alkalies & Chemicals.

Written By : Ojaswita Kutepatil