Identity and access management market share is poised to witness a double-digit growth (15% CAGR) over the coming five years, driven by the increasing demand for establishing secure access control infrastructure worldwide. Enterprises, both the government and privately owned, are adopting IAM technology vigorously, owing to the rising security needs pertaining to the information access by the right individual, at the right time and the right place. Moreover, adoption of this technology by various large and medium scale organizations to enhance their operating efficiency and performance will further influence the IAM industry share. According to the research by Global market insights, Inc., "Global identity and access management (IAM) market share is expected to surpass a revenue of USD 26 billion by 2022."

Strict regulations about secure access control for industries such as healthcare, pharmaceutical, financial services, energy, etc. will impact identity and access management industry size noticeably. Growing demand for native cloud application and superior network capabilities will be some of the major attributing factors for the identity and access management market growth.

UK identity and access management market share by deployment, 2012 – 2022 (USD Million)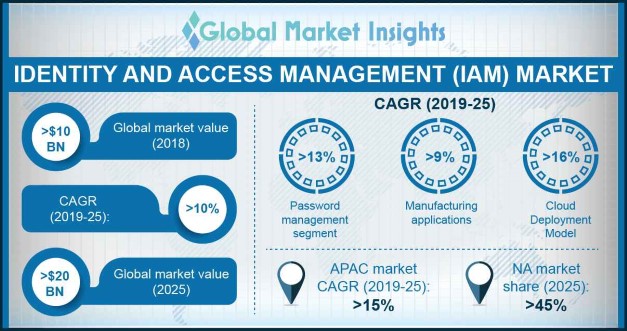 Public sector is likely to be the leading end-use segment of the global IAM market
Education, energy, telecom & IT, BFSI, healthcare, oil & gas, manufacturing, public sector & utilities are some key end-users of the identity and access management industry. Banking, financial services, and insurance (BFSI) sector will positively influence IAM market size, owing to the growing need to protect consumer and institutional assets. Furthermore, education and healthcare sector are projected to contribute significantly towards the market growth over the coming five years.

Cloud-based IAM is anticipated to register a growth rate of 20% over the coming five years
Cloud identity and access management market will witness an annual growth rate of 20% over the coming period of 2015-2022, which is driven by the various benefits offered by cloud-based IAM such as low cost, improved productivity, simplified management, and no hardware & software deployment. Additionally, cloud technology detects security breaches of unauthorized physical access immediately, which will facilitate its usage across various key industries.

Taking into consideration the global outlook, Asia pacific identity and access management market size will yield high surge by surpassing a revenue of USD 6 billion by 2022. Rising cyber threats towards critical infrastructure and growing deployment of IAM across various public and private firms will influence the regional growth.

North America IAM industry share contributed towards 35% of worldwide revenue in 2014 and is predicted to grow substantially over the period of 2015 to 2022. U.S. is projected to be the major revenue pocket for North America.

Industry participants will invest heavily in R&D to integrate new and innovative technologies in their existing product portfolio. Mergers & Acquisitions and strategic alliances will be few of the major growth strategies adopted by the players to enhance their market value over the coming five years. Key industry players includes CA Technologies, Dell EMC Corporation, Amazon Web Services, Inc., Oracle, OneLogin, NetIQ, HID Global, IBM, Centrify, and HP.
Written By : Sunil Hebbalkar