Industrial safety footwear market, which crossed the billion-dollar mark in 2015, is poised to witness a highly profitable business roadmap over the coming years. The improving economic scenario worldwide, has resulted in a rapid growth in the construction industry, which is estimated to register a revenue of USD 15.5 trillion by 2024. With this growth arises the need to ensure the safety of the workforce from possible workplace accidents, which is generating heavy growth prospects for industrial safety footwear market across the globe. According to Global Market Insights, Inc., "Industrial safety footwear industry size worth USD 4.8 billion in 2015, is estimated to grow at a CAGR of 5% over the period of 2016-2024."

As per the estimates, in the US, over 5000 workplace fatalities were recorded in 2008, which made the government to strictly implement safety standards across various industries. Stringent regulatory framework by various government bodies such as OSHA, ILO, BSI, US Department of Labor, etc. ensure worker safety and prevention from various workplace injuries. Sectors such as manufacturing, oil & gas, chemical, transport, construction, etc., carry a high degree of injury risk pertaining to their working environment, thereby boosting the industrial safety footwear market trends. Personal Protective Equipment market is also witnessing a remarkable surge, in this regard to ensure the workplace safety and curb the chances of fatal accidents.

U.S. Industrial Safety Footwear Market size, by application, 2015 & 2024 (Million Pairs)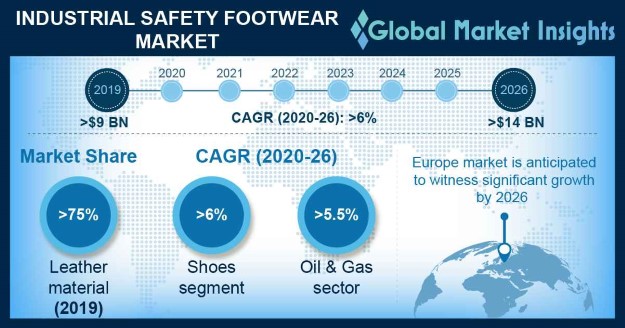 Waterproof industrial safety footwear industry is estimated to witness highest annual growth rate of 6% over the coming seven years
Industrial safety footwear market is witnessing a huge demand across sectors prone towards leg injuries such as construction, oil & gas, manufacturing, chemicals, mining, transport, food, and pharmaceutical. Footwear products such as shoes and boots protect the legs from possible injuries, such as the ones caused due to falling of sharp objects, cut through nails, electric shocks, slipping, etc. Global Industrial safety shoes market is estimated to surpass a revenue of USD 6 billion by 2024. Popular raw materials used in the manufacturing of these industrial safety footwears are Leather, Plastic, Rubber, Polyurethane, and Waterproof materials.

Considering the material trends in the industrial safety footwear business space, leather industrial safety footwear market will grow substantially over the coming years, having attained a revenue of over USD 4 billion in 2015. Rubber industrial safety footwear market is anticipated to witness annual growth rate of 5% over the coming seven years, mainly driven by its demand across the chemical industry, owing to its resistance against chemicals, alkalis, acids, etc.

Construction industry is estimated to generate 110 million pairs of industrial safety footwears by 2024
Asia Pacific construction industry which was USD 1.5 trillion in 2015, is estimated to contribute massively towards the industrial safety footwear market share over the coming timeframe. Hefty infrastructure spending, presence of large scale industries, and strict regulatory framework to ensure safe workplace environment will further influence the regional growth. China is estimated to lead the APAC market share, recording a CAGR of 5.5% over the period of 2016-2024.

Manufacturing is another prominent application area, likely to generate heavy avenues for the industrial safety footwear industry over the coming years. As per the study, manufacturing application is likely to witness a CAGR of 5% over the period of 2016-2024, driven by rising demand for water, shock, and chemical resistant footwears in this industry. Industrial safety footwear market share in the oil & gas sector, will also experience a substantial surge, driven by huge workforce employed within this industry along with the high injury risks pertaining to the work environment.

Growing automobile and chemical industries will significantly impact Europe industrial safety footwear market size. Germany is likely to generate 20 million pairs of industrial safety footwears, surpassing a revenue of USD 30 million by 2024. MEA is also projected to contribute noticeably towards industrial safety footwear industry share over the coming years, primarily led by UAE, Saudi Arabia, and South Africa. Expanding construction as well as oil & gas industries, which in turn catalyzes the demand for products such as pipeline construction shoes, oil resistant safety shoes, etc. will boost the regional market demand.

Enhancing brand value and awareness, aggressive marketing, and product differentiation in terms of quality will be the major growth strategies adopted by the industry participants over the coming years. Industrial safety footwear market is highly competitive and demands for a high market positioning of the players, to sustain competition and increase sales via long term association with resellers, agents, end-use industries, etc. Key market players include Honeywell International, Bata Industrials, WL Gore, Dunlop Boots, V.F. Corporation, COFRA, Uvex Group, Rahman Group, Hewats Edinburgh, Simon Corporation, Pezzol Industries, and Liberty Group.

Written By : Shikha Sinha