Increasing intumescent coatings market size, which is estimated to surpass USD 1.25 billion by 2024, can be credited to its heat resisting and fire proofing properties along with the rapid exploration activities carried across oil & gas industry. Furthermore, growing use of intumescent coatings in power sector along with stringent rules related to health & safety will benefit the market over the coming years. Rising demand for fire safety applications in construction, steel and oil & gas sectors are further predicted to boost intumescent coatings industry trends over the next few years.

Cellulosic intumescent coatings market price worth USD 410 million in 2015, will witness a rapid surge over the coming years, owing to its growing use in automotive, oil & gas, and construction sectors. Hydrocarbon intumescent coatings market share worth USD 415 million in 2015, is expected to record a CAGR of 5% over 2016-2024 due to its growing demand across power, oil & gas, and refinery sectors.

Automotive, construction, and oil & gas industries will significantly contribute towards Intumescent coatings market share over the coming timeframe. Intumescent coatings industry size in oil & gas sector worth USD 415 million in 2015, is expected to grow considerably over the next few years. The growth can be credited to the wide application of hydrocarbon intumescent coatings in oil & gas sector due to its ability to protect the steel structure from fire, moisture, and chemicals. Its application in construction sector is expected to grow at a rate of 5% over the period of 2016-2024, owing to the growing use of cellulosic intumescent coatings in construction activities. Moreover, growing concerns about consumer safety coupled with strict government norms related to fire protection will drive the product demand. Intumescent coatings market size in the automotive sector is projected to record highest gains over 2016-2024, owing to the rising need for protecting oil tubes in engine bay from high temperature.

U.S. Intumescent Coatings Market size, by end-use, 2013-2024 (USD Million)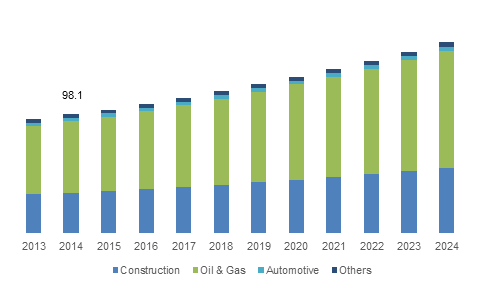 Based on the technology, intumescent coatings market is segmented into water based, epoxy based, and solvent based intumescent coatings. Water based intumescent coating market is expected to grow at a rate of 5.2% over the coming eight years, due to its low volatile organic compound contents and eco-friendly features.

China intumescent coatings market size worth USD 130 million in 2015, is expected to witness a significant growth over the timeframe, owing to rapid industrialization along with the rising number of construction activities in the region. Furthermore, growing expenditure in exploration, deep-water, and refining activities by oil & gas firms is expected to boost the product demand.

U.S. intumescent coatings market share is projected is predicted to witness noticeable growth over the next few years, owing to the its growing application in the aerospace industry.

Germany intumescent coatings industry is projected to register a CAGR of 4.5% over the period of 2016-2024. Stringent fire protection norms and vehicle safety regulations are expected to fuel regional growth over the coming years.

Brazil intumescent coatings market size is expected to reach USD 30 billion by 2024. The growth can be attributed to strict implementation of fire safety norms by the government to protect the life and property.

Market players will try to increase their ROI through product innovation and mergers & acquisitions. Key industry players include Akzo Nobel, Albi Manufacturing, PPG Industries Carboline Global, Null Fire, Jotun Company, Crown Paints Company, Contego International Incorporation, Rudolf Hensel GmbH, Leighs Paints, Albi Manufacturing, and Hempel.


Written By : Dhananjay Punekar