Global LiDAR market is thriving on account of its proven application in every sector, right from archaeology to autonomous cars. The growing adoption of LiDAR technology in the commercial as well as the government sectors will surge the LiDAR industry share. Moreover, increasing rate of projects with demand for higher efficiency and Multiview point data will boost the overall market outlook. According to Global Market Insights, Inc., "LiDAR Market share is anticipated to exceed USD 1.1 billion by 2023."

Furthermore, low-altitude and light weight flying platforms will observe greater demand for the LiDAR technology. Growing applicability in the imaging maneuvers and 3D scanning market is likely to generate colossal growth opportunities in the coming years.

China , by application, 2012 - 2023 (USD Million)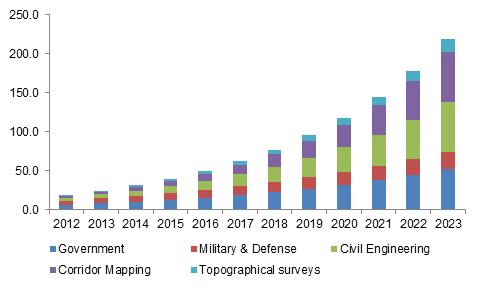 The LiDAR market has extensive set of applications in corridor mapping, military & defense, civil engineering, topographical surveys, and government sectors.
The government sector will lead the global LiDAR market in terms of revenue, which is anticipated to surpass USD 340 million by 2023.

Corridor mapping application is foreseen to register a CAGR of 21.5% over the period of 2016-2023.

Civil engineering is another lucrative sector, which is expected to be the fastest growing segment in the global industry trends. Precise and accurate elevation data in construction and road projects has fueled the growth of LiDAR surveys in this application segment.

Corridor mapping and civil engineering application together, will witness healthy growth due to extensive demand for security & safety at hotels, airports, offices, and other commercial places, in turn boosting propel the growth of the LiDAR market over the coming timeframe.

Airborne LiDAR market is projected to dominate the product landscape
In terms of products, LiDAR market is segmented into short range, terrestrial, airborne and mobile LiDAR. Airborne LiDAR market is estimated to surpass USD 400 million by 2023, owing to the growing implementation of hi-tech features such as full waveform analysis in airborne mapping and full waveform analysis. Furthermore, the mobile LiDAR industry share is expected to register a CAGR of 22% over the period of 2016-2023. The product growth is subject to increasing use of mobile mapping throughout the transportation agencies, wind projects and urban data acquisition.

Laser scanners is forecast to lead the LiDAR component market
Based on types of components, the industry is segmented into Laser Scanners, GPS, Data Storage & Management Systems, and Navigation. Among these, the laser scanner is the largest and the most lucrative segment of the LiDAR market. Technological superiority of the component will be the key factor driving the market growth at a commendable pace. Apart from this, GPS, navigation, and data storage & management systems market will also spectate substantial contribution in the industry over the coming years.

Below are the regional trends influencing the LiDAR market from 2016-2023
U.S. market size pegged at USD 85 million in 2015, is projected to witness an annual growth rate of 9.3% over the period of 2016-2023.

Europe market is also expected to witness substantial growth over the coming six years, owing to technological advancements in GPS and inertial navigation unit.

Asia Pacific LiDAR industry share is estimated to generate a revenue over USD 470 million by 2023. Rising adoption of LiDAR technology by consumers and cost effective manufacturing activities with increased investment from stakeholders will bolster the industry growth.

Merges & acquisitions and product development to offer cost-effective and advanced solutions to the consumer base will be the major growth strategies of the market players. Notable industry participants include 3D Laser Mapping Ltd, Aerometric, Faro Technologies, Leica Geosystems, RIEGL, Intermap Technologies, Trimble Navigation, and Renishaw.
Written By : Ojaswita Kutepatil