Worldwide Lignosulfonates Market is primarily driven by the increasing product demand across construction, ceramic, and oil & gas industries. Lignosulfonates are obtained as a by-product during the sulfite process and are abundantly available worldwide. According to Global Market Insights, Inc., "Lignosulfonates Industry is slated to increase at a CAGR of more than 3.7% over 2016 to 2024."

In terms of products, this market is divided into calcium, sodium, and magnesium lignosulfonates. Out of the three, sodium products are highly popular and are used to manufacture pellet binders and plasticizers for animal feed and concrete production, respectively. Sodium lignosulfonates market size was valued at a revenue of more than USD 290 million, and is expected to increase at a CAGR of more than 3% over 2016 to 2024.

U.S Lignosulfonates Market size, by application, 2013-2024 (USD Million)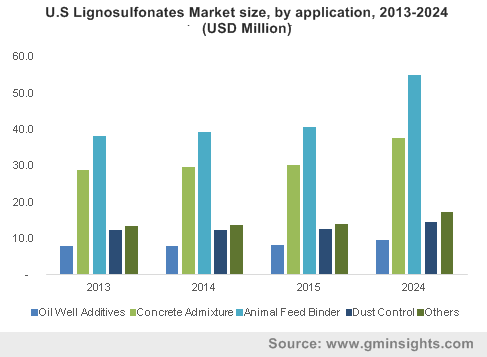 Asia Pacific lignosulfonates industry is set to witness a CAGR of more than 4.5% over 2016 to 2024, driven by the huge growth of the construction sector in countries such as India, Japan, and China. Japan construction industry generated a revenue of more than 700 billion in 2015.

With U.S. at the helm, North America lignosulfonates market size was worth more than USD 130 million in 2015. Expanding Animal Feed Additives Market will primarily boost the regional demand. For instance, on an annual basis over 150 million tons of animal feed is produced by about 6,000 animal feed mills in the country.

Lignosulfonates industry finds applications in dust control, concrete admixtures, oil well additives, and animal feed binders.

The demand for water-reducing chemicals is extremely high in regions such as APAC and MEA, owing to high temperatures. Lignosulfonates are primarily used as water-reducing agents in concrete admixtures to strengthen cement, thus propelling the demand for this application segment. In fact, they can also be mixed with other water-reducing chemicals, to be used in concrete admixtures as per the requirement. Global lignosulfonates market share for concrete admixtures was more than 25% in 2015, owing to high product demand and robust growth in the construction sector.

Global animal feed production surpassed 970 million tons and is anticipated to cross 1 billion tons by 2024. Lignosulfonates are used as effective animal feed binders, as they balance the beneficial bacteria in animals, provide the essential nutrients to improve their gastrointestinal health, and improve feed efficacy that helps increase animal body weight. High demand for this application segment in Europe and North America will subsequently boost lignosulfonates industry growth, with a projected CAGR of more than 4% over 2016 to 2024.

Lignosulfonate market for oil well additives was valued at more than 55 million in 2015. While the presence of cost-effective substitutes is likely to hinder oil well additives industry, rising oil well exploration projects in MEA and the U.S. will help this application segment witness substantial gains.

Key industry participants include Nippon Paper Group, Domsjö Fabriker AB, Qingdao New World Material Co. Ltd, Burgo Group S.p.A., Borregaard LignoTech, and Tembec Inc. Other notable companies include Green Agrochem, Flambeau River Papers LLC, Shenyang Xingzhenghe Chemical Co., Ltd., and Sappi Limited.

The market is heavily consolidated, with the top six giants contributing to more than 50% of the overall share. Online trading, distributors, and direct sales are the key distribution channels adopted by these companies.

Worldwide lignosulfonates market for animal feed binders and oil well additives faces fierce competition from substitute products such as sulfonated melamine formaldehyde, sulfonated naphthalene formaldehyde, and polycarboxylic ether. Animal feed industry growth is likely to be restrained by alternative animal feed binders such as bentonite & clay, guar meal & starch, and wheat. Despite the close competition, lignosulfonates market is set to witness high gains over 2016 to 2024, driven by the rising demand for concrete admixtures in MEA and APAC, and the increasing requirement for animal feed binders in Europe and North America.

Written By : Saipriya Iyer